---

EMAIL INTERVIEW Brian Patterson & Ken Sinclair
Brian Patterson, Chairman EMerge Alliance
General Manager, New Business Development for the Building Products Division, Armstrong World Industries
Throughout his career, Brian has been deeply involved in the electronics industry, managing product engineering, sales, marketing, licensing & operations in both domestic and global assignments. Before joining Armstrong in 2003, he held senior positions with Kollmorgen Corporation, AMP Incorporated and Tyco International. He has several patents and patents pending in the fields of fiber optics and power/signal technology. He has also held guest professorships in business management at Long Island University and Susquehanna University. In his role at Armstrong, Brian leads new business development efforts that bring the division together with like-minded partners in new collaborations aimed at improving commercial buildings, such as his work with the EMerge Alliance.
---
EMerge Alliance Launched To Create A New Standard For Power Distribution and Device Control in Commercial Buildings.
New, broad-based consortium assembling expertise in architecture, engineering and construction practices to establish a common platform for building interiors of the future.











Sinclair: What is the main purpose of the EMerge Alliance?
Patterson: The EMerge Alliance was established to promote the rapid adoption of safe, low-voltage direct-current (DC) power distribution and use in commercial building interiors. EMerge is focused on developing a global standard that integrates interior infrastructures, power, controls and a wide variety of peripheral devices, such as lighting, on a common plug and play platform.
Sinclair: What are some of the sustainability benefits that EMerge offers?
Patterson: The proposed EMerge Standard will give commercial building owners a way to facilitate room and floor reconfigurations and stop the wasteful cycle of one-time fixture and device use. EMerge will promote green construction and facility management practices by enabling the use of simpler devices that donít have internal AC-DC converters. These are more portable, reusable and individually addressable devices that can be reconfigured as quickly as occupants' needs change. In addition, its direct connection (without inverters) to on-site native DC alternative power can reduce energy costs and improve your building's environmental footprint.
Sinclair: What are some of the advantages of using low-voltage DC power?
Patterson: The system is intrinsically safer and more flexible than an equivalent line-voltage AC system, and thus allows more flexible plug-and-play capability. One of the most intriguing aspects is the ability to seamlessly connect a low-voltage DC infrastructure to on-site generated alternative energy sources, such as solar, wind, fuel cell generated and stored power. This provides sustainability-minded building owners who are on the leading edge of power technologies with a faster return on their investment in clean energy.
Sinclair: I hear that your membersí plans are to introduce products and services, when will these be available?
Patterson: Once the EMerge Standard is completed early next year, registered products and services that meet the Standard should start arriving in the marketplace in 2009.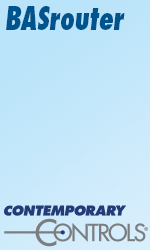 Sinclair: Who can join the Alliance?
Patterson: EMerge Alliance is an open industry association. The Alliance is representative of the many organizations impacting the commercial building arena, including product manufacturers, architects and designers, building owners and developers, MEP firms, environmental consultants, utilities, government agencies and related industry groups.
Sinclair: What are the different ways that our readers can get involved with the EMerge Alliance?
Patterson: The EMerge Alliance is accepting new members interested in developing or supporting the EMerge Standard. Membership is open and available at a variety of levels, from those interested in contributing to or making products compatible with the new standard, to companies and organizations supporting the overall development of this new platform.
Sinclair: Where can our readers find more information on the EMerge Alliance?
Patterson: For general information, visit www.EMergeAlliance.org.

To find out how to become involved with the Alliance, visit http://www.emergealliance.org/en/join/membership_forms.asp.
---

[Click Banner To Learn More]
[Home Page] [The Automator] [About] [Subscribe ] [Contact Us]