---
EMAIL INTERVIEW Jeff Seewald & Ken Sinclair
Jeff Seewald, PE, Intelligent Building Systems Engineer

Jeff Seewald is a licensed professional engineer who brings nearly 20 years of experience in commercial buildings systems applications engineering and systems optimization to Building Intelligence Group. He is experienced in IT networks, integrated controls, HVAC equipment and applications engineering. Most recently, Seewald has been involved in the definition, development, and deployment of next generation web based building automation products. Prior experience includes supporting building systems applications and engineering analysis involving heat transfer and fluid dynamics for which he has been awarded several patents. His work reflects a passion for energy efficiency, renewable energy, and sustainability. At Building Intelligence Group, Seewald provides commercial building clients with analysis and solutions to help them achieve greater levels of functionality, efficiency, and intelligence in buildings. Jeff earned his Bachelor of Science in Mechanical Engineering from The Pennsylvania State University.
---
Advanced Integrated Lighting Controls in the Spotlight
In cooperation with CABA, we are holding our fourth annual Building Intelligence Tour at AHR Expo in Chicago on January 27th. This is a full day educational seminar, and the focus will be on Advanced Integrated Lighting Controls.











Sinclair: What role do lighting controls play in delivery of intelligent and sustainable buildings?
Seewald: Lighting controls really offer significant potential to deliver on three key aspects of intelligent and sustainable buildings:

• Energy Efficiency: Use of lighting controls may typically yield up to 30% energy savings for lighting, and that translates into approximately 10% overall energy savings for a building. In addition, lighting controls may serve as a key element of a demand reduction program, further enabling energy savings.
• Human Comfort and Productivity: Depending on a given building design, lighting controls may enable daylighting of spaces, or allow individuals more control over their environment. The result is greater human comfort and increased productivity.
• Space Flexibility: Most lighting control systems make some provision for space flexibility by allowing for changes to the system as the space layout changes. Note that some systems are easier to change than others, with more flexibility available through software configuration as opposed to physical hardware modifications. The bottom line is that changes in space configuration do not necessarily incur costly changes in lighting or electrical infrastructure.
Sinclair: What other drivers are calling for the application of lighting controls?
Seewald: Energy codes certainly provide one of the primary drivers: Lighting controls are no longer an option. In the United States, most states have provisions for lighting controls within their energy codes, with California and Wisconsin presenting the most stringent codes relevant to lighting controls.
Sinclair: Tell me about significant new developments in lighting controls technology.
Seewald: Lighting and lighting controls technology are rapidly evolving to address the challenges presented by movement towards more efficient, intelligent, and sustainable buildings. Areas of development include:

• Sensors: New designs for occupancy and light level (or photocell) sensors result in improved performance of lighting systems, with more accurate and reliable response to occupancy and lighting conditions.
• Control Strategies: Innovations in control strategies enable more effective lighting control, especially for daylighting and improved energy efficiency.
• Integration: More and more, lighting controls manufacturers are incorporating integration capabilities into their systems using open standard protocols. With integration comes the potential for sharing information across systems, data collection and analytics, and optimization of building systems and controls to achieve higher levels of energy efficiency.
• Wireless Communications: The incorporation of wireless communications technology into lighting control systems opens up greater possibilities for the application of advanced lighting controls. This is especially true in existing buildings, where the energy savings potential is great, and where wireless technology offers an alternative to the high cost of changes to wired infrastructure.

These new developments in technologies, products, and systems make lighting controls more practical and effective than ever before.
Sinclair: What opportunities exist for the cross-optimization of lighting controls with other building systems?
Seewald: A number of opportunities to cross-optimize building systems can become reality with the application of advanced integrated lighting controls. Some examples include:

• Scheduling: Sharing of schedules across systems including HVAC and lighting results in more coordinated operations, and results in a basic form of energy savings by simply turning off systems when they are not needed.
• Personal Control: Enabling building occupants to act on the lighting in their spaces and offices, and even task lighting, through a web browser user interface or an IP phone offers greater control of personal work environments.
• Conference Room Automation: Integration of conference room scheduling with occupancy sensing creates the potential for powering conference rooms, auditoriums, and other gathering areas only when they are in use.
• Demand Response: More intelligent demand response decisions can be made by systems that know more about the spaces and occupants they serve, avoiding the costly mistake of curtailing service where it is still vital while reducing energy consumption in areas where it is not.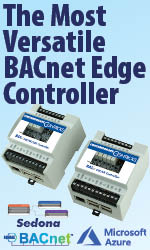 Sinclair: I understand you are planning an educational seminar on lighting controls. What can you tell me about it?
Seewald: In cooperation with CABA, we are holding our fourth annual Building Intelligence Tour at AHR Expo in Chicago on January 27th. This is a full day educational seminar, and the focus will be on Advanced Integrated Lighting Controls.

Francis Rubinstein, Staff Scientist at Lawrence Berkeley National Laboratory and leader of the Building Technology Department's Lighting Research Group, is an internationally-recognized expert in advanced lighting controls research, and will start the day with the keynote: Delivering Energy Efficiency with Advanced Integrated Lighting Controls. Then, the seminar will focus and go in-depth on this one important aspect of intelligent buildings, taking attendees on a guided tour through the process of planning for, designing, and deploying advanced integrated lighting controls with coverage of the following topics:

• Planning, design and specification development
• Startup, checkout and commissioning
• Integrated operations

Along the way, the seminar will explore the challenges and possibilities presented by integration and cross-optimization with other building systems.

Attendees will have the opportunity to interact with industry experts and suppliers who will be on hand to share their knowledge and experience. Building owners, consulting engineers, suppliers, contractors, commissioning agents, and others interested in advanced integrated lighting controls, and the potential to deliver more efficient, intelligent, and sustainable buildings should consider attending. To learn more, or to register, please visit the Building Intelligence Tour web site at http://www.buildingintelligencetour.com.
About Building Intelligence Group LLC
Building Intelligence Group LLC is an independent consulting firm that provides technical and strategic consulting services with a focus on sustainability and intelligent buildings. For more information please visit: www.buildingintelligencegroup.com.
About CABA
CABA, or the Continental Automated Buildings Association, is a not-for-profit industry association with the following vision: "The knowledge-based forum for industry leaders who advance the use of technology and integrated systems in the global home and building industry." For more information about CABA, please contact Ken Gallinger, CABA's Marketing Director, at 613.686.1814 x229, e-mail gallinger@caba.org, or visit www.caba.org.
---

[Click Banner To Learn More]
[Home Page] [The Automator] [About] [Subscribe ] [Contact Us]