---


EMAIL INTERVIEW Frank Capuano & Ken Sinclair
Frank Capuano, of Strata Resource Inc, is the Manager of the Buildy Awards Program and Editor of the BuilConn Update for Clasma Inc.
Email : frank@clasma.com
---

Buildy@BuilConn
The Industry Award Program in a Time of Innovation and Convergence












Sinclair: I see that the Buildy Award program is back at BuilConn this year, what can we expect?
Capuano: This is the second year for Buildy and as we saw last year, you can expect this award program to bring out the best the industry has to offer in whole building integration and who best supports the vision of networked building systems
Sinclair: Have any of the categories or voting processes changed from last year?
Capuano: No, the continuity of the Buildy program has been maintained. The categories, nomination submission, finalist selection, and final selection by BuilConn attendees are the same as last year.

Once all nominations are submitted the BuilConn advisory boards select four finalists in each Buildy category and the winning nomination in each category is elected by BuilConn attendees on Wednesday, March 23 during the Building Systems Expo. In essence, the winners are selected by their peers at the event that brings together all of the disparate facets of building system integration. It was an exciting process last year and we are looking forward to another exciting day of voting at BuilConn this year.
Sinclair: Could you give us a refresher on the Buildy award categories?
Capuano: Yes. The Buildy awards celebrate North American organizations and individuals who best support the vision of networked building systems. This focuses the award on the integration process, which has many facets. The Buildy award recognizes the many facets of the integration process by establishing four award categories – Vision, Best Integration Product, Best New Product, and Best Building.

Vision – This award will be presented to the industry professional who best demonstrates a vision of whole building integration and interoperability through advocacy, promotion, education, and training endeavors.

Best Integration Project – Awarded to a systems integrator, the recipient of this award demonstrates the ability to efficiently integrate a wide array of building systems together and successfully enable operation over a corporate IT infrastructure.

Best New Product – This award honors a manufacturer whose new product or service overcame a significant challenge, enhanced, or simplified the integration process.

Best Building – This award will be presented to the building owner or consultant with the most progressive building technology supporting the vision of whole building integration. The building must be currently occupied.
Sinclair: When will the winners be announced?
Capuano: The Buildy Award winners will be announced during the Industry Gala held on Thursday, March 24 at BuilConn. Nominees must be present or have a representative present to win.
Sinclair: When is the deadline for submitting nominations?
Capuano: The deadline is Monday, February 14, 2005, which is only a few weeks away. Submissions need to be made soon in order to qualify.
Sinclair: What is the submission process? And who is eligible to participate?
Capuano: The submission process is very simple and participation is open to industry professionals, systems integrators, technology manufacturers, building owners, and consulting engineers in North America. All nominations must be submitted electronically using the Buildy Awards Form, which is available for download at www.builconn.com/buildy. The form is a MS Word document that should be completed electronically and emailed to me at frank@clasma.com.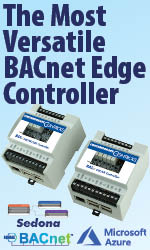 Sinclair: Who won the Buildy last year?
Capuano: Last year we had a lot of worthy nominations in each category. In the end, over 250 BuilConn attendees were able to select a definitive winner in each category. The 2004 winners were:

Vision – Paul Ehrlich, Business Development Leader for Trane;

Best New Product – WebGen Systems in honor of the IUE (Intelligent Use of Energy) software suite;

Best Building –ARAS Systems for the Echelon Campus;

Best Integration Project – ECI, Energy Control Inc. for the Cottonwood Office Building.

For more details on last year's award recipients and photos go to http://www.builconn.com/buildy/2004winners.asp.
Sinclair: Sounds like last year's winners are a tough crowd to beat. Any predictions?
Capuano: It's often been stated that competition is good for the industry. Even though last year's winners are still standing tall, I think this year's winners will raise the bar of excellence another notch or two. And, I further predict that the Buildy Award will continue to recognize and celebrate the innovation and convergence we witness everyday in the building systems industry.
Interested in learning more about this track at BuilConn? Click here.
---


[Click Banner To Learn More]
[Home Page] [The Automator] [About] [Subscribe ] [Contact Us]