---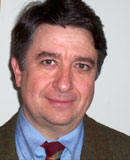 EMAIL INTERVIEW Toby Considine & Ken Sinclair
Toby Considine, Technology Officer, Facility Services, University of North Carolina Ė Chapel Hill
& oBIX Chairman
Mr. Considine has been working with end-user support and integration of control systems for 18 years. As the Technology Officer for Facilities Services at the University of North Carolina, Mr. Considine has struggled with both the network demands and the data sharing issues posed by last-generation systems. This work led him to focus on open discoverable data standards for control systems, and from there to the oBIX committee. Before the University, he worked to integrate other silo processes into the enterprise for companies including Reebok, Digital Equipment Corporation, and Southco Distributing. Toby's experience also includes public access to computer resources and data, beginning with Citynet, one of the largest "pre-internet" public access systems and writing device drivers for some of the first microcomputers sold.
---
It is an exciting time, with the pieces falling into place, and the role of oBIX becoming apparent to a larger audience. Now we have to focus on the stylistic issues of XML, of making oBIX look like what the Enterprise is looking for, and we need the eyes of the entire controls industry to look on what we have, and to submit suggestions as to how to make it better.












Sinclair: I understand you are leading the oBIX track at BuilConn, tell me about it.
Considine: oBIX has accomplished a lot this last year, a lot of it has been quiet. We have migrated to our new home in OASIS (www.oasis-open.org), the home for business standards for web services. It took us a while to get used to our new home. Now we are moved in, and meeting the neighbors, neighbors with enterprise names like UDDI, WS-Notification, E-Gov, and EBXML (Electronic Business).
The perspectives we have gained from them have been invaluable, the participation that we will get is priceless, and we could not have gotten either outside of an Enterprise standards group. An OASIS committee interacts with groups like the Federal Facilities Maintenance Operations Committee (FMOC) and E-Government as well as IT groups such as IBM, Sun, Microsoft, BEA, and Fujitsu. Quite simply, they have solved the security, the reliability, and the verification requirements of oBIX so oBIX can focus on control systems and the enterprise.
The next challenge was to sketch out the broad parameters of what oBIX was going to accomplish for version 1. Aaron Hansen has spoken of this recently in AutomatedBuildings.com. Because oBIX is not a control protocol, but an enterprise protocol to talk to control systems, this required considerable conceptual work. Brian Frank has worked hard to sketch out the broad framework, and the committee is only now beginning to interact with it.
With the 0.6 specification out there, we are able to move to another level. We are sharing the model with people on the WS-Management team, as well as the WSDM (Distribute Management) group.
WS-Management is going to be part of every machine running Longhorn, the next release of Windows. Indigo, the successor to Visual Studio .Net, will also understand WS-Management out of the box. This will mean that systems that will understand oBIX, and the programmers able to easily write oBIX-aware software will be legion.

WSDM is being built into Enterprise management applications, ranging from Hewlett-Packardís OpenView to applications from Computer Associates, IBM, Fujitsu, and BEA. To the extent that oBIX meets the requirements of WSDM, building systems will be able to participate in the largest ERP systems.

Across all of this is BPEL (Business Process Execution Language), the standard for business workflows between Enterprise systems. BPEL is being used for interactions between Federal agencies in the US and for interactions between countries in Europe as well as across supply chains in corporate America.
Sinclair: Does BuilConn has some special relevance to oBIX?
Considine: Yes, we are now preparing for the second birthday of oBIX, back in Dallas at BuilConn where it all began. We have a foundation that is strong enough to build on, and we are inviting comments from a larger audience, now that the details are in place to explain the vision.

It is an exciting time, with the pieces falling into place, and the role of oBIX becoming apparent to a larger audience. Now we have to focus on the stylistic issues of XML, of making oBIX look like what the Enterprise is looking for, and we need the eyes of the entire controls industry to look on what we have, and to submit suggestions as to how to make it better.
Sinclair: Is oBIX going to introduce the conclusion of its work in Dallas?
Considine: We have had what we are calling 0.6 out on the street since early December. This is a strong draft, one that is good enough to support an interoperability demo from several vendors at BuilConn.

Even so, it is far from finished. We need more eyes on the standard, more criticism to make sure we get it right. Already oBIX is on the agenda for the committees developing most of the standards mentioned above.

Until we got this first draft out, it was hard for many people to get involved. Now that it is out, people can react to the document, and we are getting the detailed criticism that a standard needs to become robust. We expect the work on the core services to accelerate now.

We also now have the framework for the different vertical markets that make up the buildings control world to come to the table. This year at BuilConn, we expect Aaron Hansenís seminars on implementing the standard to provide the impetus to many more oBIX services.
Sinclair: Who do you have participating and speaking?
Considine: Many oBIX working members, OASIS people, synergistic initiative people and IT and Enterprise people.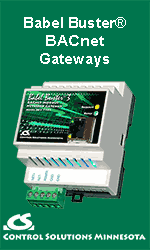 Sinclair: Will we see oBIX working at BuilConn this year?
Considine: One of the sessions is a plug-fest and a few companies will have prototypes at the expo and other sessions during the BuilConn days.
Sinclair: Who should go to this track?
Considine: Vendors developing products, integrators interested in future, IT and Enterprise people and more importantly building owners and the new breed of Enterprise Integration Consultant.
Sinclair: LonWorks and BACnet are continuing their evolution, is this time for oBIX to take over?
Considine: No no no, oBIX was never intended to do that.

LonWorks and BACnet remain as they were, protocols for communicating within control systems. Their web services implementations enable them to be better citizens on the corporate network backbone. But each of these protocols remains a powerful controls protocol that requires an understanding of control systems, an understanding not common among Enterprise developers.

oBIX has one significant mission, to enable the building to speak to the Enterprise, using techniques that Enterprise and IT people are comfortable with.
Sinclair: Many in controls find the "Enterprise" difficult to understand, can this track help?
Considine: Yes Ken, it is one of the objectives of this track, to explain why the Enterprise is important and where oBIX can help. This is clearly also one of the key messages of BuilConn, so it's very appropriate to have this track held the day before the main activities of BuilConn starts.

We are still finalizing some of the speakers, but we plan to have speakers from several parts of the Enterprise, each explaining what they want from control systems. As controls professionals hear their perspectives, they will gain a concrete understanding of the Enterprise and how to propose and develop controls systems for the Enterprise.
Sinclair: Sounds like a great learning experience
Considine: Yes we think so. As well as an overview of the oBIX standard, and the workshop on the Enterprise, there will also be presentations on implementing oBIX, as well as an interoperability demo.
Interested in learning more about this track at BuilConn? Click here.
---

[Click Banner To Learn More]
[Home Page] [The Automator] [About] [Subscribe ] [Contact Us]