---
EMAIL INTERVIEW Ron Zimmer & Ken Sinclair

Ron Zimmer, President & CEO, CABA
---
The issues to be covered include changes in CSI MasterSpec, LEED, CLA initiatives, M2M Device Networking, and how the information technology industry works.












Sinclair: What does CABA plan to focus on within this intelligent building track?
Zimmer: The Trends@BuilConn track, which CABA will oversee, will inform attendees of the key trends and issues that are affecting the future of intelligent buildings. Understanding the trends covered in this session will provide attendees with a powerful insight into how new initiatives occurring in the industry are designed to make buildings safer, more efficient, and ultimately enable occupants to be more productive.

The issues to be covered include changes in CSI MasterSpec, LEED, CLA initiatives, M2M Device Networking, and how the information technology industry works.

The CSI MasterSpec session will cover the basic structure and intended use of the new CSI Master Specification, with special focus on how it can be used in the specification and design of intelligent buildings.

The LEED session will examine emerging green building design approaches. The LEED (Leadership in Energy and Environmental Design) Green Building Rating SystemŽ is a voluntary, consensus-based national standard for developing high-performance, sustainable buildings.

The IT session will cover the basics of how the IT industry works, and how IT departments typically work in today's corporations. Attendees will learn how best to work with IT stakeholders in the design and implementation of intelligent buildings.

The M2M session will cover basic information about the machine-to-machine industry and how device networking is typically used within and outside of buildings. Attendees will get a good understanding of how the M2M driven technologies will help the implementation of intelligent buildings.

Sinclair: Why does CABA have the expertise to lead this track?
Zimmer: CABA has the expertise to lead the track because of our association's expansive experience working on a number of intelligent building initiatives through our Intelligent & Integrated Buildings Council. The Council pursues its projects through specific task forces dedicated to the development of concise research and tools related to the intelligent building sector.

Task Force 1 is developing an online tool intended to assist building owners/managers, the commercial real estate industry and other industry stake holders to assess the level of integrated systems within a building (a Building Intelligence Quotient - BIQ). A comprehensive list of intelligent building criteria has been developed as well as a "ranking matrix". The next phase of this project is to develop content detail on each line item in the matrix to be available as part of the online tool - for ease of use by all industry stakeholders. We also must create the online tool. Request for proposals are being developed for both of these projects.

Task Force 2 completed the development of a white paper to promote and orchestrate awareness of the capabilities and benefits of middleware to the commercial building industry. It is available for download at: www.caba.org

Task Force 3 is presently developing a framework for a comprehensive building life cycle costing model that analyzes the various costs associated with the installation, operations and maintenance of building automation systems. The model will be automated and an interactive, Web-based application will be created that will permit the building construction industry to analyze the factors that influence networked building sub-systems costs. The tool will require specific input from professionals who understand the scope of the sub-systems being analyzed. A range of typical values from existing buildings will be provided to aid the users of the tool.

Task Force 4 is engaged with developing a best-practice guide for evaluating intelligent building technologies.

Task Force 5 is concerned with documenting the real benefits associated with implementing intelligent building technologies in a retrofit "demo project". CABA has a tentative agreement signed with the National Research Council of Canada to use the building where CABA has its offices. A third-party feasibility study will be conducted before the start of the project to determine which technologies need to be implemented. This Task Force is also actively looking for other demo building opportunities where "real" data can be collected and documented as an aid to marketing the benefits of intelligent building technologies.

Task Force 6 is engaged in participating in the development of FIATECH's Intelligent Self-Maintaining and Repairing Operational Facility Tactical Plan, part of that organization's Capital Projects Technology Roadmap project.

This wide range of initiatives and industry activities makes us highly qualified to lead the track.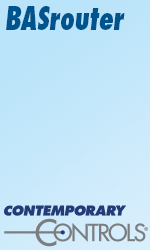 Sinclair: What are the key trends (concerning new products and services) within the intelligent building/integrated systems sector?
Zimmer: The main trend within our sector is the movement towards "convergence" of all interactive and passive technologies within a building. We actively support all industry initiatives that encourage system integration and interoperability. CABA's commitment extended to the development of guidelines concerning the use of XML and Web services in building automation and control applications. That initiative evolved into oBIX (www.obix.org), the Open Building Information Xchange. Key trends also include those that will be highlighted at Trends@BuilConn.

CABA has strongly supported the CSI MasterSpec, LEED, and CLA initiatives and worked to strengthen machine to-machine device networking.
Sinclair: How do you see the sector evolving in the future?
Zimmer: In concurrence with research conducted through CABA's collaborative Technology Roadmap (TRM) for Intelligent Buildings (www.caba.org/trm), we predict the following trends, most of which are being accelerated through our varied membership:

Standardized building systems wiring enabling simple upgrade modifications of control systems.

A higher-value building and leasing potential being reached via increased individual environmental control.

Consumption costs managed through zone control on a time-of-day schedule.

Occupants/tenants controlling building systems after-hours via computer or telephone interface.

A single "human resources" interface modifying telephone, security, parking, LAN, wireless devices, and building directories instantly.
Interested in learning more about this track at BuilConn? Click here.
---

[Click Banner To Learn More]
[Home Page] [The Automator] [About] [Subscribe ] [Contact Us]