---


EMAIL INTERVIEW Ron Poskevich & Ken Sinclair
Ron Poskevich, General Manager, Lumisys
Ron Poskevich, General Manager of Lumisys, has more than 15 years of experience in the lighting control and building automation industry.
Prior to joining Lumisys Ron worked for Siemens Energy and Automation as Market Manager, Power Management Technologies and was involved with ABSIC (Advanced Building Systems Integration Consortium) projects; The Robert L. Preger Intelligent Workplace at Carnegie Mellon University and The Adaptable Workplace Laboratory at General Services Administration Headquarters. Ron also worked for Lithonia Lighting for seven years.
At Lumisys, Ron lead the development of best practices for integrated lighting control systems design that are changing the way lighting control is delivered and maintained. Ron also works with the BACnet International marketing committee.
Reach him by e-mail at RPoskevich@Lumisys1.com or visit Lumisys at www.Lumisys1.com.
---
Sixteen Isnít So Sweet
Until recently, integrated lighting control was specified in Division 16 because of tradition; not because it was efficient or effective. The result of this out of date specification method make integrated lighting control needlessly more expensive and troublesome to construct.











Sinclair: What is the most efficient and effective way to specify integrated lighting control?
Poskevich: Very simply, the Building Automation System (BAS) controls contractor provides the lighting control system and the electrical contractor installs it. This simple change unleashes tremendous value and expertise and it positions everyone to be successful.
Sinclair: How does the BAS controls contractor win?
Poskevich: Regardless of the application, the BAS controls contractor is able to choose the lighting control system that best interoperates with their system. Empowering the BAS controls contractor in this area is significant because it eliminates costs and delays due to integration uncertainty.
Sinclair: How does the electrical contractor win?
Poskevich: The electrical contractor is able to install the lighting control system knowing that they are responsible for high voltage connectivity. They will no longer be dragged into communication or programming issues that they have no control over.
Sinclair: How do the mechanical engineer and electrical engineer win?
Poskevich: Accountability and expertise are now clearly aligned to meet the building owners demand for an integrated solution. The result is integration that works.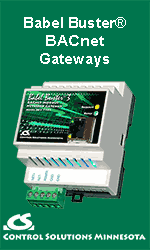 Sinclair: Is there any benefit to the building owner?
Poskevich: Yes, the building owner gets an integrated energy management system that is sustainable and achieves the efficiency they expected. Additionally, as many of the integration uncertainty costs are driven out of the bidding process, they save money.
Sinclair: Does this approach work on all buildings?
Poskevich: This approach works great with buildings that plan to utilize a professional building automation system like; Siemens Apogee, Johnson Controls Metasys, Automated Logic WebCTRL or others.
Sinclair: Why canít I just specify BACnet or some other open protocol lighting control in Division 16?
Poskevich: It does not address the root of the problem Ė accountability and expertise. Additionally, BACnet and other open protocols are a method of communication, not integration. There are five communication methods support by BACnet; MS/TP, IP, Ethernet, ARCnet, PTP. The BAS controls contractor should be empowered to select the best communication method and be accountable for executing the integration.
Though not directly referenced, it is noteworthy that the Lumisys approach, as described in the above interview, has parallels to the Responsibility Matrix recommended by Jim Sinopoli in his January article ďCoordinating the Design of Integrated Building Technology SolutionsĒ and his follow up February article Specifying Integrated Technology Systems in a Fragmented World.
---


[Click Banner To Learn More]
[Home Page] [The Automator] [About] [Subscribe ] [Contact Us]