---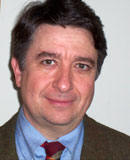 EMAIL INTERVIEW - oBIX co-chairs Paul Ehrlich and Toby Considine & Ken Sinclair
Paul Ehrlich PE, President, Building Intelligence Group
Paul@ehrlich.com
Toby Considine – Technology Officer, Facility Services, University of North Carolina – Chapel Hill
Toby.Considine@fac.unc.edu

---
oBIX is now an OASIS Committee Specification
REVISED JAN 03/07
If you wish to understand more about the original version of this interview contact Toby Considine.
Being approved as an OASIS committee standard means that oBIX has had a successful public review and that the committee has voted for approval.











Sinclair: So what is the importance of being an OASIS Committee Specification?
Ehrlich: Being approved as an OASIS committee specification means that oBIX has had a successful public review and that the committee has voted for approval.
Sinclair: Does that mean that the work is done?
Ehrlich: It means that we have a stable, approved version 1.0 document. Suppliers can start developing and offering products that utilize oBIX into the market. I would not be surprised to see oBIX enabled products shown at AHR this month. That is a giant step! Once we have products out, the next step is to apply to become an OASIS standard. We expect to do that within the next few months.
Sinclair: Why would anyone want an oBIX product?
Ehrlich: oBIX provides a great solution for connecting Building Automation systems to IT applications since it follows XML and Web Services. This includes functions such as system integration, enterprise integration, connecting to maintenance management, scheduling, enterprise resource planning and other network and enterprise applications.
Sinclair: So does this compete with BACnet or LonTalk?
Ehrlich: No, not really. BACnet and LonTalk are both very powerful protocols that do a great job in providing real time control and monitoring. The purpose of oBIX is to provide a high level integration solution and connection to IT applications.
Sinclair: With BACnet Web Services available is there still a need for oBIX?
Ehrlich: Both oBIX and BACnet Web Services provide solutions for XML based communications. Both have their strengths and weaknesses and applications. I would expect that suppliers will be offering both solutions.
Sinclair: Will there be future versions of oBIX?
Considine: The committee still has more work to do. What we have now is a good first step that largely meets the needs of the market today. Ideally we would like to see a future version of oBIX that would be more abstract and more Enterprise-centric. While the current version works well for the systems integrator, we would like to provide the ability for simplified integration of building systems into the "enterprise".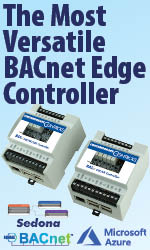 Sinclair: You have been talking about this type of Abstraction for Years. What makes you think we are any closer now?
Considine: There are two barriers to change of this magnitude: lack of a roadmap and defining business processes that would benefit from standard implementations. There has been no commonly agreed upon model for the abstraction. The fruits of abstraction have been hard to understand, much less to quantify. There has been significant movement on both fronts in the last year.

Building Information Modeling (BIM) is creating the roadmap. BIM is an effort to change the entire facility design, construction, and acquisition process to catch up to best practices in other engineering and financial disciplines. A recent article published by ASHRAE, suggested that using BIM offered among its benefits a 20% to 50% reduction in Design Cycle Time, Construction Time and Cost reductions of 20% to 40% and Life-Cycle O&M reduction of 10%-40%. Many of the current engineering, environmental, and design initiatives start with the use of BIM as a requisite for participants. BIM is seen a key enabler for future energy systems, from the Galvin Initiative to GridWise, to the Zero Energy Commercial Building.

The current efforts to standardize BIM in the US is known as NBIMS (National Building Information Model Standard) . NBIMS efforts include energy modeling directly from the model. COBIE (Common Building Information Exchange) defines the information formats for hand-off of BIM for use in commissioning and in maintenance.

We can define abstractions based upon NBIMS to make the surface of control systems intelligible to enterprise developers. To the extent that NBIMS is ready to generate energy models directly, it is ready to describe the functions provides as enterprise services with known costs.

Other initiatives are defining how information from embedded systems should reveal itself to other systems. UnitsML, sponsored by NIST and currently a committee in OASIS, is defining a standard for reporting any and all physical measurements. The Open Geospatial Consortium has defined the SensorML standard for incorporating live geo-tagged data directly into GIS systems. These standards were not available when we began our work.
---

[Click Banner To Learn More]
[Home Page] [The Automator] [About] [Subscribe ] [Contact Us]