---

Batteryless wireless technology contributes to LEED gold certification of the corporate headquarters of Canada's Promutuel insurance group.

Graham Martin,
Chairman & CEO,
EnOcean Alliance

Global climate change and rising energy prices mean that efficiency, sustainability and flexibility in building are becoming increasingly important. To successfully implement these prerequisites, more and more operators and owners of buildings are investing in modern automation. The aim is to automate various functions – such as control of lighting, shading or heating – with the aid of innovative technologies and sustainable solutions, thus making them simpler and more economical. The user benefits from extra comfort and convenience, the operator or owner of a building has an object they can lease for an attractive return. Sustainable building can be made measurable and transparent by the award of a LEED certificate.















LEED (Leadership in Energy and Environmental Design) certification was developed by the US Green Building Council in 1998 as a suite of standards to classify the sustainability of buildings. It is a voluntary certification procedure to promote environment-friendly and economical building. Rating is by a points system, these being awarded for sustainable site, water efficiency, energy and atmosphere, materials and resources plus indoor environmental quality. There are four levels of LEED qualification: certified, silver, gold and platinum. The commonest recipients of LEED certification are office buildings, schools and universities. One example of LEED gold level certification is the corporate headquarters of the Canadian Promutuel insurance group.

Building automation unencumbered by cables and batteries

To make its head office in Quebec really sustainable, the Canadian insurer decided to have the new building LEED certified. To achieve this, it installed innovative technologies such as EnOcean wireless. This works entirely without batteries, so it can operate with no need at all for servicing or maintenance. The current it needs is harvested from the energy in its surroundings: from linear motion, light or differences in temperature for example. A further advantage of the innovative solution is its speedy and straightforward installation – no cables have to be routed. That alone means savings of as much as ten percent.

Energy-efficient lighting and heating

A total of 800 EnOcean-enabled products from various manufacturers were installed – including energy-autonomous presence detectors and light sensors from Servodan, light switches and receivers from Echoflex Solutions plus EnOcean-based and BACnet-based gateways from Regulvar. All products integrating EnOcean technology are interoperable, enabling them to communicate with one another in any application.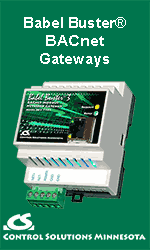 To prevent energy waste and carbon emissions right from the start, an intelligent lighting and shading control system which also increases comfort levels throughout the building was installed. The lighting is automatically dimmed or finally turned off according to given levels of daylight – assisted by light sensors. When the daylight levels reach a higher level, the window blinds are gradually automatically closed to ensure that the lighting levels within the building remain constant throughout the day and to reduce the temperature increase inside the building, which in turn reduces the cooling energy requirements significantly. Maintenance-free and energy-autonomous presence detectors were also installed to control the lighting in the building to match the requirement by sensing whether a room is actually occupied by someone. Movement information is transmitted wirelessly to a receiver, which automatically turns off lights if no more movement is registered before a set time interval has elapsed. If required, users are still able to adjust their lights manually.

EnOcean-enabled light switches were also put in place in the various rooms. These generate the energy to operate from finger pressure: a miniature dynamo uses this to produce an electric voltage. Requiring no cables, they are simply screwed or stuck to a wall or another suitable surface. The individual components are linked by BACnet to the building management system. The system is programmed so that lighting and heating or air-conditioning are automatically turned down or off outside of office hours. If someone is nevertheless in the office, they can turn on the light by simply pressing the switch. The EnOcean- and BACnet-based systems from Regulvar also allow central control and monitoring over the internet.

The entire installation was completed in just a few weeks. Regulvar was the executive partner and consultant for the entire duration of the project.

New possibilities in planning and room configuration

The implementation of batteryless wireless technology in the Promutuel building showed the way to significant savings in energy and operating costs, and without in any way degrading the company's performance. At the same time there are whole new possibilities in planning and room arrangement because any later changes can be made with no need to lay new cabling. A further advantage is the fact that the products can be speedily and simply removed or placed elsewhere for later renovations. Smart building automation solutions here clearly demonstrate their leadership in energy and environmental design.
---


[Click Banner To Learn More]
[Home Page] [The Automator] [About] [Subscribe ] [Contact Us]