---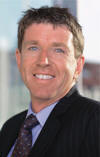 EMAIL INTERVIEW Graham Martin & Ken Sinclair
Graham Martin, Chairman and CEO of EnOcean Alliance
Graham Martin is a veteran of the electronics industry with more than 25 years' experience in analog and RF solutions. Before joining EnOcean, he held various engineering and marketing posts in the USA and Europe. Most recently he was responsible for business development at wireless sensor networks specialist Chipcon. At the same time he was president of Figure8Wireless and vice chairman of the ZigBee Alliance. Graham Martin studied in the USA and Britain, and graduated with a degree in physics from the University of Edinburgh in Scotland.
---
The EnOcean Alliance
A consortium of more than 120 leading companies from the global building sector.















Sinclair: What is the EnOcean Alliance and what is its mission statement?
Martin: The EnOcean Alliance, a non-profit organization headquartered in San Ramon, California, is a consortium of more than 120 leading companies from the global building sector working to establish innovative automation solutions for sustainable building projects. Put simply, its objective is to make buildings more energy efficient, more flexible and less costly to own and operate. The core technology of the Alliance is self-powered wireless technology from EnOcean for flexibly positioned and service-free sensor solutions. The EnOcean Alliance aims to standardize and internationalize EnOcean wireless technology, and is dedicated to creating interoperability between the products of its OEM partner organizations.
Sinclair: What kinds of products use EnOcean technology and what's the market potential?
Martin: Light switches, shutter/door switches, thermostats, occupancy sensors, light sensors, key card switches, window position sensors, gas sensors, remote controls, etc., are typical EnOcean solutions. The complete product offering can be found at http://www.enocean-alliance.org/en/products/. The total available market for these products is potentially around 4 Billion pieces per year inside buildings alone. Today the technology has been installed into over 100,000 buildings—with up to 10,000 products at just one building site. Currently we are seeing annual growth of over 100%.
Sinclair: What's the advantage of using EnOcean technology in automated building applications?
Martin: For openers, wireless products require no cables or batteries to power them. There is no need to plan or to install cables in the walls. EnOcean solutions can be fixed ("peel & stick") anywhere on virtually any surface (glass, wood, stone, tiles, etc.) and moved easily upon demand. The architect does not have to define where switches or sensors have to be placed until the building is completely finished and the user is moving in. This obviously provides huge advantages in flexibility and minimizes the amount of rework. For example, light switches can be placed wherever occupants require them— on glass walls, on furniture, inside the shower or even carried by the user in his pocket. They can be placed or moved for special needs, such as children or wheelchair users. The lighting products can be easily programmed to create various scenes or to adjust lighting according to natural light or to react to a demand response signal. Temperature sensors can be placed where the temperature should be monitored and controlled giving maximum comfort and minimum energy use. Sensors can be stuck on windows to send a signal when opened allowing building monitoring and energy savings. Gas sensors can send signals to control the ventilation or occupancy sensors will reduce energy usage in unoccupied areas.
Sinclair: What types of automated buildings are best suited for EnOcean-enabled solutions?
Martin: The technology has been successfully implemented in virtually every type of building, including industrial warehouses, hotels, offices, schools, multi- and single-family residences, retail, hospitals and historical/traditional institutions. There is no major difficulty as long as one is aware of the basics of wireless transmission, such as signal range and signal absorption through various materials like concrete and metal.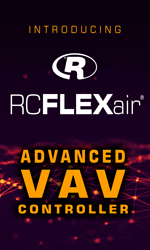 Sinclair: What are some of the wireless integration issues involved with EnOcean technology?
Martin: The wireless system within a building should be kept as simple as possible. Installers require easy-to-install plug-and-play systems without complicated mesh networking features or high-level programming necessary. The installers need to be aware of the basics of wireless transmissions, which can be learned relatively quickly. Between several buildings there are existing robust ways using cables or cell phone networks depending upon distance. Hopping low-power wireless systems across neighborhoods is not recommended due to interference, security, complicated installation and other issues. The 2.4GHz frequency band should be avoided due to its extremely short range and massive interference from Wireless LANs. EnOcean therefore uses the license- and interference-free 315MHz band, which keeps everything simple and interoperates easily with existing backbones or other networks.
Sinclair: What are some of the financial considerations associated with wireless controls?
Martin: Installing wireless controls can save significant amounts of cable installation and therefore time, mess and cost in new buildings or retrofits. We are typically seeing 15% cost savings in new installations and up to 80% savings in retrofit scenarios. Wireless monitoring and controlling, as part of a building automation system, can also help to save 20% to 40% energy consumption. The drawback is simply the fact that many building professionals are still not aware of how simple, reliable and maintenance-free wireless monitoring and control has become.
Sinclair: How do wireless devices solve unique design challenges in automated building applications?
Martin: The ability to place sensors and switches around the building after the user or tenant moves into the building is a unique advantage. During the planning and construction of many buildings it is not known how exactly the building will be fitted out nor what the individual requirements of the user will be. This increases flexibility tremendously and decreases the amount of expensive and time-consuming rework that is typically required. Wireless and batteryless switches and sensors can also be placed on virtually any surface such as glass, stone, wood, furniture or cubical walls and in virtually any location – even in your shower – to give the interior designer and owner multiple new flexible possibilities.
---

[Click Banner To Learn More]
[Home Page] [The Automator] [About] [Subscribe ] [Contact Us]