---
Pleasanton Public Library Reduces Lighting Energy Use




by 46% with Wireless Lighting Controls




Philip Lavee,

VP Sales & Marketing,

Adura Technologies
According to EPA estimates, public buildings in the U.S. waste approximately one-third of the energy they use. The city of Pleasanton, California decided to do something about that. One way they met this challenge was by installing wireless lighting controls at one of the city's most prominent public buildings.

Pleasanton, located in the Tri-Valley region of the Bay Area, has developed a Climate Action Plan (CAP), a roadmap for reducing greenhouse gas emissions, as well as dependence on fossil fuels.

A component of this CAP is to evaluate and upgrade lighting systems in city facilities. With one of the highest energy loads of city buildings, the 30,000 square foot public library was an obvious first project. The Pleasanton Public Library features multiple skylights and large windows that supply an abundance of natural light. Such plentiful daylight could save taxpayer money by reducing electricity costs. At the time, however, adjusting light levels to meet building users' needs was not possible. Instead, as in many of California's public buildings, the library's 661 lights were constantly on from the arrival of the first staff in the morning until the last person left at night.

In July 2011, a lighting retrofit project coupled with the installation of a wireless lighting controls system put city staff back in the driver's seat, enabling them to significantly reduce energy costs and greenhouse gas emissions, while increasing comfort and occupants' sense of security. A wireless lighting control system was best for the Pleasanton library for a variety of reasons.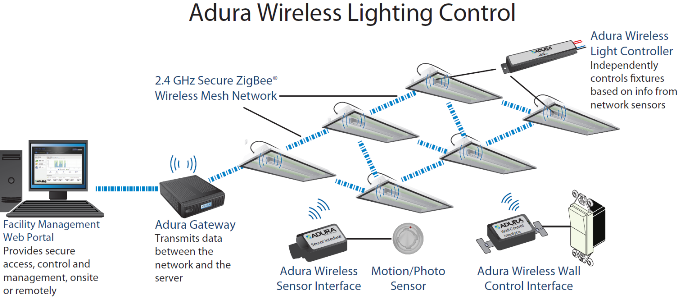 Traditionally, libraries have often been unable to utilize occupancy sensors in their book stack areas to save energy. Because most sensors must be directly wired to the fixtures they control, the height of the stacks creates challenging obstructions to the range of detection for the sensor. This typically causes fixtures to turn off abruptly even when the space is still occupied or creates challenges when the furniture layout changes. The ability to create dynamic software created zones of multiple fixtures wirelessly listening to one or more occupancy sensors would overcome this challenge and enable Pleasanton's library to realize energy savings not previously possible in this type of environment.

The library also had tremendous potential for daylight harvesting with the skylights and windows mentioned above, but due to circuiting limitations, the city could not leverage this or any other advanced lighting control strategy. Further complicating matters, the hard lid ceiling type prevented running conduit and wires for new circuiting or occupancy sensors. A wireless lighting control system became the only logical choice.

The City of Pleasanton needed a solution that could be configured to meet the library's unique needs. After evaluating the space and occupant needs, the system put in place utilized the following control strategies:

Daylight Harvesting: The existing fixtures around the skylights and along window lines were upgraded with dimming or bi-level ballasts and long life lamps. These fixtures respond to inputs from nearby photocells to dim or switch to a lower light level when daylight is prevalent.

Occupancy Sensing: Occupancy sensors signal lights to dim or turn off when a space is not in use. The sensor density of the library was designed to ensure occupant detection knowing library patrons are near motionless for extended periods of time. The addition of a "transition scene" of gradual dimming ensures occupant comfort instead of lights turning off suddenly. By configuring dynamic zones of lights controlled by each sensor as well as each light responding to input from multiple sensors, the stack height ceased to be an obstacle to occupancy-based controls.

Smart Scheduling: The occupancy sensor time out period is shorter during staff-only hours than during public hours, resulting in the lights in the main area turning off even though the staff area continues to be lit until they leave.

Task Tuning: The new lamps were set to an initial maximum output of 80%, resulting in an immediate energy savings of 20%. This setting can be adjusted upward as light output depreciates from fixture aging.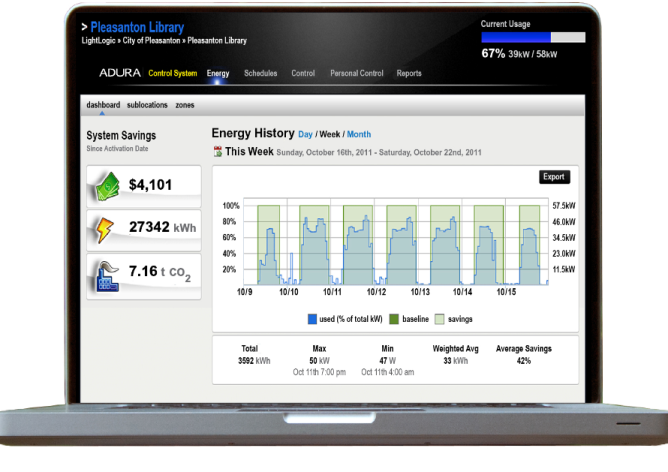 "Making better use of the sunlight in our atrium-rich building is just smart," said Julie Farnsworth, Director of Pleasanton Library Services. "The space stays bright and comfortable throughout the day and evening with no effort and is reducing library operating costs! We are happy with the project and the patrons enjoy excellent lighting at a lower cost."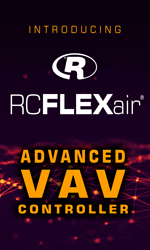 Thanks to wireless lighting controls and the control strategies they make possible – as well as a fixture retrofit, the library's lighting energy use has been reduced by 46 percent, representing a reduction of more than 18 percent of the library's total energy use. Public buildings of today may waste a great deal of energy but the Pleasanton Public Library has shown that doesn't have to be the case.

For more information on the retrofit, a case study is available at: http://www.aduratech.com/pdf/ETAP-Pleasanton-Wireless-Lighting-Case-Study_FINAL.pdf

For more information on Adura Technologies, please contact: marketing@aduratech.com


---
About the Author
Philip Lavee, VP Sales & Marketing
Philip knows how to deliver world-class sales and marketing support. He has more than two decades of commercial sales and marketing experience with technologies that provide the foundation for cleantech, including SaaS, IP licensing, software and systems. Philip was initially brought on as an advisor to provide strategic analysis, planning and execution of business and new market development. He formally joined the Adura team in July 2011. Philip previously served as Senior Vice President at Industrial Origami, a cleantech licensor of intellectual property and software, as well as Vice President at Mobilygen and Pictos. Philip satisfies his passion for very early stage start-ups by advising several young entrepreneurs and helping them pursue their dreams.



---


[Click Banner To Learn More]
[Home Page] [The Automator] [About] [Subscribe ] [Contact Us]