Comments by Ken Sinclair
Publisher - AutomatedBuildings.com
January - The Value of Virtual Visibility

Our Building Automation industry needs to create new value out of "virtual-ness". By using our rapidly evolving networking tools we need to project our real time data using graphical animations of our invisible cornerstones of comfort, energy, and environmental impact. We need to "Make the Invisible Visible" so all may collaborate freely and in real time with any platform, anytime, anywhere. How hard can that be? The tools now exist; we need to open up the industry and share our information in the cloud with new partners we've never met, allowing them to add value to our dynamic data with powerful web services.
Our virtual-ness will allow us to connect seamlessly to "Touch" computing. New input methods will be the dominant trend of 2012. Tablet computers such as the iPad might seem like a nice alternative to desktop and laptop computers, but they're replacements. Just as the command line (remember that?) gave way to graphical user interfaces, so the mouse will be superseded by touchscreens. This will be followed by the rise of gestural interface and other new GUI trends, plus HTML5. For more on this read my collection of the blizzard of information that monthly falls off my desktop.

Great interest last month in this article with the top reads Buildings can "Come to Life" and Teach Occupants about Sustainability.
This month lots more on our entry into the rapidly evolving virtual world. Be sure to read all our articles, columns, interviews, reviews, and new products.

What do you think "Open" means? What do you think "visible" means? If you are coming to Chicago come to our AHR free Education Sessions. Please read our preview; What does "Open" mean? as we now have our industry experts selected that will be speaking at our session, New Open Source Technologies that are Changing the Industry 1:30 pm Monday, January 23th.
My goal is to simply blurt out several open movements, while discussing our new visibility and to be the messenger of the power of open and visibility. It will be fun please join us.

Do you view our magazine on a smart phone or tablet? If you down load a RSS feed reader for your device you will find navigation easier on the smaller screen. We now RSS all content so your RSS feed has access to all.

Please help us welcome our newest sponsor: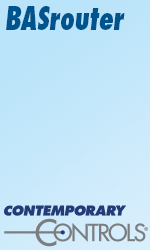 CAN2GO controllers, manufactured by SCL Elements Inc, offer wired and wireless control and networking with BACnet IP integration. They also include a license-free Web BMS for light-commercial and mid-market buildings.

Tell all our sponsors you saw their ads on the AutomatedBuildings.com web site and thank them for supporting your free access to evolving Automated Building Industry information. Click on their ads and view their valuable products and services. Please review all Our Sponsors

I am assembling a self-maintained global network of "Who is Who in building automation". Presently my network includes over 3060 please join us.
Please join our Group on Linkedin and interact with our magazine & online resource in real time while sharing your thoughts with our editors and other readers around the world now over 900.

The news just keeps flowing thru our web site and RSS feeds daily, and of course the only way to truly find what you are looking for in the vast quantity of information on our site is with our site search engine http://www.automatedbuildings.com/search/sitesearch.htm

As always lots of new products, plus be sure to check our event calendar to see the number of events we have in our future.
Editorial from December 2011
Send comments and suggestions to news@automatedbuildings.com
---

[Click Banner To Learn More]
[Home Page] [The Automator] [About] [Subscribe ] [Contact Us]