---
SCADA Improves Hospital Building Management System
New SCADA system meets stringent requirements of Moscow hospital, including Cyrillic alphabet displays.


Fabio Terezinho,
Vice President of consulting services and product manager
New SCADA system meets stringent requirements of Moscow hospital, including Cyrillic alphabet displays.

Hospital Automation protects both patients and staff while improving energy efficiency.
The SCADA system collects information on all building management systems.
The SCADA software is running reliably on an office-grade Windows 7 PC installed in a controlled environment.
Figure 1: Temperature set points are found in one central display, and are adjusted by zones based on staff and patient occupancy. Individual heating subsystem control screens were also created.

Nowhere is the quality of a building automation system more important than in a hospital. Many think of a hospital as just another building, but a hospital has unique and strict requirements not associated with other buildings. Patients, doctors, nurses, hospital workers and visitors all need to be protected by a highly reliable building automation system.

Backup and redundant systems must always be able to keep the hospital running in the event of a power outage or other emergency. However, few people realize how important climate control is in a hospital. Comfort must be maintained for hospital staff and patients, and a certain temperature range must be maintained at all times to keep critically injured patients safe as well as to minimize the risk of spreading viruses and bacteria.

Prevention of infectious and communicable diseases begins with air quality, making the building management system one of the most vital automated processes in the building. Proper operation of functions such as temperature regulation, air filtration, fire prevention and security systems can literally be the difference between life and death. Failure to properly control and monitor these systems, or at the very least warnings about problems, can be disastrous for a medical facility.

In addition to maintaining temperatures to protect hospital workers and patients from infection, precise climate control is needed for testing. Hospitals require very specific and constant temperatures to conduct lab tests and maintain the integrity of medical results. Failure to properly control variables like temperature or air flow can compromise the results of testing or damage sensitive and expensive equipment.

Extensive Upgrades and Unusual Challenges
The Central Clinical Hospital of the Federal Custom Service, located in Moscow, needed extensive upgrades of its monitoring system. The clinical hospital needed supervisory control for nearly all of the engineering systems in the facility. Upgrades included the HVAC system for heating, cooling and air regulation—as well as the security system and the fire detection system. As with any medical facility, the Central Clinical Hospital had strict requirements that had to be met.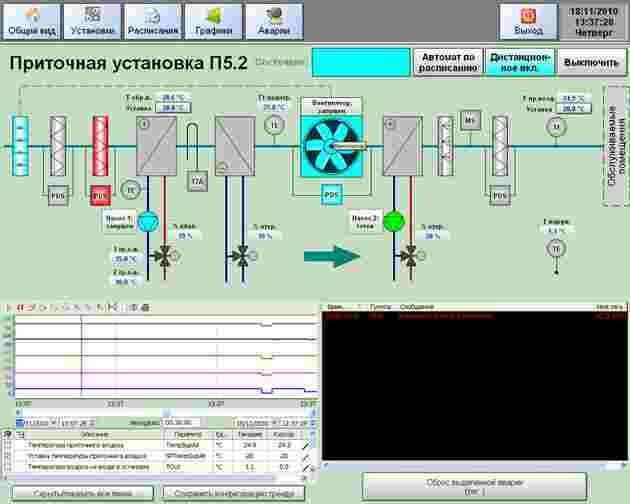 Figure 2: An individual screen shows one of the 60 different HVAC systems in a graphical layout, complete with temperature trend and alarm panel.
The hospital selected the engineering and system integration firm First Mile to develop a building management system that would meet the strict requirements of this modern medical facility. In addition to meeting these requirements, First Mile also needed to provide a SCADA solution that would easily handle the Cyrillic alphabet used in Russia, the most widely used European alphabet after standard English.

In order for operators to clearly read and understand the information displayed by the software, the program needed to be written in a Cyrillic font. The ability to handle this unique alphabet is a challenge for most SCADA providers. After reviewing several providers for the ability to handle this requirement, First Mile selected InduSoft Web Studio because it supports Unicode and has a one-click translation feature that translates the application while letting users easily tweak the translation of specific words. As a result, First Mile was easily able to create a full building management system SCADA project using the Cyrillic alphabet.
While 99 percent of First Mile's Russian clients prefer this format, the ability to develop in any language without additional plug-ins or modules was also important. Often, internationally-based clients want the ability to use both Cyrillic and Latin characters, as well as instructions in both in English and other languages for in what is increasingly a multi-lingual world.

The hot water supply was also a major aspect of the design of the system. The water, distributed by the largest supplier in Moscow, Monsenergo, required quick changes in temperature and pressure. This vital function was very hard to control and monitor with the old system, and substantial improvements were expected and made with the new system.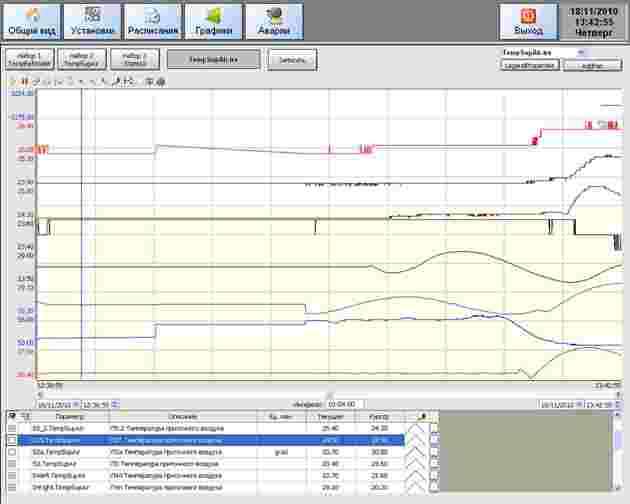 Figure 3: Trending shows at a glance the air temperatures over days, months or even years—and users can easily check values at any point in time.

Better Monitoring & Efficiency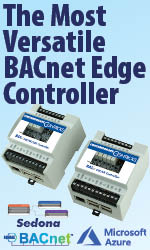 Installing the new system was a smooth transition for the hospital. First Mile constructed an application with a minimal number of screens by using key technology and VBScripting, both native to InduSoft Web Studio. The result was a SCADA system installed on desktop computers running the Windows 7 operating system. Because InduSoft includes a built-in Modbus/TCP driver, interfacing to the hospital's WAGO controllers was straightforward.

The SCADA system monitors each of the engineering functions and collects information on temperatures, the ventilation system, the air supply system, and the air chiller and HVAC systems. The SDADA system allows hospital maintenance and operations personnel to schedule temperatures for different zones within the hospital. This saves energy because not all areas of the facility are in use on weekends or after office hours, and these areas don't require precise temperature control.
Furthermore, the temperatures of some areas are also determined by occupancy, with more occupants requiring cooler temperatures or less heat. This means the system must be able to accommodate a great deal of flexibility in order to maintain a certain temperature where and when required.

Security functions such as the fire and gas security systems are also monitored by the SDADA system. For example, in the event of a fire, operators immediately receive an alert informing them of the location of the fire, so that they can immediately investigate further or alert fire response authorities.
Ensuring Future Development

After the success of the hospital project, First Mile continues to use InduSoft Web Studio for additional building automation projects. First Mile found that developing in InduSoft Web Studio was much easier and faster than with other SCADA software.

Because InduSoft is a truly independent SCADA provider, it can communicate with virtually any vendor's controller via its 240 native drivers, an important feature to accommodate interface to the variety of building automation controllers and systems. InduSoft Web Studio is also highly customizable, which enables First Mile to continue to add functionality as hospital needs change such as support for web thin clients.

Because InduSoft develops new releases to work seamlessly with previous ones, all of First Mile's hospital and building management clients have a SCADA system that can be enhanced and improved well into the future. InduSoft Web Studio is also highly scalable system for easy expansion, as the software provides tools and functions to enable the addition of new I/O points.

This combination of needed functionality to meet present requirements, and low cost scalability and feature addition to meet future needs, were key factors in First Mile's selection of InduSoft's SCADA software—and are also important factors for their hospital clients.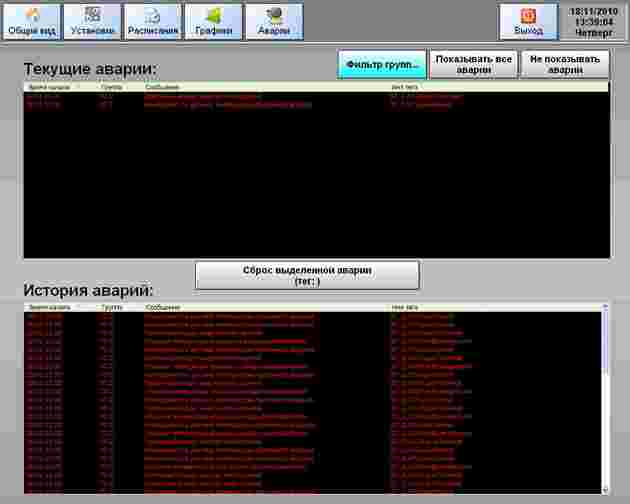 Figure 4: In addition to real time alarms, historical alarms can be called up to troubleshoot issues in a systematic manner.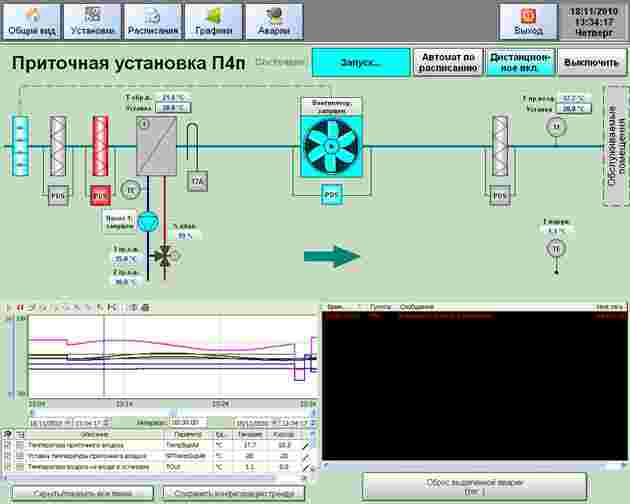 Figure 5: HVAC screens show data such as an animated chiller depicting flow direction and more.

---
About the Author
Fabio Terezinho, vice president of consulting services and product manager at InduSoft, Inc. He has over 16 years' experience in the automation industry, 13 of them with InduSoft. Fabio has equal experience in designing/developing software and application deployment. He holds an electronics engineering degree from Escola de Engenharia Maua as well as an MBA from Baylor University.


---


[Click Banner To Learn More]
[Home Page] [The Automator] [About] [Subscribe ] [Contact Us]