---
Energy Dashboards Are Evolving


As energy dashboards continue to evolve, building performance will be something that's more visual and more accessible for everyone, anywhere, anytime.

Technology is rapidly changing the building industry and the momentum doesn't look to be slowing down anytime soon. Energy dashboards have evolved significantly during the past few years; originally for the purpose of reviewing complex building information, now it's commonplace to share this information with the building occupants. Interactive technology has allowed this energy data to be more visual, and more importantly – more accessible.

Adding occupants to the equation has greatly changed how energy dashboards are presented. For occupants, this information must have more of an educational focus and be easier to understand than the technical monitoring that an operations team would review. This is something that QA Graphics continues to focus on. The company has been an industry leader in making building concepts more visual, from BAS graphics for behind the scenes, to high-end equipment models and animations for marketing needs, and energy dashboards for the purpose of educating building occupants. The company has helped define how the solutions should differ when used by the two audiences, how facility management relies on energy dashboards for key performance indicators, whereas occupants need much more basic data for education. We have worked to introduce the term, energy education dashboards, to clarify the importance of the educational aspect for occupants. The company has presented this concept at several industry conferences, including the 2011 Green California Schools Summit, 2011 Iowa Energy Summit, and the 2010 Sustainable Solutions Conference, highlighting how education is a big differentiator when sharing building data with occupants.

Another factor that may change the use of energy dashboards in 2012 is how organizations can further involve occupants as part of their energy reduction strategies. A recent study shows that occupants can make a larger impact on overall building performance than previously thought. The study, Sensitivity Analysis: Comparing the Impact of Design, Operation, and Tenant Behavior on Building Energy Performance, released by the New Building Institute, was designed to compare operational energy-use characteristics to the impact of what is typically considered building design characteristics. In summary, the study shows that occupants have a greater impact on building performance than thought, illustrating that not only is the design of a building detrimental to building performance, but also the operation and policy strategies. As a result, the study recommends "the installation of submetering and energy-use dashboards can contribute to effective strategies to help tenants understand and reduce their energy usage" (NBI 27).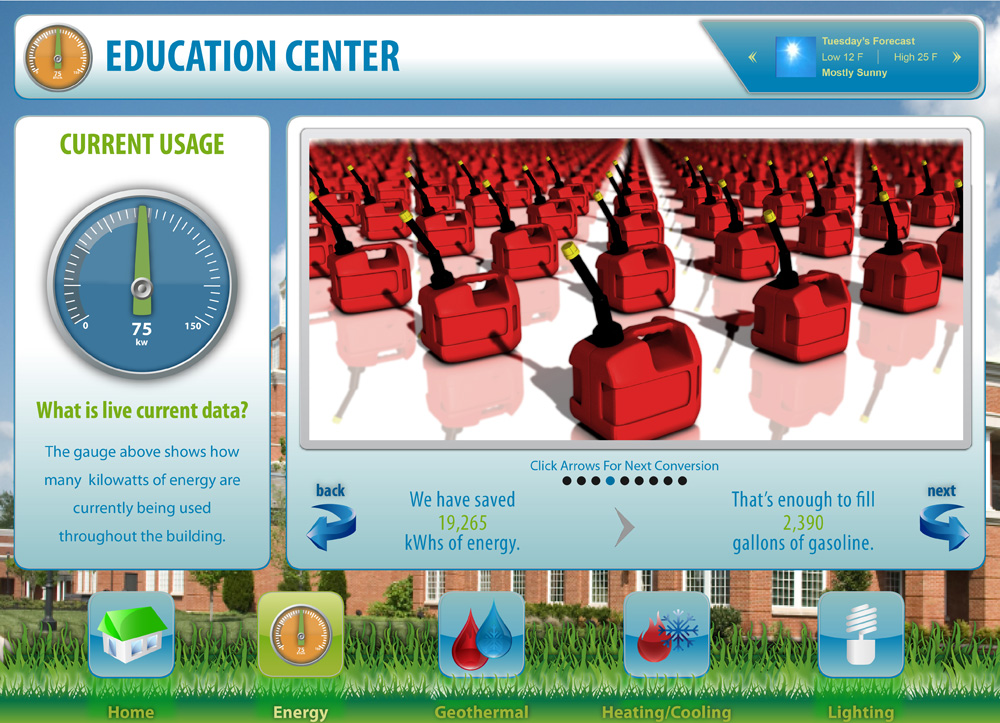 Providing a dashboard with this continuous feedback is a great start for occupant awareness, but a long-term plan beyond just showing the data is also required. The information must educate and keep occupants informed, as part of an organization's ongoing strategies to encourage lifestyle changes and not just temporary efforts. A third-party dashboard, separate from the building management system, is ideal because it allows the solution to be aligned with the organization's overall initiatives for the occupants without having to worry about the technical requirements that a dashboard used behind the scenes must consist of.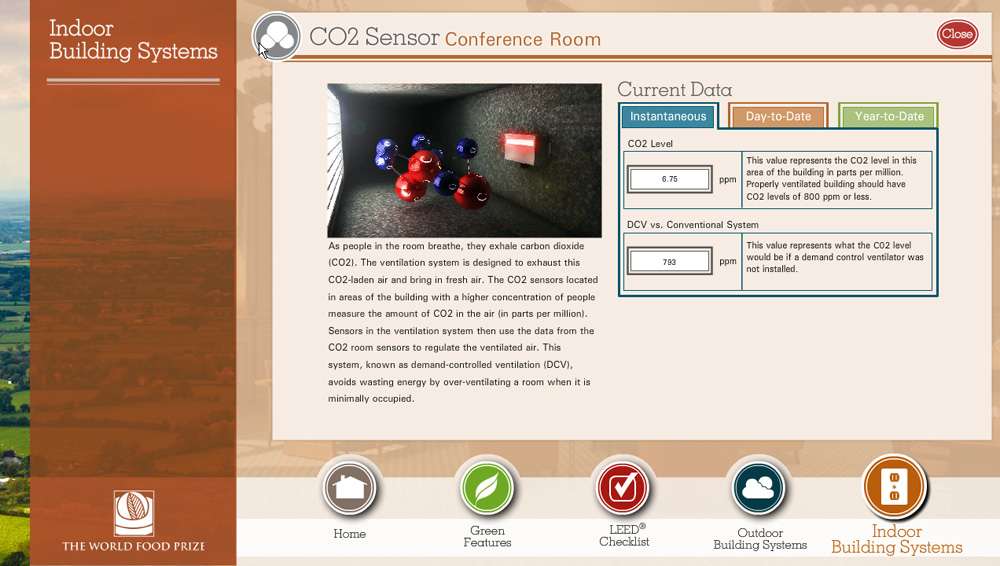 QA Graphics has been at the forefront of this industry, having provided their Energy Efficiency Education Dashboard solution for years now and recommends using a third-party solution like this for occupant awareness. Using a third-party solution complements the traditional energy management system. It's not performing the monitoring, but taking the data that's already available and presenting it in a way so that it's more visual and easy to understand. It also allows an organization to be more creative and engage the occupants with interactive features like demos, games and quizzes. The solution can also be much more social, with fun competitions to encourage resource savings. Another benefit is that third-party solutions are protocol based, and therefore not tied to a single building automation system vendor. If a facility changes vendors or makes an upgrade to their building management system, the educational dashboard can still function properly.

It's an exciting time to help organizations share this information and get occupants involved in their initiatives. As energy dashboards continue to evolve, building performance will be something that's more visual and more accessible for everyone, anywhere, anytime. As technology continues to evolve, so will the industry, changing to be a more interactive, social, and mobile market.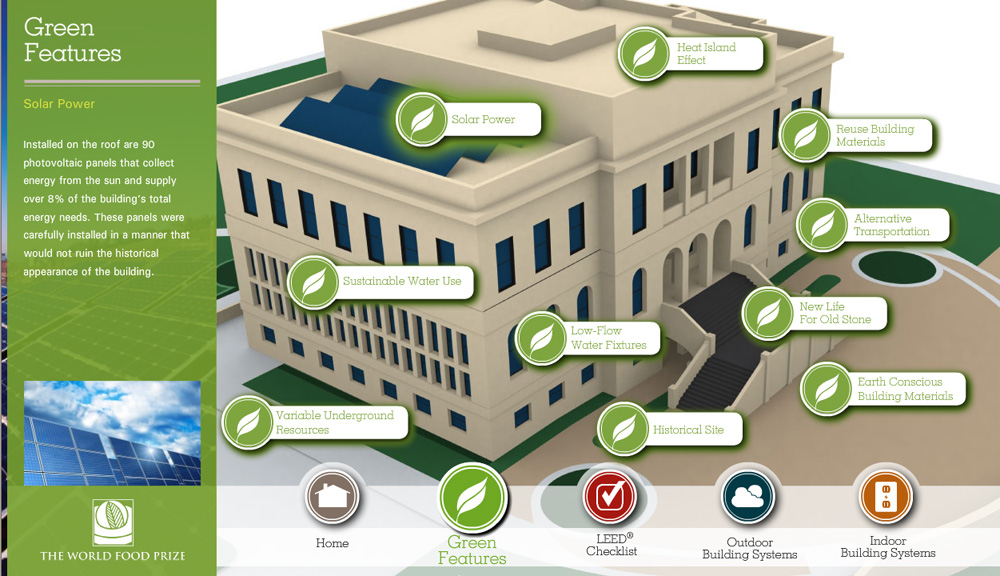 About QA Graphics
QA Graphics works with organizations of all types throughout North America providing their solution, the Energy Efficiency Education Dashboard, to help educate and inform occupants about building efficiency. For more information, visit www.qagraphics.com/eeed.

Stop by QA Graphics' booth #3729 at the AHR EXPO and be sure to attend their presentation on how energy dashboards can creatively communicate building performance to occupants in the new product technology theater at 4:30, Tuesday January 24.

References:
Jonathan Heller and Morgan Heater, Ecotope; Mark Frankel, New Buildings Institute (NBI). Sensitivity Analysis: Comparing the Impact of Design, Operation, and Tenant Behavior on Building Energy Performance. July 2011.

---


[Click Banner To Learn More]
[Home Page] [The Automator] [About] [Subscribe ] [Contact Us]