---

EMAIL INTERVIEW Anto Budiardjo & Ken Sinclair
Anto Budiardjo is President & CEO of Clasma Events Inc., the organizer of BuilConn held annually in North America, Europe and Asia as part of Clasma's ConnectivityWeek (www.ConnectivityWeek.com). ConnectivityWeek is a collection of conferences and tradeshows related to smart connected devices, regularly made up BuilConn (www.builconn.com), M2M Expo (www.m2mexpo.com), GridWise Expo (www.gridwiseexpo.com) and Wi-tivity (www.wi-tivity.com).
Please send comments and questions to antob@clasma.com.
---
BuilConn Next Steps – Going Global
ConnectivityWeek is our new umbrella brand to "house" BuilConn, M2M, GridWise and Wi-tivity. It's a brand we will use around the world to gather subjects related to connectivity of devices and systems, such as building controls and automation.











Sinclair: How did BuilConn Palm Springs turn out for you?
Budiardjo: The event was very strong in quality of attendees and content, many told us it was the best ever event. This was driven significantly by IP, helped by Cisco's Platinum Sponsorship with the Roundtable, Keynote and other presentations. The inclusion of GridWise Expo also delivered something fresh and new, this is truly a huge opportunity for energy management.
Sinclair: I noticed a different audience this year.
Budiardjo: Yes that was the case, we had a significant number of CIO/CTO and other such roles working in building owning organizations. These are a group of people that the building industry has so far been unable to attract to talk about building systems. In Palm Springs, they were there wanting to know how they can connect and leverage Building-IT convergence for the benefit of their organization.
Sinclair: Building Owners at BuilConn, that's great news.
Budiardjo: Yes it is, as far as owners are concerned convergence is good and happening.
Sinclair: And the Buildy Awards, who received them?
Budiardjo: The Buildy awards were given to Jack Mc Gowan (Vision Award), Cisco's Connected Real Estate program (Initiative Award), Cyrus Technologies (Best Integration Project), Gridlogix (Best Product) and Boeing's Long Beach Plant (Best Building) – see www.builconn.com/2006/na/content/buildy.asp.

I would also like to publicly thank you and Jane for the Newsmaker of the Year Award. It was an honor to receive the award, and quite a surprise in Palm Springs. Thanks.
Sinclair: You also launched ConnectivityWeek™, tell me about that?
Budiardjo: ConnectivityWeek is our new umbrella brand to "house" BuilConn, M2M, GridWise and Wi-tivity. It's a brand we will use around the world to gather subjects related to connectivity of devices and systems, such as building controls and automation – see www.connectivityweek.com. Our intent is to bring other subjects to be part of each one of the three global ConnectivityWeek events.
Sinclair: Will there be a ConnectivityWeek in Europe?
Budiardjo: Yes the European ConnectivityWeek is happening in Amsterdam October 3-5 and will be made up of BuilConn, M2M, GridWise, Wireless as well as a LonMark Educational Seminar.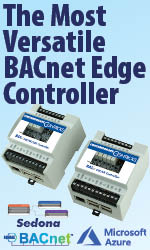 Sinclair: What's the focus of BuilConn in Amsterdam?
Budiardjo: In one word, Business.

It seems that discussions of vision, vagaries and theoretical issues we've had should now be behind us. The industry wants to know how convergence is going to be turned into profitable and strong business. The focus of the first day in Amsterdam will be how the industry should re-shape itself with IP as the driving technology and IT as the mode we should be in. The second day will be focused on how building owners should look at procuring a converged building system in this new paradigm.

It's not business as usual Ken, it's much better, we need to understand how.
Sinclair: Tell me about LonMark's activities in Amsterdam?
Budiardjo: LonMark are delivering a LonMark Educational Seminar at ConnectivityWeek, targeted at how LonMark is to be viewed in the convergence world that we now live in. It promises to be a very different angle on LonWorks, not to be missed. LonMark International are also holding their Annual General Meeting at in Amsterdam.
Sinclair: How about Wireless, will that be covered in Amsterdam?
Budiardjo: In Amsterdam we are launching a new event called Wi-tivity, as part of ConnectivityWeek Europe. Wi-tivity is focused on wireless connectivity, specifically related to controls and monitoring of devices systems. This covers everything from wireless mesh, sensor networking such as ZigBee as well as WiFi, WiMax, GPRS and G3 types of wireless technologies.
Sinclair: Wi-tivity sounds interesting.
Budiardjo: Yes, we feel that Wireless Connectivity is such a strong topic that we are creating more focus and content on the impact to connectivity of devices, systems with people. This is clearly something that is very relevant to the commercial building industry.
Sinclair: Is ZigBee involved with Wi-tivity?
Budiardjo: Yes, we are working with ZigBee and other wireless players to develop this subject in Amsterdam and on an on-going basis in the future.
Sinclair: And after Amsterdam, you are working on a show in Singapore.
Budiardjo: Yes Ken, the Asia-Pacific ConnectivityWeek will be held in Singapore November 14-16. It will be made up of BuilConn, M2M, Wi-tivity as well as some GridWise content.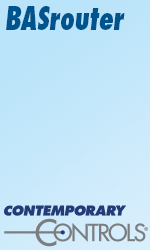 Sinclair: How is BuilConn being received in Asia?
Budiardjo: The enthusiasm for BuilConn has been tremendous, we went to Singapore in June to meet with key people there, what we experience was incredible. We received endorsement from AIIB (Asian Institute of Intelligent Buildings), the prominent group driving intelligent buildings in the region. We also received a significant endorsement by the BCA (Building & Construction Authority) in Singapore. This is a government body basically endorsing the convergence story through its support of BuilConn, which is a very strong support for the November in Singapore.
Sinclair: That's encouraging.
Budiardjo: Yes, and I will be able to tell you much more next month, we are working on some very exciting programs with our partners in Singapore. BuilConn Asia is likely to turn out to be a strong event, hope you will be able to join us.
Sinclair: We plan to, how about beyond Europe and Asia?
Budiardjo: We are working on that Ken, there are significant markets in the world that are clearly keen to learn about this subject, we are keen to help this industry grow into these markets.
Sinclair: Look forward to hearing more about this.
Budiardjo: Rest assured you (and your readers) will be the first to know.
---


[Click Banner To Learn More]
[Home Page] [The Automator] [About] [Subscribe ] [Contact Us]