---
The Next Generation of Lighting Control Software
Contributes between 12 and 18 points toward LEED certification, depending upon the application.


Terry Mocherniak,

Chief Operating Officer,




Lighting adds up to an estimated 40 percent of all electricity used across the country, according to recent estimates and is, therefore, a natural target for efforts to reduce overall electric usage, to lower electric bills, and to promote sustainability. Technology-based lighting controls have been a major focus of industry-wide innovation, and the latest step forward comes in the form of Polaris 3D™, Encelium Technologies' next generation of lighting control software for the company's Energy Control System™ (ECS).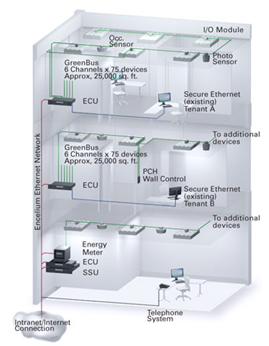 Essentially, Polaris 3D is a web-based application that features the industry's first three-dimensional view of an office or industrial building. With it, users have the ability to utilize Encelium's ECS to navigate through an entire facility in one 3D, 360-degree multi-floor view. An advanced system like ECS will meet or exceed current sustainable requirements for Title 24, ASHRAE 90.1, EPACT, as well as for many utility rebate programs and local building mandates. It also contributes between 12 and 18 points toward LEED certification, depending upon the application.

With Polaris 3D software in place, it will no longer be necessary for a building manager to navigate through a 'tree architecture' to reach a specific control zone. This allows for faster and easier navigation to a desired control zone with the ability to see an entire facility or complex in a convenient 3D snapshot.

Polaris 3D utilizes Microsoft's Silverlight technology, allowing access to the installed system from a simple web browser. As a result of that access, the installation of software is eliminated, leading to faster set-up and start times as well as fewer IT security issues. That ease of access also facilitates the integration of Polaris 3D with other web-based control systems that may be in place in a given facility or group of buildings.

The basic system requirements for Polaris 3D are an Internet web browser with Silverlight 4 or a later version of that software, as well as Internet/Intranet connection. Also needed are enabled Encelium SSU, appropriately configured, as well as a network connection that provides access to a network-enabled Encelium ECU.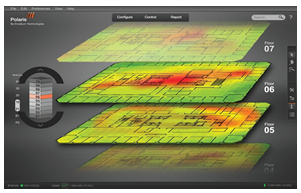 Operationally, Polaris 3D provides a dramatic, colorized thermo-graphic view of several system parameters as a means of identifying areas and trends of lighting inefficiency and operational anomalies throughout a given facility. Those system parameters include lighting status (on or off) and building-wide levels, load shedding status, lighting power density and consumption, occupancy status, and overall energy trends. The thermo-graphic view itself has been characterized as resembling a television weather map, with its varied "hot" and "cold" spots.

The Polaris 3D system is also able to monitor non-lighting conditions if ECS is interfaced with either Encelium BACnet or Niagara Ax. With that integration in place, such parameters as ambient air temperature, carbon dioxide levels, and general air quality can also be indicated in the 3D thermo-graphic view.

When utilized with the Encelium ECS system, Polaris 3D also has the capability of storing data and, by extension, a means of enabling various reporting features via an energy reporting module. It also has the ability to configure every system parameter in a building, or in a campus of buildings such as business park, for every individual user or space in that facility, while setting baselines for such system features as daylight harvesting, smart-time scheduling, occupancy control, task tuning, load shedding, and personal control.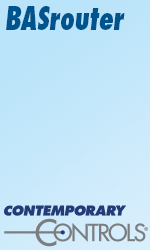 Other features of the software include the ability to create zone hierarchies, define overlapping and support zones, determine the access rights of those utilizing the system, and providing timeout settings for occupancy sensors. Polaris 3D also permits the calibration of light levels for daylight harvesting and the ability for setting multiple configured time schedule profiles.

Another innovative feature is a mapping interface that facilitates the convenient "drag and drop" mapping of all hardware that may be connected to the system, including light fixtures, sensors, relays or lighting controllers. The mapping feature effectively links the actual, physical location of such devices to a defined zone and that zone's lighting functionality.

If at some point it becomes necessary to change the association of a given device, such as a specific sensor or a lighting controller, to a grouping of fixtures or zone, that can be accomplished by utilizing a simple software setting instead of actual, physical rewiring. And if a specific building or campus utilizing the system requires a general reconfiguration, renovation, or repositioning, updated floor plans can be readily imported from AutoCAD.

Polaris 3D has tremendous capabilities for building owners and facility managers. And as building lighting requirements and operating characteristics are likely to continue to change over time, the system's software can readily be used to reconfigure the various system settings as a means of ensuring ongoing lighting and energy management performance for years to come.

Polaris 3D and Energy Control System are trademarks of Encelium Technologies, Inc.


---

About Encelium Technologies
Encelium Technologies (www.encelium.com) is a technology development company specializing in integrated lighting control systems for commercial buildings, including office buildings, schools, healthcare and public facilities, parking garages and stadiums. In 2010, the company secured a financing round led by Siemens Venture Capital (SVC), the corporate venture capital organization of Siemens, and joined by existing investor Townsend Ventures. Since the company's founding in 2001, the company has experienced tremendous growth, posting nearly a 100-percent annual sales increase during the last two years.

Terry Mocherniak, chief operating officer, possesses more than 18 years of experience in the advanced lighting technology sector. Prior to Encelium, Mocherniak was the managing partner of Value Added Ventures Corporation, a Toronto, Canada-based venture capital firm. In addition, he co-founded and served as the chief executive officer of Lumion Corporation, an electronic ballast and lighting control manufacturer based in Canada.

---

[Click Banner To Learn More]

[Home Page] [The Automator] [About] [Subscribe ] [Contact Us]