Comments by Ken Sinclair
Publisher - AutomatedBuildings.com
Creating Interactions
Wiki defines Interaction design very well -- "embedding information technology into the ambient social complexities of the physical world."
Interaction design (IxD) defines the structure and content of communication between two or more interactive "beings" to understand each other. By nature, all humans possess interactivity and most of human communication, verbal or not, is interactive. Interaction Designers strive to create meaningful relationships between people and the products and services that they use, from computers to mobile devices to appliances and beyond. The practice typically centers on "embedding information technology into the ambient social complexities of the physical world."
Interactivity, however, is not limited to technological systems. It can also apply to other types of non-electronic products and services, and even organizations. Also, people have been interacting with each other as long as humans have been a species. Therefore, interaction design can be applied to the development of all solutions (or offerings), such as services and events. Those who design these offerings have, typically, performed interaction design inherently without naming it as such.
Got all that? "Embedding information technology into the ambient social complexities of the physical world." That is where we are in our evolution. Our Building Automation Industry has risen from the total obscurity of a boiler room and being installed by the sub trade of a sub trade to becoming a very visible industry. Now we must "Create Interactions" worthy of our visibility and strive to better understand how to interact with the powerful presentations of our information.


I am pleased with the stable of articles, interviews, columns, reviews, and new products for the July issue and how all have presented their take on Creating Interactions with the physical world.

We welcome Echelon as our newest sponsor. Echelon is the world's leading open-standard energy control networking company. Echelon technologies connect more than 35 million homes, 300,000 buildings and 100 million devices to the smart grid, and help customers save 20% or more on their energy usage. Learn more at www.echelon.com.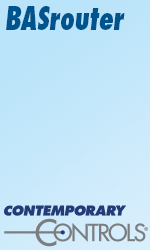 Tell all our sponsors you saw their ads on the AutomatedBuildings.com web site and thank them for supporting your free access to evolving Automated Building Industry information. Click on their ads and view their valuable products and services. Please review all Our Sponsors

I am assembling a self-maintained global network of "Who is Who in building automation". Presently my network includes over 2080 please join us.
Please join our Group on Linkedin and interact with our magazine & online resource in real time with over 550 others while sharing your thoughts with our editors and other readers around the world.

The news just keeps flowing thru our web site and RSS feeds daily, and of course the only way to truly find what you are looking for in the vast quantity of information on our site is with our site search engine http://www.automatedbuildings.com/search/sitesearch.htm

As always lots of new products, plus be sure to check our event calendar to see the number of events we have in our future.
Editorial from June 2011
Send comments and suggestions to news@automatedbuildings.com
---


[Click Banner To Learn More]
[Home Page] [The Automator] [About] [Subscribe ] [Contact Us]