---
Pushing Alarms Beyond the Building Walls
Adding a monitoring, alarm, and notification system on top of your building automation system.


Dane Overfield

Exele



Automation systems have allowed people to control and monitor their data and alarms from within the physical environment that is being monitored. Although these systems have worked well, users' appetite for data and information has increased with the widespread use of mobile devices and platforms and the availability of non-automation data on these devices. "I can see the current weather and get weather updates on my phone, why not my automation data and alarms". At first glance, the proposed solution may be to open up the data and alarms to mobile users. Yet mirroring the vast amount of information available in the automation system to mobile and remote users may not be the best approach. The goal is not only to allow users to see current information, but to inform them of upsets or abnormal behaviors at the time of the event. The benefit of the proper solution is to direct the right data to the right people so they can make the required decisions.

Automation Alarm Systems
The automation system alarm capabilities may recognize events that need attention (e.g. power trip), but there are many non-traditional alarm events that the system may not be monitoring due to the difficulties in implementing the additional logic required to recognize such conditions, or the lack of event history required to recognize trends of activity. After the initial event, escalation to additional people may be required if the event has not cleared or is getting worse. With the addition of alarm and event history, the monitoring solution can provide additional analytics to identify "bad actors" and periods of increased alarm activity. Adding an intelligent monitoring, alarm, and notification system such as EXELE's TopView can bridge the gap between automation data/events and the mobile or remote user.

Data Interfacing
The first hurdle in implementing a monitoring, alarming, and notification system is obtaining access to the data within the automation system. Some automation systems have remained closed to the outside world unless a vendor-provided interface is used. While these vendor-specific solutions may work, they will limit the available monitoring solutions that can be implemented since only those solutions written for the vendor interface will work. Yet if the automation system has made its data available through standard interfaces such as OPC or SQL, the data can be easily accessed by non-vendor specific monitoring, alarming, and notification systems such as EXELE's TopView. Most automation systems have embraced these technologies because their users have demanded access to the data.

Push and Pull Data
When moving data beyond the facility walls, there are two primary methods that can be implemented: push and pull. In a data push solution, information is sent to a user based on an event or schedule. In a pull solution, the user requests the information from the monitoring system. Some solutions involve a combination of push and pull: the information is pushed to a platform (e.g. web server) and the user can later pull the information from the platform.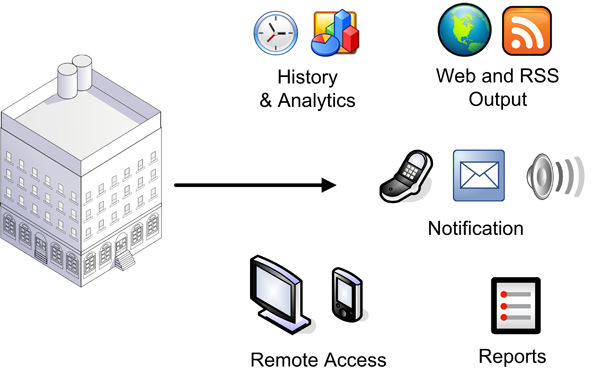 With the push method, TopView can push data and events to users through notification channels such as email, SMS/text, pagers, and phones. Email solutions require an available mail server, although public servers such as Gmail can be used if internet access is available. SMS/text notification can often be implemented through an email-text bridge at the cellular provider (e.g. email to 1112223333@vtext.com sends a text message to cellular phone 1112223333) allowing an email-only solution to reach both traditional email clients and SMS/text users. Wireless SMS/text solutions can be implemented with a cellular GSM modem as long as cellular service is available at both the monitoring computer and the mobile user location. Pagers and phone notification normally require a modem and are losing popularity due to slow delivery time and availability of new technologies.

A push solution is more useful if it provides a method for the user to acknowledge receipt of the notification. For example, replying to an email notification informs TopView that the recipient has read the email and acknowledges the event. Without a reply acknowledge within a configurable time of the event and notification, other users can be notified "up the chain" until a reply acknowledge is received. Both Email and SMS/text notification can use bi-directional communication in order to allow an intelligent escalation of events.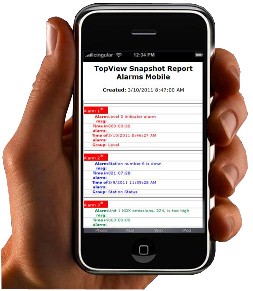 A combination push/pull solution makes the data and events available for users to query on demand, normally within a private or public web site.

In TopView, automation data and events can be represented as HTML formatted reports that can be read with desktop and mobile browsers. Multiple reports can be created so that users can access data specific to their area of responsibility. Although the HTML reports can be emailed on a schedule, they can also be published to a web server where users can query the current content as needed using a web browser.

More recently, RSS feeds of events and alarms from the monitored automation system can be implemented.

RSS is a popular method for distributing information updates over the web. An RSS feed is a URL that provides a summary of the information to be distributed. Common uses of RSS feeds include blog entries, news items, and videos. Instead of needing to visit a web site to see what is new (the blog, news web site, ...), an RSS Reader allows users to "subscribe" to one or more RSS feeds. The reader then displays the information from the feed(s): usually a headline, a brief description, and a link (e.g. to the blog or news item described). The reader may track the items that the user has read, and may allow the user to share items with others.

Alarm RSS feeds can be created and published to a web server. As with traditional RSS feeds, the Alarm RSS feeds provide items (alarm message), item description (alarm details), and optional item links. Users can subscribe to the alarm RSS feed(s) using an RSS Reader to view alarm activity using the same technology as news and blog RSS feeds.

RSS Readers can be
(1) applications that run on the desktop, mobile, or tablet device (iPhone, Android, Windows Phone, iPad)
(2) embedded into web pages and portals such as iGoogle and My Yahoo
(3) hardware devices such as LED tickers

A pull solution allows a user to query automation data and alarm events on demand. In this scenario, TopView responds to a request from the user, sending the information back out to the requesting user. For example, upon receipt of an alarm event notification, the user may desire additional details about current data values or other active alarm events; an at-home worker who is preparing to retire for the night may want to check on the state of the automation system.

TopView supports on-demand information requests through both email and SMS/text. By sending a request email or SMS/text message to TopView, the user can receive a formatted report of current data values and/or alarm events. Multiple requests can be configured, from single data values to detailed reports of multiple values and events.

Alarm History and Analytics

Immediate knowledge of abnormal events and conditions is very useful, but additional value is gained if the users have access to alarm and event history. While some workers may be responsible for responding to events as they occur, others may be interested in a summary of event activity over time.

The first solution is to implement TopView's scheduled alarm reports. Alarm reports are formatted reports (HTML, CSV, or text report) that summarize the alarm activity over a period of time (hours, weeks, or days). The reports can be formatted to include a subset of the overall alarm activity (based on alarm category), can be emailed at specific times, and can include alarm activity for a configurable period of time. Regardless of the location of the recipient, they can monitor the overall alarm activity of the system in an attempt to recognize abnormal or new trends in alarm activity.

Alarm and event history can and should provide more than just a log of the events and event details. Through built-in alarm analytics, users can interact with the system in order to recognize alarm trends and activity that may be hard to discern through a typical alarm history report. TopView's Remote Viewer is an application that can be used by local and remote (VPN) users to analyze alarm activity trends. For example, questions such as "what data points have the most alarm activity" and "what time of day do most alarms occur" can easily be answered though alarm analytics.

Get Connected
Today's users expect more from their automation systems. Gone are the days when data and alarms are only available to users sitting in front of an HMI near the automation system. Software such as Exele TopView allow users to implement an intelligent monitoring, alarming, and notification system that keeps users aware of current activity and allows them to recognize activity trends based on event history. Not only does this satisfy the demands of today's users, it allows fewer people to monitor the health of the automated system by providing access to data and events from both within and outside the building.

Links:
Exele TopView Software
Download a free evaluation version of TopView


---

About the Author
Dane Overfield currently leads the development of Exele's Process Data Analysis, Calculation, and Alarm Notification products. Dane has been with Exele since 1991, primarily working with and developing software for automation and historian products. He has been involved with designing and implementing process solutions for customers for 20 years, most recently focusing on Exele's TopView and OPCcalc software products.


---


[Click Banner To Learn More]

[Home Page] [The Automator] [About] [Subscribe ] [Contact Us]