---
Utilities Have Gone for Smart Meters
But IP-Based Services Can Deliver a Better Solution in the Commercial & Industrial Sector

Allan McHale

Director

Memoori




A Smart Time to Exit Smart Meters as IP-Based Services Start to Muscle In
This month saw the first billion plus acquisition of a pure Smart Grid company with Toshiba's purchase of Landis+Gyr for $2.3 billion .The owners of Landis+Gyr, the Australian investment group Bayard Capital announced over a year ago that they would go for an IPO within 2 years. It was therefore no surprise when rumours started in April that strategic buys were being considered from a number of suitors including GE. With the exception of GE all the other traditional electrical giants do not have a smart meter business so the odds were always in favour of one of them finding this buy irresistible. This sale was always going to be contested, as Landis+Gyr are the number one producer of electrical smart meters and have the widest exposure to world markets.

Toshiba was not thought to be the most likely buyer but they were more prepared to dig deep into their pockets and bring a big smile to the Australian / Irish faces of the O'Reilly dynasty (being the major shareholders). Landis+Gyr a private company was thought to have earned about $200 million on about $1.5 billion in annual revenues in the last year. That puts a $2.3 billion price in the realm of long-term investment. But this strategic buy should allow Toshiba to squeeze a lot more value out of L+G by integrating its existing technologies and utility projects into their own lines of business. Toshiba is a huge player in power and grid systems, alongside Mitsubishi and Hitachi, particularly in the Asian markets.

Landis+Gyr, employ approximately 5,000 people, and have in recent years seen frequent ownership changes. In the 1990s the company formed part of Switzerland's former Elektrowatt group, before going to top private equity group KKR and then to Siemens, Europe's largest engineering conglomerate. In January, Landis+Gyr was chosen by the State Grid Corporation of China to supply more than 10,000 commercial and industrial advanced electricity meters for 6 provinces in what will become the world's largest smart grid.

This seems like a good time to sell as demand for smart meters is expected to peak in 2013 after a tremendous run of growth and has been a major recipient of stimulus funding over the last 4 years. Smart meters are synonymous with smart grid to the extent that it is regarded as the cornerstone of its development. However there is a growing view out there that demand response and pricing signals to homes and businesses can be better achieved via the internet.

Vineyard Power on Martha's Vineyard, the island off of Massachusetts' Cape Cod, is involved in a pilot program with GE, utilizing GE's Nucleus energy management system and the company's Brillion smart appliances. So far, the pricing signals are simulated and based on regional wholesale electric rates.

The Nucleus energy management system passes this information along to the GE smart appliances, and they can delay a cycle, depending on the cost of energy at the time. Homeowners maintain the option of overriding a delay. So in this case the Internet is superseding AMI (Advanced Meter Infrastructure) meters, through a home area network that is connected to the Internet.

Providing such IP-based services over the net would require some level of energy management within the home, such as what's being done with GE's Nucleus systems on Martha's Vineyard. That means more of an emphasis on whole-house energy management systems with possible tie-ins to other systems such as security, lighting control, HVAC, motorized shading and home control and automation - whereas smart meters could communicate pricing and other signals directly to smart appliances.

Home energy management systems could also offer homeowners more options - such as more sophisticated levels of pre-programmed preferences than are more likely to be achieved via basic smart meter-to-smart appliance connections. For example, whether to turn on an appliance might be dependent upon not only a signal being received from the utility but on the amount of energy that has already been consumed in a home that day, week or month.

It would appear that electrical utilities are not particularly interested in using this alternative. There are two reasons for this. The first is that they want to be assured that they can count on the proper responses to control and balance demand and they are now committed to achieving this through the smart meter solution. The second is they don't want to share this potential high value add stream of revenues. However the IP-based energy management system is a practical, and in many cases more cost efficient solution so if they don't form alliances with the energy management solution providers they risk losing control of the holistic solution.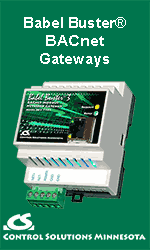 Serious Energy Inc has a cloud-based energy management system and like EcoFactor's automated home energy management, it micro manages the buildings' thermostats. But because Serious Energy is aimed at the Commercial and Industrial (C&I) market, it goes even further. It takes advantage of occupancy sensors, usage patterns and HVAC diagnostics to spot out and squeeze even more savings. But possibly the major plus for using their system is that as it operates on the cloud so upfront costs are minimal and no need to train operators, which delights real estate owners. Building owners pay their energy bills to Serious Energy and they pay the energy providers and then split the savings with its customers.

A neat solution, but lest these new contenders think they will have the market to themselves they should be reminded that the Building Environmental Controls suppliers have been providing energy management services for 20 years plus to this business sector. More recently have been financing microgrid and virtual power plant installations for major commercial and industrial operations whilst acquiring specialists companies that buy electrical power.

We have noted a number of acquisitions over the last 6 months where the rationale has been to bring about a solution to interface smart grid with home area networks and energy management, and we fully expect this trend to continue. There is always a place and space for the small but fleet of foot high tech company, but we suspect that most will never realise their full potential because the successful ones will be acquired at exit prices far higher than their trading value by the major energy management service companies.


---
About the Author

McHale's career spans 40 years in the Energy and Building Controls Industry. In 1980 McHale formed Proplan to provide consultancy services in marketing and business development of products for security, safety and environmental control in buildings. In 1998 Proplan was merged into a new start company, i&i limited in order to provide more comprehensive solutions to both the demand and supply side of intelligent and sustainable buildings. In 2008 the assets of i&i Proplan were acquired by BSRIA Ltd. Later that year he co-founded memoori ltd to provide web based business intelligence services to energy and security related industries.
During the last twenty years McHale has managed a wide range of marketing strategy assignments for some major international companies, and is the author of forty published market studies and numerous papers on physical security, fire detection and environmental controls and smart grid industries and has lectured in the U.S.A, Europe and the U.K. on business development.
---


[Click Banner To Learn More]

[Home Page] [The Automator] [About] [Subscribe ] [Contact Us]