---
Are You Energy Smarter Than a 9th Grader?
"We're hoping to instill a sense of preservation in our students. So we practice what we preach and teach them firsthand what it means to be sustainable. Hopefully that will carry throughout their lives."


Agustin Fonts,

Project Manager,

&

& Monty Joshi,

Director of Customer Experience,

SeriousEnergy, Inc




In my wildest dreams, there are a lot of schools challenging other schools in their local areas for who is going to make the most improvement in saving money and saving energy. – United States Secretary of Energy, Dr. Steven Chu

Those K-12 and college campuses that are early adopters of building energy efficiency management technology have a lot of lessons to share with the rest of the built environment. Being heard can be the biggest challenge. Yet, motivated students of Harker School in San Jose have seized the podium and even presented their case to Energy Secretary Steven Chu and a policy-focused audience at a White House-hosted grid-modernization event held June 13th in Washington D.C. Their message is resonating because it's so obvious and well-timed: to reinvent the nation's energy future, schools need to engage students in the science and technology of energy efficiency. Along the way, the money they save in energy costs can be much better spent on education and enrichment programs.
The Harker upper classmen, Shreya Indukuri and Daniela Lapidous, were instrumental in bringing smart meters and an energy-efficiency dashboard into their own school, spending a portion of a grant they received from the Alliance for Climate Education in 2009 on a SeriousEnergy Manager energy-efficiency management platform. The students have been part of the core team using the platform to identify sources of energy waste at their school and to measure and verify the savings achieved by acting on the insight. The campus now has an ENERGY STAR score of 88 from the EPA's Portfolio Manager building rating system. It has realized some 14% annual energy costs savings since implementing the platform in February 2010, which represents a short 18-month payback on its investment. This experience inspired the girls to found their own environmental organization, www.smartpowered.org, with the stated goal of helping other schools implement similar smart energy systems.

The process advocated by these Harker students begins with getting buy-in from school administration in the form of assistance in entering campus energy bill information into the free, online Portfolio Manager tool, so that current energy usage can be benchmarked against schools nationwide. One essential tool in Harker's effort to improve their initial grade was a SeriousEnergy Manager baseline modeler which takes into account historical energy, temperatures and occupancy data. The team generated baselines for each building asset on campus, again using billing data to trace energy usage over time. Not surprisingly, the school's gymnasium was a big energy spender and a natural target for improvement. Submeters installed in the gym were generating energy data night and day, but gleaning actionable information from the meter data would have been a cumbersome job were it not for visualization and diagnostic features available through the SeriousEnergy suite interfaced through Echelon SmartServer gateways.

Of specific help in finding energy waste fast is the platform's Spectral Analysis feature that plots interpolated meter data mnemonically. Soon after implementation, Harker's spectral and off-hours usage views revealed energy waste occurring over the weekends when the gym was being air conditioned while unoccupied. This is one of the first of many energy waste issues related to scheduling errors and short cycling found and corrected in buildings across all three campuses.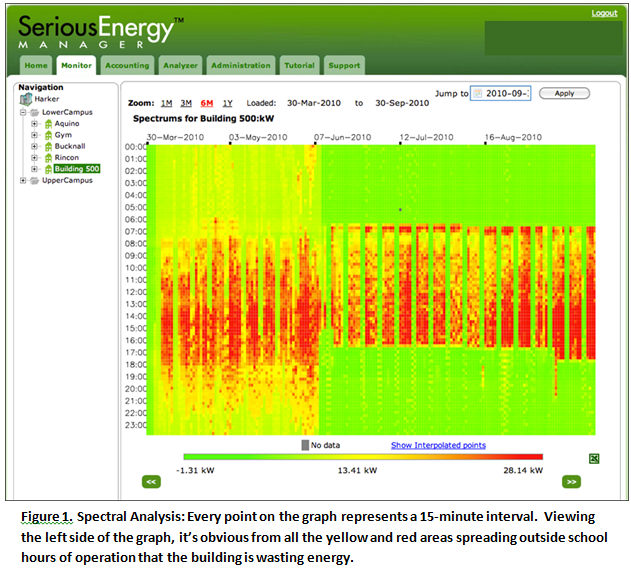 Harker's Director of Facilities, Mike Bassoni, has configured his SeriousEnergy Manager dashboard to include a "30-Day Worst Performers" widget that lets him know at a glance which building asset is experiencing energy drift and merits further diagnosis and action. He makes it a practice to establish a new baseline each time a significant energy conservation measure (ECM) is implemented, so that the team can easily track the impact for both Measurement and Verification (M&V) purposes as well as in the effort to combat backwards energy drift. A public dashboard view allows any member of the student body to log-on and track building energy performance, inspiring energy-saving behavioral changes on campus.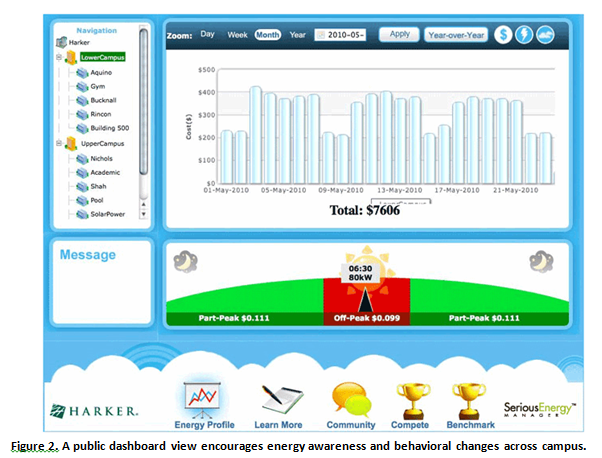 Harker's experience influenced the neighboring public high school district to also implement SeriousEnergy Manager. Moreover, the platform's customer base is expanding to higher education campuses. All of these schools face the same challenges:

• Finding cost savings in an era of increasing energy prices and decreasing budgets
• Maintaining comfort and reducing complaints related to HVAC equipment performance
• Developing an energy management curriculum
• Building their reputations in energy and environmental leadership

With their focus on training talent for growth markets, for-profit universities are natural partners in energy management education. One West Coast example is a campus with a sophisticated energy management implementation that involves a building management system (BMS) from Trane, third-party installation and integration services, as well as mechanical contractors. SeriousEnergy Manager's agnostic data collector interfaces with a Cisco Mediator gateway connecting to the Trane Tracer BMS, enabling cloud-based real-time data monitoring and analytics. The platform has identified issues and triggered tuning and hardware repairs that, if left unaddressed, would have cost the university nearly $38,000, or nearly 16% of its annual electricity bill based on the prior 12 months. For example, FDD analytics diagnosed a malfunctioning economizer that was leaving air dampers closed at outside temperatures which could have delivered free cooling. Once a control loop was modified to ensure dampers remain open through the economization range, the platform's ECM reporting function recorded about $10K in resulting savings. Likewise, when ECM reporting revealed that one of the supply fans was not modulating correctly, a control loop was tuned to enable VFDs to modulate speed, saving another $13,500.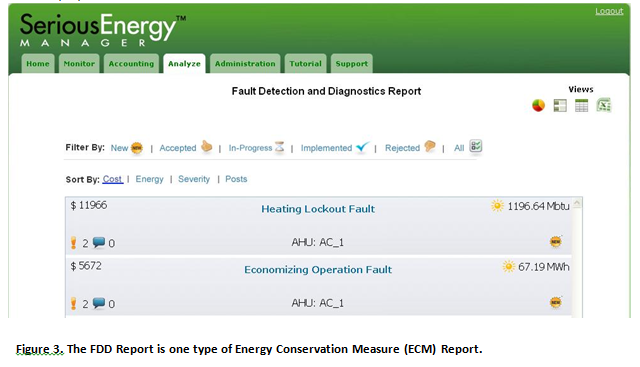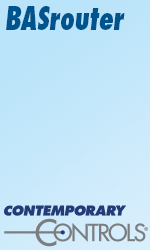 Of great value to the facilities manager running such a large campus, SeriousEnergy Manager does more than just detect and diagnose the HVAC issues its ECM Reporting feature offers insight into the cost impact of each FDD instance occurring across the building portfolio. This added cost information helps facilities and finance teams to prioritize issues and more cost-effectively schedule any truly necessary service maintenance calls. Moreover, ECM Reporting allows the viewing of the energy impact of faults over long periods of time, discouraging any false alarms. Another convenience is that facilitates staff can easily track energy usage and cost status as each equipment fix is being implemented.

On the supply-side of the energy equation, many K-12 and university campuses are deploying renewable energy sources, like solar panels on roofs and parking structures, as well as other types of on-site distributed generation. The campus facilities managers are finding themselves operators of their own micro-grids, which by definition have on-site distributed generation sources. One university in the Silicon Valley is getting substantial recognition for how it is pro-actively managing a microgrid with SeriousEnergy Manager.

All of these campuses intend to incorporate their own energy-efficiency processes and lessons into an energy management curriculum for students. Eventually, they each aim to lead in the energy educational space, and their experiences with SeriousEnergy Manager are instrumental in this effort. Harker's Director of Facilities, Mike Bassoni, states it succinctly, "We're hoping to instill a sense of preservation in our students. So we practice what we preach and teach them firsthand what it means to be sustainable. Hopefully that will carry throughout their lives."
---
About the Authors

Monty Joshi, Director, Customer Experience, Serious Energy, Inc.

Monty is responsible for customer-related deployment activities as well as the ongoing relationship management of existing clients. Prior to that, Monty managed the finances and operations of a software services start-up from inception through to successful acquisition. He also has managed an investment fund and served as an investment consultant to institutional clients. Monty received his MBA from the Haas School of Business at UC Berkeley, and BS from the University of Chicago.

Agustin Fonts, Professional Services Manager, Serious Energy, Inc.
Agustin manages the professional services offering of SeriousEnergy enhancing the value that customers can extract from the SeriousEnergy Manager(TM). Agustin has been involved in energy efficiency and smart buildings since his undergraduate engineering studies at Santa Clara University where he was part of a team that designed and built a prize winning zero energy home.

---


[Click Banner To Learn More]

[Home Page] [The Automator] [About] [Subscribe ] [Contact Us]