---
This year's Intelligent Buildings conference by Realcomm was again a hotbed of information exchange and business dealings for all the professions involved in smart buildings, smart cities, and smart energy projects. IT/OT convergence, security of networks and data, as well as technology disruption were big themes, as they have been in past years. My biggest takeaway from Realcomm/IBcon – San Diego is respect for its host region. On display at every turn was leadership in interfacing its corporate and university strengths with community efforts to increase sustainability and make the most of its water and energy resources.

University of California at San Diego is home to the J. Craig Venter Institute where ground-breaking research in genomics is taking place. The project manager and owner's representative during construction of this world-first net-zero laboratory was on stage at the conference. Yann Palmore, now with JLL Smart Buildings, was headlining several sessions, sharing his lessons learned. San Diego has a carbon action plan (CAP), and net zero thinking is helping it reach its year-by-year goals. Other net zero project veterans like David Kaneda from the Integral Group and Ruairi Barnwell of DLR Group were also there offering insight.

I also heard from Kiva Allgood, formerly President Qualcomm Intelligent Solutions, Industrial IOT and Smart Cities and now a GE Ventures Managing Partner. She was a board member of the local trade association, Cleantech San Diego in 2015 when it pulled together the public-private support required to deploy the IoT for the Port of San Diego. Combining technology and services from Intel, OSIsoft , Black & Veatch , Dell, and San Diego Gas & Electric (SDG&E), this project uses sensors to detect energy consumption and to translate it into easy-to-manage, real-time data to advance the port's smart city goals. Kiva offered this powerful illustration during her Smart Cities panel:

"When you have a conference in town, a ball game going on and a cruise ship coming in, planners now 'Pi' the energy and water data to make decisions and take action. With the data in hand, you might ask the ship to entertain passengers out on the water for a few more hours until after the ninth inning, for example."
Of course, she was talking about OSIsoft's signature Pi software, an industry benchmark for collecting large amounts of data to manage utility, infrastructure, and building systems. It has a long track record among municipalities, businesses, and academia. In addition to the Port of San Diego, the city's Petco Park is a customer. Realcomm/IBcon visitors had the opportunity to tour the ballpark during the conference to take in all the ways Pi is maximizing efficiencies. Many took in the Padres-vs-Cincinnati game while they were there. Fun!

David Doll, Industry Principal, Facilities and Energy Management at OSIsoft participating in a panel discussion about Enterprise IoT, offered this formula for success:
"Enterprise stakeholders recognize that data is ubiquitous, and they want to own the data collected from their activities and processes. They understand they can have intelligence out at the edge and into the clouds. They want to access it wherever it makes the most sense—latency issues factored in. With OSIsoft, the cloud is an architectural decision, not a mandate. The bigger the customer, the more likely they'll want data stored on premise, they don't require a cloud solution to scale. Once you start harvesting value from the data, the need to scale the platform is inevitable, from one building to hundreds of buildings. Your platform needs to accommodate all the projects you've planned and all those you haven't thought about yet."
On the same panel, Steven Meyer, Sr. Principal Engineer - Manufacturing IT at Intel Corporation, offered a perspective that is often missing from such operations-technology-centric gatherings—that of the enterprise IT manager. Meyer said:
"Intel decided to lead in IoT years ago, and I'm part of the IT team overseeing manufacturing automation in our factories worldwide. An aspect of that leadership is being engaged early in responding to the IoT needs and solutions proposed by business units inside the enterprise. The 'dreaded end-to-end solution' is now an official term here. We say that because, once you have experience with hundreds of smart-and-connected things in many categories, you realize that managing all of them with their different cloud hosts and device configuration requirements become burdensome. It blows your cost model out of the water. Enterprises don't want islands of hard-to-access data.
"So, at Intel, IT has standards for vetting cloud solutions. Security is, of course, the primary concern. But, we set the bar in other respects too. We screen for openness, interoperability and review the vendor's APIs and developer kits. Our message to the IoT platform vendors is 'Make money on your interoperable IoT ingredients, but don't make me duplicate my infrastructure.'
"As IT teams like mine move into the role of vetting IoT-solutions, we need to step up and enhance our services. We need to have the knowledge, people, processes, and interest to sit at the table when requirements and specifications are first being discussed. If another end-to-end offering is being proposed that would tax IT resources, we need to be able to steer the project team to a comparable solution that is a better fit. There are actually lots of ways to use the cloud, and it is IT's responsibility to set and enforce the standard as to how it should be done in this enterprise."
So many conference sessions this year honed in on working through the differences in the basic charters, educations, and cultures of IT and OT people. Anto Budiardjo, editor of "A New Deal for Buildings" blog just posted a new article that captures some of the different perspectives on this 'ravine impeding adoption of intelligent buildings.' I couldn't say it better, so I recommend reading Anto's IT & OT: Convergence or Divergence? Spoiler alert: he basically agrees with Intel's Steven Meyers that, when it comes to IoT deployments, IT has a responsibility to lead and to offer better service to OT customers.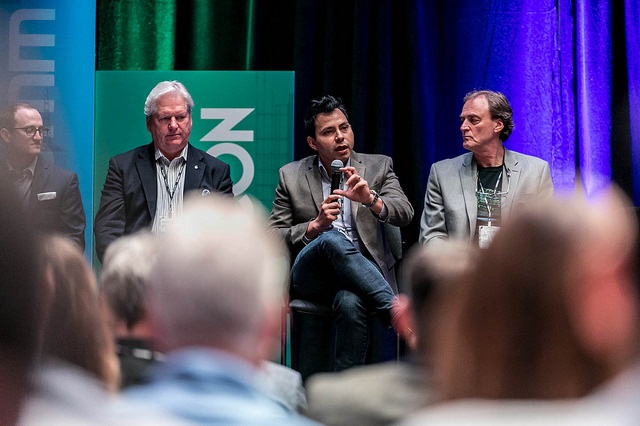 Building Data Analytics panel with Alex Grace of KGS Buildings, John Gilbert of Rudin Management, Victor Sanchez of LinkedIn and John Petze of SkyFoundry.

Regarding tech disruption, all the rumbling starts with advancements in analytics as well as cloud hosting services. The IBcon expo floor offered the chance to catch up with John Petze, Principal and Co-Founder of SkyFoundry, to ask him about how analytics for buildings are evolving. He explained that the latest release of the SkySpark platform, SkySpark® Everywhere™, is advancing along two vectors: first in terms of distributed edge-to-cloud architectures and then regarding how findings are communicated to human users. He explains:
"The BMS world understands the trade-offs between centralized and distributed processing. We saw the pattern before. The earliest BMS systems were centralized based on mainframes. Then came microprocessor-equipped field panels. Next, intelligent field devices brought processing all the way down to VAV boxes. Those controllers communicated with each other and could share control actions and events. Up until recently, analytics was a cloud- and server-based function. But, analytics processing needs to be distributed as well. In the IoT era, there is an unprecedented volume of data to handle. Deploying edge analytics can result in 1000-to-1 reduction in data transmission needs. Distributed data analytics is a core enabler of next-generation IoT applications for the built environment. With seamless clustering capability, it doesn't matter where data collecting, storing, managing, analyzing and visualizing data and analytics results happens. The platform can distribute the processing load across available resources in a way that is balanced, optimized and transparent from the operator's perspective.

Then regarding 'the last mile'—the user interface—end users want ease and clarity. SkySpark® Everywhere™ melds both ready-to-go apps that require 'no-engineering' with user-configurable tools that generate customized apps and reports. Whoever is setting up the analytics application can now decide to communicate findings with visualizations that best fit the range of users that will interact with the data and analytic results. It never has to be one-size-fits-all."

Every year it seems like Realcomm-IBcon grows in terms of sessions, tracks, expo square footage and people to meet; but, the length of time you have over three day stays the same. The Fear-of-Missing-Out was intense. It's a good thing so much is captured by the Realcomm team and made available in video on the Realcomm Conference Group youtube channel. This collection of interviews is a great resource for our industry.

---


[Click Banner To Learn More]
[Home Page] [The Automator] [About] [Subscribe ] [Contact Us]