---
Operations and Information Technology





Closing the Gap for Real Estate




Brian Turner,
President,
OTI
This year, I had the pleasure of moderating a panel at the Realcomm IBCon conference in the "Top of Mind" track. The session topic is one I'm confronted with often as a master systems integrator, Operations and Information Technology, Closing the Gap. It used to be that IT departments and building operations had no reason to be in contact with one another – IT handled all the networks, security and devices while operations focused on the systems that were bolted to the buildings, like HVAC and lighting. Recently, the "technology" part has become increasingly attached to the operations side of the building, and the networking of building systems will only continue to grow.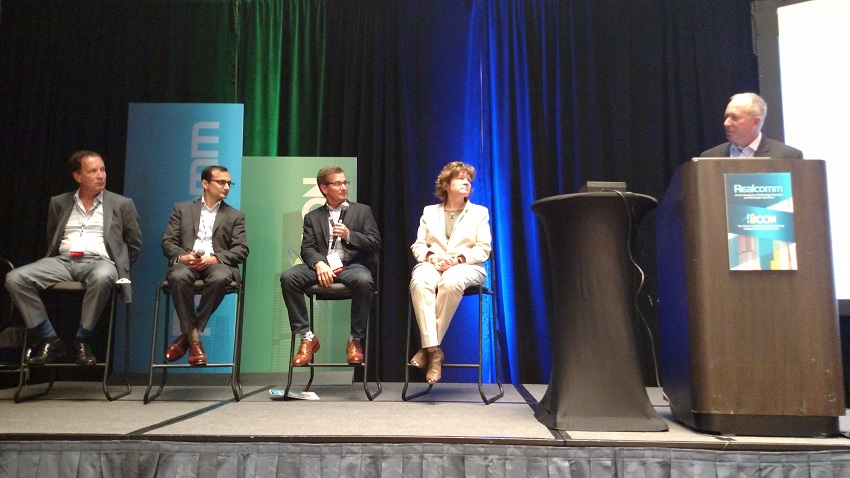 Smarter building equipment, the increased adoption of building networks, IoT and the expanding issues of cybersecurity and privacy are putting IT and OT on a collision course. What I discussed with the panel of experts – Sandeep Dave, Chief Digital and Technology Officer of Global Workplace Solutions for CBRE; Maureen Ehrenberg, Executive Managing Director of Integrated Facilities Management for JLL; Gerhard Karba, CEO of IX-Strata; and Richard Newberry, CEO of KMC Controls – was the notion that for both sides to succeed in the new world order, collaboration is key. But where to begin?

First, we have to recognize that the business case for adopting OT networking has already been made – there's a reduction in cable, a consolidation of servers and centralized security on both the physical and network levels. All of this results in gains of valuable leasable square footage for real estate professionals, while technology costs continue to decline.

Plus, as we saw demonstrated at this year's conference, there is a real desire amongst building owners and managers to operate state-of-the-art buildings with true next-generation capabilities. Just to name a few innovative building operators, there's General Growth Properties in the retail space, Grupo CINSA and Reichman International in the commercial office space, Infomart data centers, Ford Motor Company, Stanford University, and Hudson Yards on the smart city front.

As the conversation shifts toward IT and OT convergence, it's important to keep in mind how they differ. IT's bandwidth needs vary, while OT's remain fairly consistent over time. IT deals with customer and transactional data while OT focuses on operational, often time-series data. The biggest concern for IT when looking to manage an OT network is the distributed architecture required, versus their traditionally centralized networks.

With this in mind, I asked the Realcomm panel if they thought IT was ready to take on support for OT, but more importantly if they even should. A hearty debate arose. The only thing we could all agree on was that a new working order needs to be established and that the train is leaving the station either way. In order to keep everything moving forward at its most optimally productive, there needs to be more understanding about OT technologies across teams and throughout processes.

Here are some other questions I challenge you to consider when minding the gap between IT and OT: Is there a skills gap in the OT community? Are IT and OT at odds because of internal power plays between CIOs and COOs? What are the cultural differences between IT and OT? Can organizations be agile enough to move successfully into the IoT? What needs to happen to realize IT-OT convergence at scale, if convergence is the goal?

The panelists from CBRE, JLL, IX-Strata and KMC Controls offered intriguing perspectives on all of this. Let's keep the conversation going.

Looking for more of Brian's thoughts? Check this out?
http://controltrends.org/building-automation-and-integration/06/how-to-survive-as-a-distributor-in-the-smart-building-controls-renaissance/

---
About the Author
Brian Turner is President of OTI, Operational Technology Integrators. He has worked in the building automation industry for more than 20 years. Today, Turner and his expert team of master systems integrators are leading the charge to expand operational technology capabilities to take advantage of the Industrial Internet of Things truly.



---


[Click Banner To Learn More]
[Home Page] [The Automator] [About] [Subscribe ] [Contact Us]