---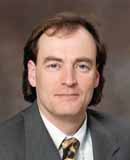 EMAIL INTERVIEW - John Petze & Ken Sinclair
John Petze, President & CEO, Tridium, Inc.
Mr. Petze has over 20 years of experience in the facilities automation industry, having served in a variety of senior technical and management positions with manufacturers of automation hardware and software. He is a cum laude graduate of Worcester Polytechnic Institute in Worcester, Mass., an associate member of ASHRAE, a member of the Association of Energy Engineers and a Certified Energy Manager. He is a frequent speaker at industry trade events and has authored numerous technical papers and articles for industry publications.
---
Connectivity of Systems
We believe that any real solution to interoperability has to embrace existing protocols and devices as well as the growing number of standards out there. The new standards are great as a path forward, but you need to provide owners with existing systems with a way to get on that path.
Sinclair: One of the benefits that has become associated with Tridiumís Niagara Framework is the ability to interface with many different devices and protocols. Can you tell us more about that?
Petze: Sure Ken. One of the visions of Niagara was to create a software platform that made the distinction or differences between smart devices basically disappear. Users wanting to interact with their equipment systems wouldnít have to care about which manufacturer supplied the device or which protocol the device used to communicate. End users donít care about the protocols used by devices. They care that their systems work, are cost effective and provide the desired functionality. An equal part of the vision was to provide systems integrators that implement systems with the tools to easily connect and integrate different devices and protocols into unified systems to give owners this seamless view.












Sinclair: Thatís a big vision. How does it take shape in a product?
Petze: The first way it is apparent is by the huge connectivity library that Niagara offers. Niagara has been used to connect to over 1000 devices from over 250 manufacturers using about 100 different protocols.
Sinclair: Are there that many out there?
Petze: Actually there are many more. Most of us are familiar with BACnet and LON and MODBUS, but there is OPC and EIB (popular in Europe), and DNP and Dali (new for lighting) and many more. Different market segments have their own world of protocols unique to themselves. Itís a bit like the variations you see in nature actually.
Sinclair: And then you have the legacy systems.
Petze: Thatís right. Smart devices, equipment systems and control systems represent huge investments on the part of building owners. It isnít viable to tell an owner that ďwe can give you an interoperable system, or connect your systems to the Internet only if you adopt this new technology or protocol and throw away everything you have ever bought.Ē I call that the ďdumpster mentalityĒ. It isnít financially viable. Building systems are not like desktop computer systems Ė you donít get to replace them every 3 to 4 years. They have a 10 plus year capital life cycle. This is why we believe that any real solution to interoperability has to embrace existing protocols and devices as well as the growing number of standards out there. The new standards are great as a path forward, but you need to provide owners with existing systems with a way to get on that path. That is what Niagara does Ė allow you to embrace what you have today and then move forward with standards-based products on your own budget and schedule.
Sinclair: You know I tried to do a bit of research before this interview and when I went to your web site I didnít see any lists of supported protocols. Why is that?
Petze: Thatís a great question Ken. We made a decision quite a while back that the focus shouldnít be a list but rather on the capability of Niagara to support the ever changing universe of protocols. We develop 1-2 new drivers every month Ė some are unique to highly specialized markets or valuable to only a single customer. Others are more universally applicable. We even have a toolkit that allows our partners (SIís, OEMs and Resellers) to create new drivers on their own, so they are creating new interfaces to solve customer needs independent of us but still compatible with Niagara. So we see the value as the capability of the platform to support new protocols as opposed to the list at any one point in time. We help people solve their connectivity needs and many times that means developing a new protocol driver for a specific customer or project. This happens regularly. Customers can get more information on our legacy protocol support by contacting us through our website.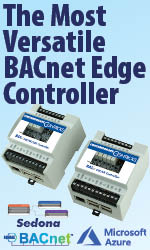 Sinclair: What are some of the more unique drivers you have implemented?
Petze: Just recently we implemented drivers for smart ovens and smart scales used in fast food facilities. These were part of an initiative by a major retailer to gain better operational control over their stores. Then we have protocols used in telecommunications facilities for monitoring of actual telecommunications gear, battery backup systems, and backup generator systems.
Sinclair: And what is the newest trend?
Petze: Thatís easy Ė web services protocols like oBIX the new standard being developed under OASIS (the Organization for the Advancement of Structured Information Standards). oBIX defines web services that will allow enterprise systems to easily interact with buildings systems and equipment and it is going to be a very important standard. Automated Buildings has done a great job of helping to get the word out about oBIX. But it isnít the only web-services communication interface out there. For example, we are working with Dust Inc., one of the leading suppliers of wireless mesh network technology, to deploy pilot projects for advanced energy management. They choose to implement a web services protocol in their system from the outset. It shows how much influence IT standards are starting to have in the buildings market. The list just keeps on growing.
---


[Click Banner To Learn More]
[Home Page] [The Automator] [About] [Subscribe ] [Contact Us]