---

EMAIL INTERVIEW Peter Kelly-Detwiler, Leighton Wolffe & Ken Sinclair
Peter Kelly-Detwiler is senior vice president of energy technology services for Constellation NewEnergy. He can be reached at Peter.Detwiler@constellation.com.
Leighton Wolffe is vice president of alliances and strategy for Constellation NewEnergy and serves as Executive Director of the NewEnergy Alliance. He can be reached at Leighton.J.Wolffe@constellation.com.
---
During last month's ConnectivityWeek in Santa Clara, CA, Editor of AutomatedBuildings.com, Ken Sinclair, sat down with Peter Kelly-Detwiler and Leighton Wolffe of Constellation NewEnergy to reflect on the conference, discuss the state of the Demand Response (DR) industry and look forward to what the future holds including new developments with the recently announced NewEnergy AllianceSM.
ConnectivityWeek 2008
ConnectivityWeek was very significant as it incorporated seven different industry events under one roof for the first time, including DR-Expo.











Sinclair: Peter, as a Platinum Sponsor of this year's ConnectivityWeek, what are your impressions of the conference?
Kelly-Detwiler: Given the record numbers that turned out for this year's conference, I think it is clear that the industry is really coming together and striving to better collaborate to meet the many challenges and opportunities that lie ahead. One underlying theme that I heard from many of the attendees is that the issues we face as an industry impact us equally whether you are a competitive energy provider such as Constellation NewEnergy or a Building Automation Services (BAS) professional, Systems Integrator or other IT professional serving the building automation market.
I also thought that this year's ConnectivityWeek was very significant as it incorporated seven different industry events under one roof for the first time, including DR-Expo. The inclusion of DR-Expo, first held in Chicago last October, speaks to the growing interest in load response programs and the critical role that these solutions can play throughout the industry.
Sinclair: Peter, you mentioned challenges and opportunities for the industry. What issues do you see ahead for energy providers and the Demand Response (DR) industry as a whole?
Kelly-Detwiler: Excellent question. This is a topic that has been explored in depth by several other members of the building automation industry including Jack Mc Gowan, CEO of Energy Control Inc., Chairman of the GridWise Architecture Council, and a founding member of the NewEnergy AllianceSM. One such issue that both Jack and Constellation see ahead is how our nation will meet its growing energy demands in the context of an aging infrastructure that will require substantial upgrade investments. While the electric system currently remains reliable, it is aging and many experts predict it will be increasingly strained in the coming years.
DR can help to mitigate some of the potential investment required. By leveraging technology and integrating it with the financial incentives associated with DR, we can work toward the goal of increasing energy efficiency in buildings across North America. Basically, many believe as I do that although it is important to build new generation, it is more effective to start on the demand side and pay customers to change electricity consumption patterns and the same time we need to plan for future upgrades which require long lead times.

We also must address several other challenges that face today's electric power systems. First, because electricity cannot be stored, the supply of and demand for electricity must be maintained and balanced in real time. Second, grid conditions can change significantly day-to-day, hour-to-hour, and even moment-to-moment. Demand levels also change rapidly and unexpectedly. The resulting mismatches between supply and demand can threaten the integrity of the grid on a large-scale within seconds. Third, the electric system is highly capital-intensive, and generation and transmission system investments have long lead times and even longer economic lifetimes.

However, it is these very challenges that make DR so valuable by offering flexibility at a comparatively low cost with a number of financial and operational benefits to electricity customers, load-serving entities, and grid operators. A well-structured pricing and incentive-based DR program can deliver electricity to the grid where and when it is needed at significant savings to all stakeholders in close to real time, often at lower costs than supply-side resources.
NewEnergy Alliance wins the Buildy Award for Best Open Initiative
Sinclair: Leighton, ConnectivityWeek represented an important milestone for the NewEnergy AllianceSM too. Can you tell us a bit more about it?
Wolffe: Many of the representatives and companies that attended this year's conference are members of the newly announced NewEnergy AllianceSM, which is comprised of equipment manufacturers, building automation companies, systems integrators and software application businesses. These Alliance members are committed to forging a new DR model and driving innovation in the building automation industry to create smarter, more Energy Responsive BuildingsSM.
ConnectivityWeek also represented an opportunity for the founding members of the NewEnergy AllianceSM to gather and discuss best practices. Beyond Constellation, these members include Cimetrics, Clasma, Delta Controls Inc., Energy Control Inc., Gridlogix, LonMark International, Novar, Richards-Zeta, and Tridium. Together, we are at the forefront of the convergence of energy and IT solutions and we are working collaboratively to identify best practices, protocols and standards for bringing about the changes that will move us to the future smart grid.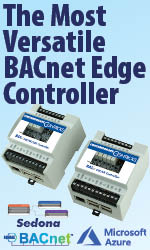 Sinclair: Leighton, can you tell us a bit more about some of these best practices?
Wolffe: Sure, some of the best practices that are being implemented by the Alliance's membership are designed to create what we have designated as "Energy Responsive BuildingsSM" as I mentioned before, which in basic terms is the integration of building automation systems with real-time energy market data and pricing signals. Ultimately, this new approach will provide greater building efficiency and allow facility owners more manageability over energy costs while continuing to maintain comfort and operating standards.
On a broader scale, this new approach can usher in a longer-term business model. It will advance the concept of interoperability and development of enterprise level software platforms and applications to allow building systems to uniformly respond to energy pricing signals and real time supply options that significantly lower energy costs.
Sinclair: What do you both see on the horizon for Constellation NewEnergy and the NewEnergy Alliance? SM
Kelly-Detwiler: We are aggressively expanding our DR offerings into both the current markets we serve along with emerging markets. For example, we were recently accepted into the Ontario Power Authority's DR3 Program. Ontario is the first Canadian Province to begin implementation of a DR program, and we believe that our work with members of the NewEnergy Alliance has put us in an excellent position to provide both seasoned expertise and comprehensive DR products to Ontario's emerging market.
Wolffe: We also see the best practices established by the NewEnergy Alliance elevating the role of DR programs across North America in helping to bring more stability to the electric grid. In the future, we can expect the best practices identified and embraced by the NewEnergy Alliance to help establish a higher standard of performance than some of the more basic approaches available in today's market.
Editorial Note: The opinions expressed in this interview are the author's alone and do not necessarily represent the views of Constellation Energy or any of its subsidiaries or affiliates.
---

[Click Banner To Learn More]
[Home Page] [The Automator] [About] [Subscribe ] [Contact Us]