---
The State of the Building Automation Market

"who makes the best building automation system?"

Paul Ehrlich & Ira Goldschmidt
Building Intelligence Group
One of the first questions we often are asked is "who makes the best building automation system?" The right answer to this question is something to the effect of "there is no bad building automation system, just poorly applied ones." Most of the time this leads to the real issues that challenge the success of a BAS project; namely:
• Is the design appropriate, thorough and enforced?
• Does the BAS Contractor provide high quality installation and service?















On other occasions a rousing discussion of the current state of BAS manufacturers and their products is a necessary diversion (if only as a means to return back to the real issues). This is one of those occasions….
We can recall a time in the early days of BAS's (when they were called "EMS's") when there were dozens of manufacturers to choose from. Moreover, the systems' architectures, capabilities, etc. varied greatly and were confusing black boxes to all but the most diligent buyers. Of course many of the manufacturers were gone within a few years, which led to a booming business in replacing fairly new systems.
Today things seem very different. Perhaps the following sums it up:
• There are more contractors but fewer manufacturers to choose from
• System architectures are more consistent with open standards being broadly available
• Many of the product differences have become a matter of subjective choice
• Selection is more often based on the contractor with price and the ability to integrate as the criteria
Manufacturer and Product Line Consolidation – The last 5 to 10 years has seen an astonishing consolidation of the BAS market in three variations:
Consolidation: Manufacturers have purchased formerly independent product lines and have made these products a part of their core offering, allowing suppliers to rapidly introduce new technology.

Branding: Several manufacturers have acquired product lines and have left them to operate as if they were still independent. This concept of "fighting brands" allows the suppliers to sell through different channels.

Integrated HVAC/Controls: Most major HVAC equipment manufacturers now also own a major BAS product line (or vice versa). Clearly factory-installed controls that are more tightly coupled to the equipment should lead to better projects at a lower cost. However, this result appears to proving its worth far more slowly than would be expected.
Product Capabilities – There is a clear convergence in the design of BAS's. The givens are: distributed processing using open communications (BACnet™ and LonMark/Talk™), full-featured and flexible support scheduling/alarming/trending (the "holy trinity" of BAS's), use of IP communications at the backbone level, a flexible programming language, web-server GUI operator interfaces, etc. This is good news for the buyer since it makes the product selection easier and less confusing. Moreover, some of the choices left to the buyer (i.e., BACnet vs. Lon, Graphical vs. line-by-line programming) are really a matter of personal preference. The bad news is that this convergence is sign that the industry has been offering little recently in the way of innovation.
Intelligent Building Integration – We consider this the real challenge for the BAS industry. While there is a clear demand for integrating more and more building and business enterprise systems, the BAS industry does not seem to be forging a clear leadership position in this trend (other than the marketing hype of "we integrate to anything…"). Likewise, BAS contractors are also generally challenged by how to elevate themselves to the "Systems Integrator" level.
There is a good chance that the consolidation efforts over the last 5+ years has left little time for innovation and forging a leadership role in the intelligent building market. Let's hope that the consolidation process is nearing its end so that the industry can refocus its efforts in the development of value-added innovations and services.
---
About the Authors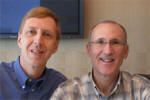 Paul and Ira first worked together on a series of ASHRAE projects including the BACnet committee and Guideline 13 – Specifying DDC Controls. The formation of Building Intelligence Group provided them the ability to work together professionally providing assistance to owners with the planning, design and development of Intelligent Building Systems. Building Intelligence Group provides services for clients worldwide including leading Universities, Corporations, and Developers. More information can be found at www.buildingintelligencegroup.com We also invite you to contact us directly at Paul@buildingintelligencegroup.com or ira@buildingintelligencegroup.com

---

[Click Banner To Learn More]
[Home Page] [The Automator] [About] [Subscribe ] [Contact Us]