---

EMAIL INTERVIEW Leighton Wolffe & Ken Sinclair
Leighton J. Wolffe, Vice President of Alliances and Strategy, Constellation NewEnergy
Based out of Constellation NewEnergy's Boston office, Mr. Wolffe's primary focus is advancement of the NewEnergy AllianceSM, a group committed to driving innovation in the building automation industry that will create smarter, more Energy Responsive BuildingsSM. Together, Alliance participants are working to forge a new electricity demand response model that will surpass the current utility-driven demand response offerings and provide customers with more control over their energy costs.
Mr. Wolffe's recent work includes providing expert consultation to private equity firms in evaluating and assessing investment opportunities in companies involved in leading edge building integration and distributed energy technologies, and working with manufacturers and developers of intelligent building systems to create and execute national sales and deployment strategies. Mr. Wolffe developed expertise early in his career implementing energy and information management systems at major university, health care and corporate facilities.
---
Interoperable Blues Band @ConnectivityWeek
The lineup is better than ever and the level of participation is expected to double from last year.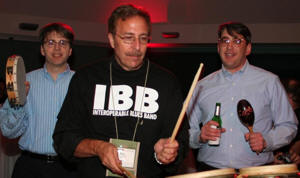 Sinclair: ConnectivityWeek is coming up soon and our readers wanted to know if the IBB (Interoperable Blues Band for ConnectivityWeek Freshmen) will be performing again this year.
Wolffe: Absolutely. The lineup is better than ever and the level of participation is expected to double from last year. We have set up a huge percussion section, and a stellar backing band. The set list has been expanded to cover more styles of music and there are more classic dance tunes.
Sinclair: For those who might not be aware of the IBB – what is it and how does it work?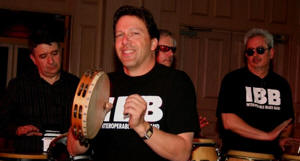 Wolffe: The idea started for the first BuilConn Event in 2002. With so many attendees who are also musicians that come to this event, we thought that throwing a party for the ourselves and having everyone participate might be fun. Turned it was a great idea and the event keeps getting better every year. We have some outstanding guitarists, horn players, singers, drummers, and bongo players sit in and create great music.
Sinclair: We had so many memorable moments in years past – we put some pictures up to share past performances.
Wolffe: We've had some great surprises – who knew that we had so much hidden talent.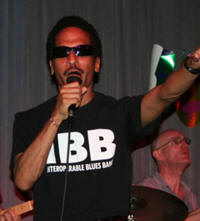 Sinclair: How do people join in?
Wolffe: Easy – we have a percussion section set up for 50+ people, so the only thing to do is stake out a drum and get with it. If someone wants to sing or play an instrument – they get in touch with me to go over the set list and pick out a few tunes to play with the band. The backing band is pro level and knows how to throw a good party. The stage manager will call people up during the evening to jump in with their tunes and then we play them. It's a lot of fun and a great way to connect with fellow attendees.
Sinclair: Any special surprises or guest artists we should know about? We all remember Graham Neill from England perform.
Wolffe: We have a few players lined up that will surely be known to everyone. This is a unique industry event – come and join in and help make it happen.