---

EMAIL INTERVIEW - Jay Althof & Ken Sinclair
Jay Althof is Vice President for the Global Control Systems group of Trane. Over his 19 years with Trane, Jay has held positions of increasing responsibility in Customer Direct Service (C.D.S.), Systems Marketing, Asset Management Services, Group Marketing, Building Automation Systems and Global Controls and Contracting. Prior to joining Trane, Jay was a Staff Engineer at the Solar Energy Research Institute (now the National Renewable Energy Laboratory) in Golden, Colorado. He is the author of numerous technical and business articles and holds Bachelors and Masters degrees in Mechanical Engineering from the University of Illinois.
He currently serves on the University of Illinois Mechanical and Industrial Engineering Alumni Board and the board of directors for the Continental Automated Building Association (CABA). CABA is a nonprofit industry association that provides information, education, and networking to help promote advanced technologies for the automation of homes and buildings in North America.
---
Turning Data into Action in XML Symposium Keynote
Trane's Jay Althof keynote speaker reflects on the XML Symposium 2005, held in Orlando in conjunction with the AHR Expo. In his address, Althof acknowledged the growing relevance of XML to HVAC and the importance of web services and standards as enabling technologies. Yet his primary admonition to the audience was to keep building owners' needs in the forefront. "We must remember it's not just having data and information. The real win is turning them into action that makes buildings run better."












Sinclair: Tell us more about your keynote address?
Althof: While the keynote addressed a very technical subject, it placed XML in the context of fundamental benefits that commercial, institutional and industrial building owners and operators continue to look for systems: productive work environments, lower overall operating costs, lower risks, and lowest total installed costs.

Our industry must focus on XML not as a technology, but as a solution; giving insight on business system architecture implications that decision makers must understand.
Sinclair: Why do industry participants need to educate themselves and take advantage of opportunities like the XML Symposium?
Althof: Building professionals need to get up to speed on Internet standards such as XML and its application in building systems.

To strategically operate buildings as assets, critical information from multiple building subsystems must be shared and managed. In the past, integration of the subsystems was done using proprietary protocols based on subsystem industry-specific expertise. As the building controls industry moves forward, the use of web-based, standardized IT protocol and methodologies will emerge as the principal communication and integration infrastructure across building systems.

Building owners should be aware of this when planning, and system designers will be called on to specify and design systems that employ standards such as XML. The XML Symposium was a great "boot camp" for new recruits, and a forum for those already engaged in the initiative.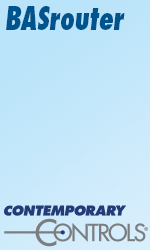 Sinclair: What did participants learn from Trane at XML?
Althof: By exploring the business drivers, I hope my talk framed the movement towards IT standards in building systems.

Trane presents the topic from the perspective of a building automation provider actively investing and implementing in XML in our product development. Participants in the Symposium learned how web-based BAS fits into an enterprise architecture, and the benefits they can anticipate from such systems.
Sinclair: What is Trane working on in product development in the area of convergence?
Althof: Our next generation, enterprise-level product is based upon XML. Its release is upcoming and will be the first in a series of components in this exciting new system architecture
Sinclair: Could you comment on the rate of adoption of XML in HVAC?
Althof: One thing that came out at the Symposium in great abundance were tories of vendors and integrators using XML and Web services to implement valuable solutions for building owners, solutions that would have been difficult or expensive to do without XML. This trend of adoption is a validation for Trane and our trategy to leverage XML in a major way.
---


[Click Banner To Learn More]
[Home Page] [The Automator] [About] [Subscribe ] [Contact Us]