---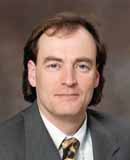 EMAIL INTERVIEW - John Petze & Ken Sinclair
John Petze, President & CEO, Tridium, Inc.
Mr. Petze has over 20 years of experience in the facilities automation industry, having served in a variety of senior technical and management positions with manufacturers of automation hardware and software. He is a cum laude graduate of Worcester Polytechnic Institute in Worcester, Mass., an associate member of ASHRAE, a member of the Association of Energy Engineers and a Certified Energy Manager. He is a frequent speaker at industry trade events and has authored numerous technical papers and articles for industry publications.
---
Tridium's Niagara Appliance - Finalist for Buildy Product of the Year Award
Niagara Appliance builds in multi-protocol support in a single solution. The factory ships one product no matter what type of system it will be integrated with.
Sinclair: I see that Tridium's Niagara Appliance is a finalist for a Buildy Product of the Year Award. Can you tell us about it?
Petze: Sure Ken. Niagara Appliance is a solution that makes it easy for equipment manufacturers to Internet enable their products and make them capable of integrating with other systems in building, such as a building automation system or directly with another equipment system.












Sinclair: Can you give us some examples of how manufacturers are adopting the Niagara Appliance approach?
Petze: One of first companies to take advantage of the Niagara Appliance program was McQuay. We worked with their engineers to create a factory packaged solution for their multiple air-handler system and then developed a product for their chillers. They call the product line MicroTech II. Another company is Square D – they offer the Quickstart Lighting system which is a Niagara Appliance. The most recent Niagara Appliance is from The Watt Stopper. We have helped them bring an Internet-enabled, BACnet compatible lighting control system to market.
Sinclair: The goal of the Buildy Award is to honor a manufacturer whose new product or service overcame a significant challenge, enhanced, or simplified the integration process. Can you tell us how Niagara Appliance fits those criteria?
Petze: Niagara Appliance addresses a number of challenges that today's equipment suppliers are facing. Their customers want to be able to communicate with their products using a simple web browser – this is one of the most obvious features that Niagara provides. But it goes deeper than that. Equipment systems are typically commissioned by a field technician. Niagara Appliance provides the technician with the ability to configure all of the operating parameters by filling out a series of HTML forms in a browser. The technician doesn't need any special software, they don't need to refer to a printed manual, they just connect with a browser and follow the predefined screens to specify all essential information. This approach saves significant training, field time, and insures consistency.

Another challenge equipment manufacturers face is the need to be able to "say yes" when customers want their products to integrate with a BACnet system, a LON system, or even a legacy system. Niagara Appliance builds in multi-protocol support in a single solution. The factory ships one product no matter what type of system it will be integrated with.

Manufacturers also want to provide more intelligent and comprehensive control capability. They can implement optimized control strategies if their equipment can communicate with other external systems. Automated demand limiting strategies based on real time meter data coming in from another system is an example, tying lighting schedules in intelligent lighting panels into an existing BAS is another example.
Sinclair: Any other comments you would like to add for our readers?
Petze: There is another interesting thing happening with the manufacturers we are talking with. The more progressive ones we are working with are using these capabilities to launch new revenue producing service offerings for their customers revolving around real time service and support. This is an important new trend for equipment suppliers.
---

[Click Banner To Learn More]
[Home Page] [The Automator] [About] [Subscribe ] [Contact Us]