---

EMAIL INTERVIEW - Ed Richards & Ken Sinclair
Edmund B. Richards, President and CEO, Richards-Zeta
erichards@richards-zeta.com

Edmund B. Richards is the President and CEO of Richards-Zeta Building Intelligence Inc. located in Santa Barbara, California. Richards is a Mechanical/Environmental Engineer with a special educational emphasis on the indoor environment including, but not limited to, HVAC, IAQ and Building Automation Systems. For over 25 years, Richards has been a leader in the engineering and construction market with a special focus on the Intelligent Buildings segment over the last 5 years. Co-founder of Envenergy, Inc., Richards secured capital in excess of $15M. Today, Richards passion, energy and vision is keenly focused on bringing the communication barriers down in the Building Automation Systems Industry and to finally allow the industry to "catch up" with the much younger information technology (IT) industry.
---
Richards-Zeta's OMEGA - Finalist for Buildy Product of the Year Award
OMEGA is the first, and last, intelligent building solution you will need to manage the assets of one or multiple facilities in today's enterprise-wide business.












Sinclair: What is Richards-Zeta's OMEGA?
Richards: OMEGA (for the Intelligent Building) is the culmination of years of knowledge and attainment of a truly IP centric platform that offers the ultimate in system openness, leveraging all existing building system assets and providing a migration path for the future. OMEGA is the first, and last, intelligent building solution you will need to manage the assets of one or multiple facilities in today's enterprise-wide business.

Centralized on-board the RZ Mediator/M2 are all software, tools, documentation, tutorials, O&M manuals, as-built drawings, system wiring drawings, hyperlinks to equipment vendors and third-party service companies. Plug the RZ Mediator/M2 into your IP network, enter its IP address into a standard internet browser and OMEGA instantly appears on your computer screen. OMEGA allows a user to: build complete control applications, configure and integrate the systems of many manufactures and protocols, create (using a rich graphics library), a truly open website Graphical User Interface (GUI), configure IP and building systems network settings, perform on-board diagnostics, direct, manage and implement Multiple Protocol Exchange (MPX) systems point mapping, program your intelligent building system, set up real-time trend logs, configure data logs, configure customized data formatters and transporters to interface to web services providers, edit and add new schedules, add and configure alarms, edit and add new system point data (using dynamic XML~HTML), instantly customize communications with remote web services applications, and integrate to the RZ Enterprise server and database application managing unlimited numbers of Mediators/M2's.
Sinclair: How do you feel about OMEGA being a nomination for the Buildy Award for the Best New Product?
Richards: The market is demanding "plug and play" and true "open" systems. RZ's OMEGA delivers upon this demand.
Sinclair: What do your customers see as their biggest challenge as it relates to the future work place environment?
Richards: We see that our customers' biggest challenge is integrating the work place, which includes all HVAC, BAS, controls, lighting, security, building systems and IT. The new work place environment and building infrastructure is a combination of all of these and IT.
Sinclair: What is the biggest challenge your customers face in solving these challenges?
Richards: The problem is that most systems and sub-systems are not integrated today; there is not enough lateral infrastructure yet, that are (again as yet) globally on a standard communications platform (IP) to facilitate system-to-system and device to device connectivity. Richards-Zeta (RZ) brings these disparate systems into a common IP centric platform, allowing the data, which mostly is not IP based, to be accessed across a single web site, allowing live feeds from anywhere around the world so that building owners and managers can manage multiple properties from anywhere.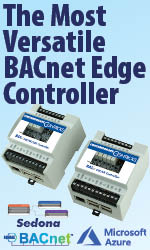 Sinclair: How does OMEGA help drive change and add immediate value?
Richards: OMEGA, along with all related Internet Technologies are driving changes in the workplace environment, which today are emphasizing work collaboration vs. individual contribution efforts, by allowing people to share data on projects. The results of which are, lower cost (both first cost capital and ongoing maintenance and management), increased productivity; all improving employee/tenant satisfaction and reduced space requirements.

Richards-Zeta's IP centric integration platform assists clients in maximizing utilization of the IT infrastructure, including the IP backbone installed in many buildings around the globe, thus further realizing an ROI and adoption of other new IP technologies , like VoIP telephone, IP video, wireless IP, etc as they come to market.
Sinclair: What are the advantages OMEGA?
Richards: All building systems need to migrate up to and onto IP networks, making it more effective and easier to manage systems and sub-systems, for people to connect to these systems, and people to be more responsive to improving the operations of the enterprise; more specifically to allow companies to become more cost effective and efficient in delivering services and value to the tenants and employees. Richards-Zeta's platform operates on the true IT standards, and offers clients 'future-proof' connectivity to manage the enterprise of today's business needs.
Sinclair: What does Richards-Zeta see for the future?
Richards: For the future, Richards-Zeta sees much more dependence on, and utilization of the IP Network. We see an expansion of the networks which will be needed to support added systems including building systems, voice, video and more. We see our customers use of collaborative vs. individual work environments, and the infrastructure to support this; in other words the space needed today is under utilized (as much as 50%), or put another way double the space utilization of the collaborative space required where open systems and IP allow convergence and access to data anywhere. This same principal applies to building systems, where efficiency gains are realized by integrating disparate systems (Defined as migration by RZ) up to the IP back bone. At Richards-Zeta we envision IP everywhere, building HVAC, security, energy metering, distributed generation (DG), telephony or voice Over IP (VOIP), Video, Instant Messaging, remote access globally, all from a standard internet browser.
---


[Click Banner To Learn More]
[Home Page] [The Automator] [About] [Subscribe ] [Contact Us]