---


EMAIL INTERVIEW - David W Clute, Mike Lavazza
& Ken Sinclair
David W Clute
Customer Solution Manager, Advisory Services
Mike Lavazza
Manager of Operations and Engineering
Cisco Systems
---
Next Wave of Convergence: BAS along with Voice, Video & Data
If the design of the converged network occurs early enough in the building design and construction life-cycle, there are actually capital expense savings.











Sinclair: If we assume that Building Automation and Physical Security systems (such as surveillance and access control) are moving towards convergence with voice, video and data, how are companies like Cisco Systems handling this internally?
Clute / Lavazza: We have had segments of our Building Automation System (BAS) over our Corporate IT Network since 1999. We collaborated with our IT Infrastructure and LAN Operations groups to detail the requirements such as the equipment we would be connecting to the Corporate IT Network, bandwidth impact, security and static IP address requirements. The IT Infrastructure and LAN Operations groups are responsible for approving device connectivity and static IP address assignment.
Sinclair: How does the CIO / IT organization address the concerns of Facility Managers and Building Engineers that they may lose control of their systems to the IT group, as BAS moves to the IT backbone?
Clute / Lavazza: Communications and collaboration between IT Infrastructure and Building Automation System engineers will evolve and grow. The dependencies will drive these relationships to ensure standards and guidelines are followed and new requirements are communicated and understood. Open dialogue between the groups with regard to intent and future direction will ensure that both groups' objectives and initiatives are maintained.
Sinclair: Realistically, how long will it take for the industry to produce native IP devices (IP-enabled endpoint devices such as VAV controllers, light fixtures, etc.) that will allow full migration to a converged IT network?
Clute / Lavazza: This could take a few years. The amount of information that is collected or passed to these devices is small and the bandwidth requirements are minimum. IP connectivity to these devices is like taking a drink from a fire hose, but as technology advances and price points drop, these device will eventually be IP enabled.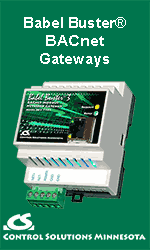 Sinclair: What are the tangible cost benefits associated with BAS convergence over the IT network, in other words, what are the "bottom-line" reasons that might influence an owner of a building to invest in moving their BAS systems to an IP-backbone?
Clute / Lavazza: The cost of implementing a converged BAS system over an IP network does not necessarily mean greater capital investment. If the design of the converged network occurs early enough in the building design and construction life-cycle, there are actually capital expense savings. If the design of the converged network occurs late in the design cycle, then yes, there are additional costs associated with changes to the structured cabling system and building control systems. The tangible cost savings that can be attributed to converged BAS over IP, if adopted early enough in the building life cycle, include the following:

Potentially lower cabling costs for the HVAC control systems by using wireless thermostats and PoE (Power Over Ethernet) control circuits.

Lower energy costs associated with improved optimization, scheduling and coordination

Improved comfort due to individual control of lights and HVAC systems through web-based control devices on their PCs, hand-held PDAs or IP Telephone control consoles – leading to greater employee productivity

Plug and Play integrated Technologies - The key to adapting building automation subsystems and a BMS network to tenants is plug and play integrated technologies. The ideal system offers cost effective turnkey solutions for building owners. This translates into reduced costs for modifying a space as users' requirements change. Turnkey solutions are defined as workplace and building environmental changes required for accommodating each new user (or existing user with revised operating needs). This allows for a "box or briefcase" move rather than a retrofit or renovation with each new user.

Reduction in technological obsolescence by facilitating the easy and economical introduction of new technologies, or replacement of dated technologies.
---
About the Authors
David Clute joined Cisco's Advisory Services group in June 2005. Mr. Clute has served in several capacities during his tenure at Cisco Systems including Manager, eSolutions and Manager, WPR Global Operations. In his current role, he provides consulting expertise for Cisco-Connected Real Estate and "Next Generation" building design for converged real estate and information technology solutions. In addition to his primary role within Advisory Services, Mr. Clute also serves on the Executive Board for OSCRE Americas, the Open Standards Consortium for Real Estate, promoting data exchange standards for the real estate industry. Mr. Clute has over 25 years of experience in architecture, engineering, systems development and implementation of applications for the infrastructure management and corporate real estate industry. He is recognized in the industry as a leading authority involving the integration of Computer Aided Design (CAD) Computer-Integrated Facilities Management (CIFM) and Geographic Information Systems (GIS) for large-scale corporate, government and military clients. Clute received his B.S. Architectural Engineering from the University of Colorado - Boulder
Mike Lavazza has been responsible for the building infrastructure system design, Building Automation Systems and Maintenance Engineering at Cisco for 10 years. Mike and his team are also responsible for Critical Environment design and operations and Energy Management programs for the Americas. His team participated in all aspects of Electrical, Mechanical and Building Automation System designs and implementation. Mike has been in the Operations and Engineering industry for 25 years working as an Operations and Engineering Manager for 3Com, IBM, Hughes Aircraft Company and John Deere. He holds a BS degree in Industrial/Electrical Engineering with an emphasis in Building Systems and Operations.
---


[Click Banner To Learn More]
[Home Page] [The Automator] [About] [Subscribe ] [Contact Us]