---

EMAIL INTERVIEW - Mike Taylor & Ken Sinclair
Mike Taylor,
Vice President of Marketing,
Honeywell Building Solutions
Mike Taylor is the Vice President of Marketing for Honeywell Building Solutions. In this role, he manages strategy, marketing, product management and training for service offerings to the commercial buildings market. Mike has been with Honeywell for more than 25 years, and has held a variety of sales, marketing and general management positions. Mike has a bachelor's degree in industrial distribution from Texas A&M.
---
Honeywell Acquires Tridium
Honeywell invested because we believe in Tridium's technology and its people.











Sinclair: Why did Honeywell acquire Tridium?
Taylor: Tridium has developed a proven and highly successful software platform that cuts through the barriers of connecting and operating multiple systems and devices by providing easy, real-time communication between devices in homes, commercial buildings and industrial applications. We don't know of anyone else offering such cutting-edge communications and data-gathering capabilities.

Honeywell invested because we believe in Tridium's technology and its people. We can help expand the company's vision and business through the implementation of their technology within several of our business lines, more aggressive investments, and rapid access to new industries, vertical markets and large, global customers to its core business.
Sinclair: How will this acquisition affect your business?
Taylor: Their technology has broad applicability across the Honeywell Automation and Control Solutions (ACS) businesses. For example, Honeywell Building Solutions (HBS) is using the Tridium NiagaraAX Framework in Honeywell ComfortPoint — our new BACnet-compliant, Web-enabled control system.
Sinclair: Tell me more about ComfortPoint. What applications is it targeted at?
Taylor: ComfortPoint is a best-in-class HVAC control and energy-management system consisting of a family of controllers and a simplified interface for monitoring and managing mechanical and electrical equipment. The system is designed to optimize occupant comfort and reduce operational costs for a single building, a campus or a multi-location operation. ComfortPoint is native BACnet and has been listed by the BACnet Testing Laboratory (BTL).

Operation of the system is simple. That's because it is accessed via a single interface — regardless of whether the user is an administrator who wants to change the occupied schedule for a particular floor or a control engineer who wants to change the sequence of operation for a VAV system. Menu choices are customizable based on user type, authorization level and the like.

The interface also is the same whether the user is on a desktop PC in the building or on the Web half way around the world. The Niagara framework makes this possible by transforming data from the BACnet devices into uniform software components and enabling the devices to communicate with the Web-based interface.

This offering is really targeted at contractors and consulting engineers who are looking for an easy-to-use, cost-effective BACnet control platform for HVAC applications.
Sinclair: Does this mean you're moving away from LON as an open protocol?
Taylor: Definitely not. ComfortPoint just adds to Honeywell's portfolio of open solutions. We provide a LON-based offering using our XL10 line of controllers or a BACnet solution with ComfortPoint. Both are excellent protocols and we're giving out customers the choice to pick the best solution for their application.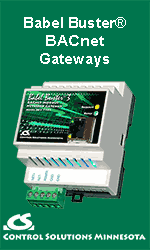 Sinclair: What's the difference between ComfortPoint and EBI?
Taylor: ComfortPoint was designed — and offers the most cost savings — for standalone HVAC applications. The Honeywell Enterprise Buildings Integrator (EBI) is an integration platform for bringing together HVAC, fire alarm and life safety, security, digital video, asset tracking, and other building system into a single, powerful user interface. And the two systems are built to work together. Contractors and owners can tie ComfortPoint HVAC controllers into an EBI system — giving them the option of standalone HVAC control or an integrated building management system.
Sinclair: Is ComfortPoint compatible with other manufacturers control systems?
Taylor: Yes. Any building management system that uses BACnet or LON can be expanded with ComfortPoint. This includes control platforms from JCI and Siemens.
Sinclair: What trends do you see having a significant impact in 2006?
Taylor: The first baby boomers are turning 60. And the industry will begin to see a decline in skilled laborers as a result. So facility managers will have fewer people to do the work in an area with increasing responsibility. As a result, technology will play a larger role in keeping facilities running smoothly and efficiently.

Plus, there are numerous benefits to augmenting labor-based services with technology beyond filling a void in the workforce — e.g., lower cost of operations achieved through technology cost-savings and access to real-time, actionable information.

That's the thought behind Honeywell Service Online (HSO), a new suite of online tools, information and system support. Among other features, HSO includes an automated software update service for timely delivery of control system updates and patches. Using built-in intelligence, the service assesses the components and requirements of individual facilities to deliver tailored system updates — Microsoft hotfixes, policy enforcers, etc. This keeps systems current and secure with minimal effort.

It's also why we've invested millions in our Global Service Response Center (GSRC). The GSRC is a centralized dispatching center for service calls. It is one of the most established and technically-advanced monitoring and control facilities in the world. Staffers at the center and our service technicians in the field are using the latest tools to help customers save time and manage their facilities more efficiently.

Technicians, for example, carry handheld computers that provide job-specific information and access to complete service records. After a call is complete, they use the handheld to enter details on the job and the data is uploaded to a database at the GSRC. That information is available to customers in real time through an HSO application called ServicePortal.

We'll see more Web applications, more remote connectivity and more of an emphasis on leveraging the latest technology advancements in the coming years.
---


[Click Banner To Learn More]
[Home Page] [The Automator] [About] [Subscribe ] [Contact Us]