---
EMAIL INTERVIEW George B. Huettel & Ken Sinclair
George B. Huettel, PE, President
Cyrus Technologies, Inc.
george.huettel@cyrustechnologies.com
---
The Virtual Building Operations Center
A VBOC approach towards building controls is not only more user friendly for the average tenant or consumer of information, but it is kept up and running by the outsourced supplier.











Sinclair: Last month in your article entitled The Virtual Building Operations Center, you talked about how the latest web and IT technology can be leveraged to improve operating costs. Explain what you really mean by Virtual as it applies to the concept of the Building Operations Center.
Huettel: The idea of virtual that we are discussing is that of equipment, software, and talent needed to manage an enterprise building control system, whether it be for commercial, governmental, institutional or other use. We believe that as open systems progress and the value of data from these systems increases to wider audiences within the enterprise, the criticality of the system increases. A VBOC approach towards building controls is not only more user friendly for the average tenant or consumer of information, but it is kept up and running by the outsourced supplier. This in of itself helps a facilities department shift and maintain their focus back into their proper disciplines. VBOCs are created and maintained by professional IT people centered on the concept of Software as a Service (SaaS).
Sinclair: How is this concept any different than the typical physical Building Operations Center?
Huettel: A Building Operations Center (BOC) is typically established within the premises of the building owner or manager's facility, either at their head quarters or a convenient central point of operations. And, what we've seen most often is that there are several operator workstations that support a variety of different building automation system vendors' technologies. There can be significant initial cost associated with the deployment of this approach to a BOC, and there are a number of long term short-comings. One, the multiple vendor's systems are not truly aggregated; no single reporting system can extract and analyze data across the multiple systems. Two, ongoing support, upgrades and maintenance of the various vendor's software is usually not factored into the initial setup and requires separate future purchases or ongoing service contracts. And third, the location of the required hardware and operating systems software is located within the BOC placing the responsibility of support on the facility operators.
Sinclair: In the VBOC concept, where is equipment housed and how is data collected, stored and accessed?
Huettel: The VBOC locates all of the enterprise hardware, software, operating systems and associated IT support in a centrally located data center. Here, the professional IT staff maintains the integrity of the servers and operating systems as well as the integrity of all collected building controls data. Located within each property that subscribes to a VBOC are simple Web Services Gateways (WSGs) which collect and serve up data to the central servers across the internet using standard IT protocols. Data collected from the WSGs is stored in a common format database and accessed by authorized users from a web browser, simple and secure. Standard and customized reports are generated within the user's browser, or scheduled to be issued via multiple standard delivery methods.
Sinclair: Interesting. So the VBOC technology truly follows the "Software as a Service" model.
Huettel: Yes. There are many examples of SaaS in the consumer market, those for online home finance and online business sales management to name a few. The key features of SaaS are 1) low monthly subscription pricing, 2) outsourced enterprise hardware and operating system maintenance and 3) a community atmosphere of upgrades and enhancements from which all users benefit. There has not been such an offering available in the building controls market until now, but the convergence of IT with open systems building controls is making these services available.
Sinclair: Well let's say that I'm a building manager and my Building Automation System vendor offers a web based front-end; doesn't that qualify as "Virtual"?
Huettel: Ken, remember that we said the idea of virtual not only involves hardware equipment and software, but also the talent needed to manage an enterprise building control system. And the BAS Vendor's web-based solution would also need to include the features we discussed above: monthly subscription pricing, outsourced management and continuous upgrades and enhancements. So no, just being web-based does not infer Software as a Service, the key component of the VBOC.
Sinclair: Let me play the devil's advocate and ask, isn't a VBOC just another user interface layered on top of other BAS front-ends?
Huettel: The VBOC certainly is another user interface, but when implemented properly, using the right IT infrastructure and tool sets, it is much, much more. You see, it's not only a front end for daily facility operations and management tasks; it is also an interface for non-technical, non-operational folks to interact with their facility. Most BAS front-ends cannot easily separate the technical tools from the more user friendly interface. Web-based systems help that, but fall short of the mark. Think about the average user that does not have a problem making airline reservations on their favorite airline's website. Now think about that same user making scheduling changes for their facility's lighting. Most property managers would not feel comfortable permitting the user access to the buildings BAS for such changes, even if it was web-based. They might feel better if the user was scheduling their lighting using, say Microsoft Outlook. The VBOC technology and approach delivers information in the format that the average non-technical user can interact safely with their facility, much in the same way airlines permit the average user to interact with their scheduling and reservations database.
Sinclair: I've heard you talk about collecting all data, all the time. Who could possibly need, or even use all that data?
Huettel: You know the next big push in facilities for capturing hidden energy savings is through retro-commissioning or a continuous effort to periodically commission and re-commission the building systems. Memory and data storage space is inexpensive, especially in a properly configured and professionally managed central server environment. Having the right data empowers decision making, and there is nothing worse than having almost all of the data you need to make that right decision. I think most facility managers using current BAS technology know exactly what I mean. Something happens over a weekend, and after reviewing countless trend reports, one finds that the critical piece of data to solve the mystery was just not trended or collected. So with the cost of collecting that data being so relatively inexpensive, why not collect it? Now that you have all of your data collected all the time, when you run a report to answer a question, and that same report generates new questions, you know that you already have the data available to find those answers. It's very empowering, and the only way to capture that last 15% – 20% of energy waste.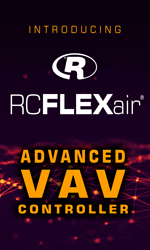 Sinclair: But doesn't collecting all of that data all of the time cause crippling network traffic?
Huettel: I would just like for you to think about all of the retail establishments in a 5 mile radius of typical metropolitan city and think about the number of credit card processing machines in that area. Or, think about the number of computers processing stock transactions in a given hour on the NY stock exchange. How about the number of Google search requests processed in any given 15 minute period nationwide. The point is, a properly designed integrated system manages this data volume in two major ways: first, it moves the IP network as far into the facility as possible; and second, it automatically analyzes the impact the system's data collection requirements have on the network and then adjusts accordingly. Enterprise transactional systems are simply built to handle the volume needs of data collection and processing.
Sinclair: Alright, so I think I am starting to understand it all. The VBOC uses central enterprise quality systems in an online, on demand "software as a service" model to allow users to better manage a facility. But are you also saying that multiple facilities with different BAS protocol technologies, like LON and BACnet, can be combined into a single enterprise system, and how is that accomplished?
Huettel: I may not have actually said it yet, but your inference is right on. Now you can start to see the real hidden value in the VBOC. Imagine a building manager that has 20 properties in their portfolio, or 2000. Imagine their ability to generate a single report that lists the energy consumption and costs normalized per square foot for all of the facilities in their portfolio, sorted by the worst to best performer. How is it done? It's tricky work, but once the building information is collected and deconstructed, the commonalities are found, and good system will store the resulting data as normalized human readable information. Think of every message in our history that was transmitted via Morse Code; we don't store the dots and dashes, we store the information. The dots and dashes was a better way to send the information, but not easier to read. A good VBOC will take data from all types of sources, and decode it into a common information base. From there, the user can extract real value and make improved decisions.
Sinclair: Why wouldn't it be better to just use one type of BAS system across the whole enterprise? I mean just make a sole source decision.
Huettel: That decision, in my mind, totally depends on what better means to you. There is value in a good, partnership oriented single supplier relationship. For example, if you were a grocery store owner, it might be better if every product you sold came from one supplier. And everything shipped to you came on one truck from that one supplier with one invoice and one bill to pay. Coordinating delivery, purchasing, payment processing, all of that would probably be easier. But there are potential pitfalls. What about choice of products? How about pricing? What if you single supplier raised the prices, put the squeeze on your business or had delivery and service issues? It is an interesting question you raise, because the only way to deliver the same consistency and value available from a VBOC approach for multiple buildings is to single source the hardware and software vendor. I'd rather put my investment in a platform that gives me freedom to choose technology, vendors and solutions especially if my ability to manage these systems and operate my facilities remains consistent and cost effective.
Sinclair: One last question. Open Systems was big talk five years ago, and there have been great strides made at the controller level for sharing data and interchanging hardware. But when it comes to the front-end software side of these open systems they are all different and have no easy way to share data, schedules, trends, alarm information or commands between them. Does the VBOC take "openness" to a higher level?
Huettel: The VBOC is not intended to replace the functions of a well designed and implemented control system at the building level. It is designed specifically to normalize data using IT standards of XML/SOAP Web Services from various building control technologies. Once normalized, a standard set of tools for scheduling, alarm management, data trending and reporting are used to permit aggregation of digital assets, not just physical assets. And since these tools are based in the IT space, they are more readily understood and managed by a greater pool of personnel. The top end of the system for a multiple facility portfolio is truly opened up, not only for integration of various building system technologies, but also for sharing of data with other enterprise based systems. The effectiveness and usefulness of data typically "trapped" within a conventional building control system is enhanced tremendously, and we have only scratched the surface of what can be accomplished with the technology platform.
Sinclair: George, thank you for your time, and we'll be watching as the community embraces the Virtual Building Operation Center concept. It sure seems to have a solid place in the future of building operations.
Huettel: You are welcome, Ken. I appreciate your time discussing these innovative concepts.
---
About Cyrus Technologies, Inc.
Cyrus Technologies, Inc. is an independent systems integrator offering building owners and managers integrated networked solutions to make buildings safer, smarter and more efficient to operate. Our extensive experience includes multi-building, web-based wide area network application deployment including migration of proprietary FMS platforms to open protocols. Cyrus Technologies, Inc. can provide owners access to newer technologies and more cost-effective solutions.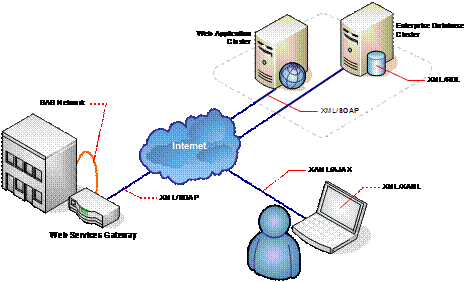 VBOC Conceptual Communications Architecture
---


[Click Banner To Learn More]
[Home Page] [The Automator] [About] [Subscribe ] [Contact Us]