---

Users of the facility – residents, office-workers, students, visitors, etc. – are those that have the greatest potential for impacting operational building efficiency, based on their individual behavior.

Greg Barnes
VP of Business Development, co-founder

Paul Ogle
VP Marketing, Product Management
The concept of "Enterprise Dashboards" has been utilized for a number of years as part of large-scale applications, such as those installed by IBM, Siebel, Microsoft and many others. The Dashboard metaphor, taken from the automobile industry to describe a "real-time" view of important parameters critical to operation of a machine, business or other complex entity is an appropriate way to describe a method to simplify general understanding of performance while highlighting critical events.











Transitioning from the business world of sales per region, gross profit per product line and defects per thousand units, etc., the dashboard methodology began to be adopted as a way to "summarize" selected performance views in other industries. In the building automation world, controls manufacturers began to offer tools to create custom displays and "dashboard-like" presentations of key variables for a facility or group of facilities. These views were generally called out in specifications or requirements documents, and were usually designed to meet the needs of the facility owner or in most cases, the operating engineer.

Though powerful in their ability to graphically model components of an HVAC system – for example the ability to illustrate three dimensional views of items such as chillers or air handlers, complete with animation of air flows, damper settings, etc. – these presentations were nonetheless meticulous to create, required a specific, generally proprietary toolset, and a trained technician or engineer to build and/or modify.

"The only constant is Change…"
— Isaac Asimov

As is frequently the case, many things begin to change after the commissioning of a building automation system. The need to view and analyze the information in ways other than originally planned because of new priorities, design oversights or personnel changes can require additions or modifications to the control system front-end displays, sometimes at a significant, unbudgeted cost.

Moreover, the layout and utilization of buildings can change, particularly in schools and universities where rooms or buildings may be re-purposed and/or re-named to terminology that is different than the original design. This naming change can inhibit the ability to quickly identify the source of a problem, using the "as-delivered" design.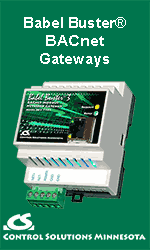 Most importantly, the vast array of building performance and energy consumption data contained in a typical BAS system is generally accessible by only a very limited audience, typically the facility operations department. Users of the facility – residents, office-workers, students, visitors, etc. – are those that have the greatest potential for impacting operational building efficiency, based on their individual behavior. Unfortunately, without real-time cause-and-effect feedback, behaviors seldom change.

What the industry needed was a tool that could access the vast data contained in a typical BAS system, convert that data to actionable "Visual Knowledge", be accessible to a wide audience of facility "stakeholders", and be intuitively customizable by each user according to that user's role and interest.

Sensing the need for a transformational product in this area, Activelogix, a North Carolina based provider of web-enabled enterprise automation solutions, designed and introduced Periscope™ - the Facility Dashboard "Built for Change".

Periscope is a rich internet application (RIA), built with the Adobe® Flex toolset, an open source framework for building and maintaining expressive web applications that deploy consistently on all major browsers, desktops, and operating systems. It runs as a service on a NiagaraAX station (a platform marketed by most of the major controls suppliers) and can be easily integrated with third party BACnet, LonWorks and other standard protocols. It provides a web-based client that can graphically display any information contained in the automation control system, as well as related items like weather, occupancy, and production from other traditional databases. Periscope is unique in its ability to allow each and every user the ability to easily customize (in minutes) their own "views" of various data, histories, and metrics, including energy trends, building comparisons, weather data, network status, consumption efficiencies, key performance indices, and more. It can even display the custom pages built with proprietary graphics tools, thus preserving prior investments while enabling side-by-side comparisons of operating graphics with related variables and performance trends.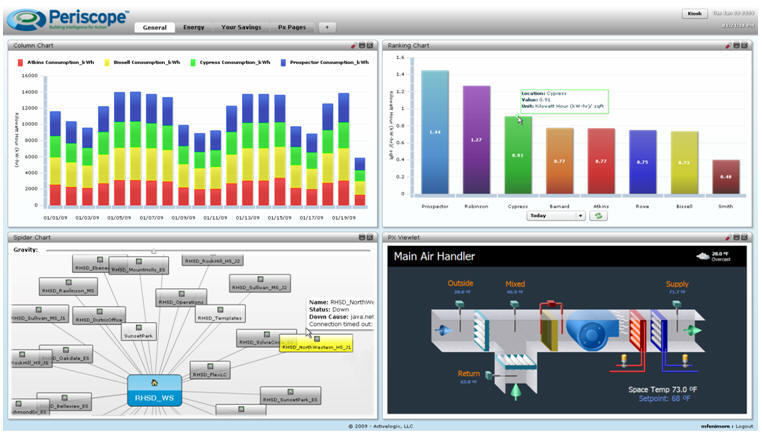 Figure 1 - Periscope can be configured by every end-user to portray their desired Dashboard "Views", each of which can contain multiple "Tabs". Each Tab can contain a custom mix of "Viewlets" which in turn can present data visualizations of key metrics and performance information. Tabs and viewlets can be created and changed in minutes, and are retained between each user session.
Periscope was designed to promote behavioral change, and through its use, enables a high level of engagement by building users that, for the first time, can see the real-time impact of the choices they make in utilization of facility resources like lighting, electricity, water and other consumables. Using Periscope, the building users can truly become "agents of change", with the ability to dramatically influence the demand on limited facility resources.

Periscope is distributed by Activelogix, LLC and through a nationwide network of Solution Providers and OEMs. Contact the Periscope Team at periscope@activelogix.com for more information.
---
About Activelogix, LLC

Activelogix LLC is a leading provider of Internet-based enterprise automation solutions for Building Intelligence, including design services, consulting, custom applications and technologies to enable management and optimization of intelligent, energy-efficient, and secure facilities in a multi-vendor, cross platform environment.

Founded in 2002, Activelogix has become one of the fastest growing technology companies in the Southeast, focused on solutions for sustainable energy and facility management. Headquartered in Charlotte, NC, Activelogix is a value-added distributor of the Niagara Framework®, throughout the Southeast. Activelogix founders are former employees of Tridium, Inc. and have extensive experience in the design and support of Niagara™ based systems. Activelogix is also a certified NiagaraAX Developer. Our primary role is to support our Solution Partners in the design and use of the Niagara Framework. We also provide similar services for a growing family of complimentary infrastructure, sensor and actuator components from our world-class suppliers. For additional information see www.activelogix.com

About The Authors

Greg Barnes is VP of Business Development and co-founder of Activelogix, LLC. Prior to Activelogix, Greg was Director of Corporate Sales at Tridium, Inc and was involved in the explosive adoption of the Niagara Framework® and the strategic development of their national distribution strategy. Greg also has many years of experience in the Energy Services field. As Vice President of Commercial Markets at Strategic Resource Solutions, Inc., a national energy services firm, Greg developed and led a start-up energy services group for a local utility. Mr. Barnes also served as National Sales Manager for a software company specializing in Energy, Maintenance and Asset Management and he began his career in automation and energy at Johnson Controls, Inc. He holds a B.S. in Computer Engineering from Auburn University and resides in Charlotte, NC.

Paul Ogle is VP of Marketing and Product Management for Activelogix, LLC. Paul's career includes positions in management, operations, and marketing, in both multi-billion dollar corporations as well as with several entrepreneurial start-ups. His experience includes executive positions with Invensys plc, a London-based global leader in the management of production and energy resources, and Strategic Resource Solutions, Inc., a national energy services firm. Mr. Ogle has also served in an executive capacity with several high technology and international commerce firms, including an assignment as Industry Marketing Manager, Europe and Asia for a division of Asea Brown Boveri (ABB), based in Zurich, Switzerland, where he managed the allocation, support and annual distribution of over $150 MUSD in software and automation products through the global ABB sales channels. Mr. Ogle holds a B.S. in Electrical Engineering from Georgia Institute of Technology and currently resides in Cary, NC.

---


[Click Banner To Learn More]
[Home Page] [The Automator] [About] [Subscribe ] [Contact Us]