---
Picking the Low-Hanging Wireless Fruit


If we can eliminate the wiring from space sensor to space controller, we save both material and labor costs as well as valuable project time.

For many years we've enjoyed the wonderful reliability of wired data communications in the automation arena. We've become proficient at specifying, designing, installing, and maintaining these networks. Meanwhile, wireless networking has pervaded virtually every other aspect of our personal and business lives.

Yet, slowly but surely, wireless data communications have been making in-roads into commercial and institutional building automation projects. The success of such projects is greatly dependent upon the design of the system and whether wireless is best suited to the intended applications. In many cases, wireless implementation is simply not quite ready for prime time.

But I'd like to make an analogy here. Even today, we sometimes see sizeable cost differences when implementing "green" building practices versus conventional practices. But we will never achieve the sustainable goals we have as an industry if we do not implement these green practices and get better at implementing them. By the same token, for wireless to realize its full potential in building automation, we must implement it and learn about where it is suited and, perhaps, where it is not.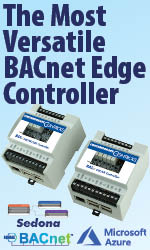 As we observed increasing market demand for wireless solutions at KMC Controls, we knew we did not wish to introduce an entire end-to-end wireless solution. We knew, for example that some risky scenarios could emerge, leaving building occupants uncomfortable in the least, and unproductive or even unsafe in the worst case scenarios.

So, we chose to pick the low-hanging fruit. One common control application is represented by room or space sensors communicating with controllers, which in turn, control the mechanical, electrical, or other systems associated with that space and, often, adjacent spaces.
A wired approach connects the sensor or sensors to the associated controller. In a commercial or institutional facility, this scenario is repeated over and over again during the controls installation. And, despite our proficiencies, the process is time-, material-, and labor-intensive.

Now, consider this application from a wireless perspective. If we can eliminate the wiring from space sensor to space controller, we save both material and labor costs as well as valuable project time. Likewise, if we can eliminate the maintenance costs associated with some wireless approaches, such as those requiring frequent battery changes, we can save even more.
That's why we chose to implement the EnOcean technology in creating our new line of wireless space sensors. This energy harvesting approach has such low power requirements that it doesn't require batteries. And, from an engineering perspective, EnOcean-based devices were relatively easy for us to design.
Now, energy harvesting means that the devices are dependent upon other energy sources such as light or kinetic energy. For applications where the presence of such energy sources is challenging, such as in seldom-used conference rooms, we do offer a backup-battery option for our sensors. But this is truly a backup option, not the primary source of energy. Thus, the batteries are the small, watch- type batteries that can last for years.

Our sensors interface to our wireless-to-BACnet gateway. In turn, the gateway, which can handle the inputs of several space sensors, connects to the wired space controller which is part of the entire wired, BACnet network.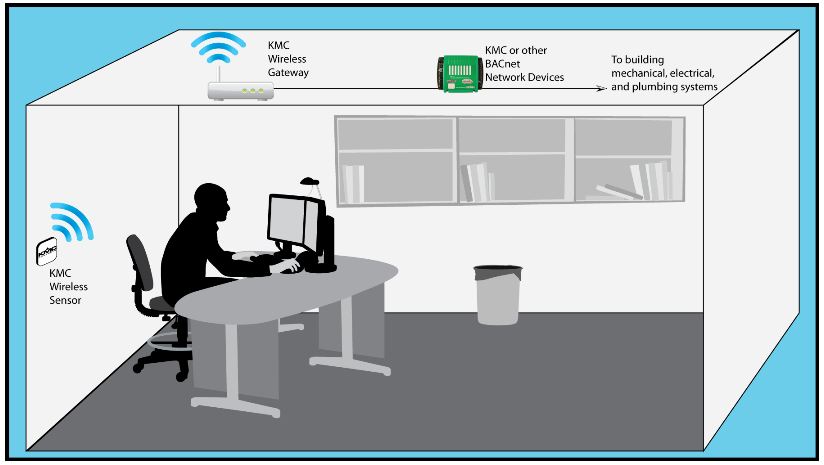 We believe that this approach exploits the advantages of wireless where it makes sense, yet leaves it to tried and true wired practices to manage critical building automation network communications.

You can see our new wireless sensors, and me, in action by viewing a brief 3-minute video from the recent AHR Expo where we introduced the line. The video is currently featured on our YouTube channel: http://www.youtube.com/user/kmccontrols


---


[Click Banner To Learn More]
[Home Page] [The Automator] [About] [Subscribe ] [Contact Us]