---
Bluetooth, Zigbee, WiMax: What is it?

It's time for Carrier Grade Wireless Communication for BAS Industry




Nirosha Munasinghe
MBusIT BSc BE (Hons) (Melb)

Wi-Fi, ZigBee, Bluetooth, WiMax; what does this all mean? As the BAS industry continues to integrate and articulates interoperable solutions, the wireless communication medium is becoming an economical solution for both new and retrofit buildings. A plethora of communication standards are available from low distance, low powered to high carrier grade protocols. Which standard fits the building automation applications? ALL. As the industry diversifies to integrate with other industries such as IT and utilities, almost all the standard wireless communication protocols become prominent to the BAS industry. It is up to the vendor to synergize the protocols with his respective product mix to obtain an advantage in the market. This article examines the common wireless protocols and their potential usage in the BAS market.

Bluetooth

Bluetooth standard is a protocol for exchange of data over short distance using frequency hopping spread spectrum. It is a packet based protocol with master slave structure with one master communicating up to 7 slaves. It has data rate up 3 Mbits/sec. A classic example for Bluetooth application for BAS industry is during commissioning stage of Variable Air Volume (VAV) devices. Commissioning of a VAV box involves entering a calibration factor, minimum and maximum airflows, size of duct of the box etc… to balance with the airflow of the building. Typically the values are entered via the BAS vendor's user interface. Therefore, backbone BAS network must be operating. However as we have all seen during commissioning stage the network is not reliable, other works in the building are performed causing power outages leading to frustrated commissioning engineers wanting a reliable network. A great solution to this typical problem is to implement the Bluetooth protocol at VAV controller, either permanent or as a plug in device. Also a simple user interface, iPhone or Android application which then can communicate to the VAV box via Bluetooth. The commissioning engineer can then communicate to each VAV box independent of the main BAS network. It permits local access to each VAV box, allowing an efficient way of commissioning without the reliance on the BAS network.



ZigBee and its variants
The ZigBee protocol and its modified variants are becoming the primary wireless protocol in the BAS industry for communication between peripheral devices and field controllers. ZigBee is a low cost, low power wireless mesh network, providing high reliability and extensive range. Date transmission varies from 20 to 900 KB/Seconds. The protocol has had significant growth in all markets over the last 5 years, with the ZigBee Alliance creating specific standard profile for different markets. ZigBee for Building Automation published recently, developed in conjunction with BACnet, enables secure and reliable wireless monitoring of building applications. BACnet has also extended its protocol to support BACnet over ZigBee to support its current architecture. Many organizations have taken the ZigBee protocol and also modified it to come up with their own version of wireless communication for the building application. The fundamental wireless architecture is based on the ZigBee platform.

A typical application follows: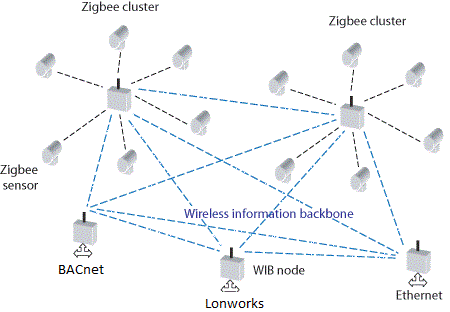 Figure 2: ZigBee Network
As it can seen from figure 2, the temperature sensors dispersed around building communicate back to the router via various repeaters and the built in protocol converter converts the ZigBee data to BACnet where it can be transferred to a field device which controls the AHU that provides the air conditioning for that particular zone.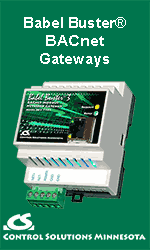 What are the advantages? The primary advantage is that there is no requirement to run a cable between the sensor and field device to connect to a physical input. The non cable run is becoming more significant in retrofit buildings as access to certain areas is almost impossible, increasing costs significantly if a cable is required. As we retrofit older heritage listed buildings, where many access restrictions are present, wireless sensor peripherals become a great advantage for the system integrators. I recently observed using ZigBee based sensors saved drilling a marble wall of a grand ball room in a large hotel chain.

What diagnosis is available? What happens when battery runs out? Typically most ZigBee devices contain diagnostic information which is relayed back to indicated health status. Alarms can be raised to indicate need to change battery. Some companies have implemented battery free wireless for maintenance free technology.

The growth of ZigBee protocol will continue to be significant with many smart grid applications choosing it as the preferred wireless communication medium for home area networking and management of smart energy devices. Many electricity hungry home appliances such as washing machines, dish washers, dryers will have inbuilt ZigBee modules in the future to communicate back with the grid to participate in demand response activity to reduce load on the grid and operate at times which will be beneficial to the consumers.

WiMax
Worldwide interoperability for Microwave Access (WiMax) is a communication technology for wirelessly delivering high speed data access for large geographical areas. The fundamental architecture is similar to Wi-Fi but allows faster data rates and covers larger regions. It is part of the fourth generation "4G" wireless communication technology and offers network access to signal radius of up to 50 km with high data encrypted security.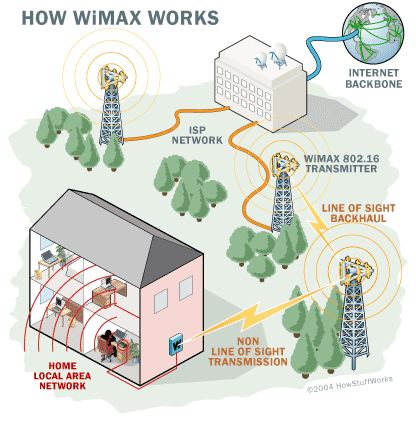 Figure 3: WiMax Network (Source: howstuffworks)
As seen on the diagram, WiMax connection works as follows:
A WiMax base station or tower transmits signals around its radius
A receiver which can be a smart phone, a computer, a network device which has WiMax capability will connect with a signal to communicate with another device
When connected, an authorization and authentication process occurs for connection establishment
Once connected, the device can communicate with great quality of service at high speed.

How might WiMax communication technology apply to BAS industry? Currently many vendors are developing many web based user interfaces. However, the full capabilities of the web technology are not utilized. In theory once a web server is installed, the system should be able to be accessed wirelessly anywhere during installation, commission and day to day running of the system. However, with the typical Wi-Fi connection, the server cannot penetrate the distance around the entire parameter of a building from a typical plant room. Also during commissioning where mobility is highly required, Wi-Fi connection fails at most instances unless large Wi-Fi infrastructure is setup with repeaters. However, during initial stages of a building fit out this infrastructure is not available. Therefore, WiMax technology is an ideal solution for such a scenario, where the web server is communicating WiMax and smart phones and PC with WiMax connection can communicate with the server from anywhere securely at fast data rates. It will be a great benefit especially at the install and commission stages and also during day to day management where the building manager can pull up KPI of the buildings on the go.

The WiMax technology also can benefit large area BAS setups such as university campuses, airports and franchises such as hotels located in multi geographical locations. In campus environments instead of running cable from building to building or setting up complex Wi-Fi infrastructures for data sharing between the buildings, a WiMax solution not only reduces complexity but also has financial savings.

WiMax is also designed to integrate with existing IP based networks. As most BAS vendors are developing more and more IP based solutions compared to low level, low speed protocols and the future integration with the smart grid, WiMax technology is a great building automation synergy .

As it can be seen, wireless technology can be used in many aspects in building management systems. It is vital that the industry not only concentrate on wireless communication for peripheral devices of the system but also seek carrier grade wireless solutions for faster, reliable data transfer and integration with other industries. The BAS industry needs to be proactive with its carrier grade solutions, unlike its common tendency to be reactive to other industries. A proactive approach is vital as the smart grid will drive wireless communication to a new level in the next few years.




---

[Click Banner To Learn More]
[Home Page] [The Automator] [About] [Subscribe ] [Contact Us]