---
Energy Harvesting - A New Frontier

Energy harvesting on the control side in HVAC applications.

A change in temperature contains a lot of latent energy. Using "energy harvesting" wireless thermo sensor technology, a sensor can collect and save even the tiniest amounts of energy from the environment to provide enough power to send a radio signal or be amplified and stored to be used to move a control valve actuator.

Until recently, remote-controlled heating valves typically needed a cable on which the power supply was fed to their motor actuator. Some new radio-controlled devices are powered by batteries. However, a heating valve takes a relatively large amount of energy to adjust the temperature, resulting in constant battery swap-outs. In larger buildings, this is not only bothersome and costly but also is a burden on the environment.

Wireless solutions
The alternative is a battery-less or self-powered wireless solution, meaning that the energy needed to power a device is derived from the process itself or the environment. This is made possible by a Peltier element—an electronic component that generates electric current when there is a difference in temperature between its two sides.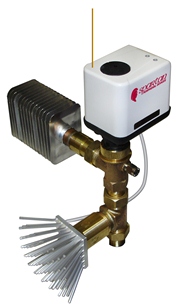 Spartan Peripheral Devices is creating a new wireless line of products which uses this revolutionary energy recuperating for self powered devices under the brand name ThermoPyla. The first element in the new product line is a thermodynamic wireless self powered globe control valve actuator ME8430 for the North American market with a 315 MHz receiver, and an ME8480 for the European market with an 868 MHz receiver. The complete thermodynamic unit consists of the energy harvesting module TGU (thermo generating unit) that was specially designed to transfer heat from the water source into the energy harvesting Pelletier element. Specially designed non clogging radiator insures the maximum dissipation of heat and the greatest temperature difference for the highest efficiency. The ME8400 series actuator incorporating energy accumulator, energy storage, position control and EnOcean 2-way communication dolphin chip set. Fuzzy logic intelligent software constantly monitors the stored energy levels and decides how to optimize most effectively the stored energy.

Wireless, battery-less zone valve actuators now represents an important part of a complete control solution. These actuators can be easily integrated with other wireless products including thermostats, occupancy sensors, door switches, keycard switches for hotel rooms, light switches and relays. By combining these devices, or "control sequences," HVAC contractors can play a key role in maximizing energy efficiency while also supporting a high level of personal comfort for building occupants. These control sequences can be created and upgraded gradually, as individual additional wireless products are needed over time.

Wireless actuators, coupled with a full range of two-way and three-way valve bodies, offer HVAC contractors a great deal of flexibility, especially for building retrofits that must adhere to strict energy-efficiency requirements. A wireless zone valve actuator can be integrated in an autonomous zone system (per room) or part of a large network system. Each zone can then combine different components—from a simple point-to-point thermostat/actuator combo, to a more elaborate combination of different components.

On a larger scale, autonomous systems can be integrated into a network that can be controlled through different gateways using the EnOcean interoperable wireless standard for building automation (visit www.enocean-alliance.org for more information). Interoperability between different end-products ensures that sensors from one manufacturer can communicate with receiver gateways of another.

Additional considerations
It also is important to select a wireless zone valve actuator with common mounting options, that can support a wide range of valve body types with different connections. This provides contractors considerable flexibility when using valve bodies with solder connections for copper piping, or threaded connections, with or without unions, for iron piping. This interchangeability is also important with angle-type valve bodies when used in a variety of applications such as retrofitting perimeter heating radiators. Other styles should also include straight-type valve bodies (two-way for variable flow, and three-way for constant flow applications) typically used on fan coils, unit heaters, heating cabinets and unit ventilators. Spartan Peripheral Devices is manufacturer of valve bodies with this full range in NPT threads for North American Standards and BSP Metric threads for European Standards.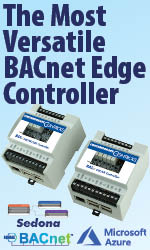 High-quality wireless zone valve actuators are based on a proven mechanical gearbox designed for more than 500,000 cycles. In this application, the wireless actuator utilizes a dc-motor for low power consumption. Paired with an electro-optical rotation counter, the actuator can achieve drift-free accurate proportional positioning. These wireless actuators can be implemented with the 315-MHz chip set for North American applications or with the 868-MHz chip set for European applications.
A simple point-to-point, standalone room thermostat and wireless zone valve actuator can serve as a starting point for individual room control. This can be expanded to an energy-conserving mode by adding a window switch or occupancy sensor. Then, a controller (gateway) can be overlaid and integrated into a wireless network accessible by a central management unit. This wireless network can be easily extended into an existing BACnet network system.
Wireless control valve actuators designed for two-way communication with other devices based on the EnOcean protocol enables a zone valve actuator to play a more active role in the control system. It can receive and react to a modulating positioning signal and accurately control room temperature. At the same time, it can transmit additional information, such as valve position, back to the controller on the same node to make better control decisions.
In modern building engineering there are many possibilities for the use of thermo-powered sensors in heating, air-conditioning and ventilation. A wireless, battery-less zone valve actuator may just fit the bill when evaluating a complete HVAC control solution.
---
About the Author
Paul Balazovjech is the President of Spartan Peripheral Devices and has been involved in the HVAC industry for 41 years. Paul also has been an ASHRAE member since 2007. For more information, visit www.spartan-pd.com.


---

[Click Banner To Learn More]
[Home Page] [The Automator] [About] [Subscribe ] [Contact Us]