---
Energy-Intelligent Lighting Systems Go Wireless

Maximizing Flexibility and ROI in Retrofit Projects & New Construction
Almost every energy management system in the lighting industry today requires extensive (and expensive) control wiring. The ROI generally justifies the price tag and the installation headaches, but a wireless option can significantly reduce upfront costs and bring the payback period down to 24 to 36 months—or less with incentives from local power providers.

The first wireless energy management system with widespread market availability was introduced in 2007 and was initially marketed as a simple, affordable way for commercial and industrial building owners and facility managers to enlist in a demand response program with their local utility companies. These programs enable the utility, either directly or by request, to take control of the light level within a building and reduce it by a pre-established percentage during peak hours or when the electrical grid is near capacity.

Demand response programs are particularly popular on the West Coast where power costs are at their highest and rolling black-outs are common. However, the manufacturer quickly discovered that demand for this wireless energy management system reached far beyond California and the primary motivator involved far more than compatibility with demand response programs. Instead, it was the low cost of installation, the simple integration with existing building automation systems (BAS), and range of control that were driving sales.

Today, wireless energy management systems provide dimming capabilities in precise one-percent increments from full power down to 35 percent power—or turned off. This level of control requires a specially designed T8 or T5 ballast able to communicate with the control system over the existing power circuits. Light levels can then be manually or automatically adjusted in zones according to several variables, including the specific needs of the lighting environment, time of day, peak usage hours, and utility rates. (Most wireless energy management systems define a zone as a circuit, but more advanced systems have recently been introduced to the market that can create zones within a single circuit.)

Since the ballasts and control system communicate over the power line, there is no need to install additional ballast control wiring. Most controllable lighting solutions require control wire to be run to each fixture to execute the control strategies. Pulling the control wires from a control system to each fixture adds considerable cost to a retrofit application. Since most lighting control systems are implemented primarily as an energy-saving measure—and since the purpose of saving energy in the minds of most business owners and facility managers is purely to save money—a wireless system speaks directly to the motivations of the person footing the bill.

Control systems (whether standalone or integrated into an existing BAS) are easily compatible with common energy management hardware such as occupancy sensors or photocells for daylight harvesting. They can also take advantage of time-of-day scheduling software that will dim and raise light levels throughout the day at specific times, such as overnight, opening and closing hours, cleaning times, daylight hours, and/or peak usage hours when many utility companies charge premium prices for electricity.

Zones/circuits can be controlled together or separately. Thus, daylight harvesting and time-of-scheduling can be highly customized based on the building design. On sunny days, power levels can be gradually reduced by 25 percent or more in offices and conference rooms with windows without occupants noticing a difference.

Even in areas without windows, a gradual 10-percent reduction in light levels generally goes unnoticed during daylight hours—including those peak hours when electricity costs are at their highest. Industry surveys reveal that most business owners are willing to accept a 35-percent reduction in lighting levels for short periods of time, generally up to four hours, if it will make a significant difference on their monthly power bills. This statistic is particularly important in areas of the country where power providers are struggling to keep up with demand. These utilities may offer sizeable rebates and other incentives to building owners and facility managers who are willing to join a demand response program in order to reduce the burden on the power grid and prevent the need for brownouts or rolling blackouts.

The special T8 and T5 ballasts designed to work with wireless energy management systems have additional energy-saving benefits separate from the control system. During installation, these ballasts can be "tuned" to a specific maximum power level (ballast factor) based on the needs of the application. This level of precision helps prevent the common problem of overlighting, which wastes energy. In most cases, the ballast factor can be tuned 10 to 15 percent below full brightness and still produce the desired light levels. This alone can achieve a measurable energy savings. Best of all, "tunable" ballasts can achieve these power reductions using full-wattage lamps, which are less expensive than special energy-saving lamps.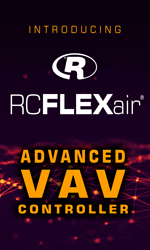 When a wireless lighting control system is integrated with a BAS, the facility manager is not required to monitor different systems for lighting, HVAC, refrigeration, etc. In fact, the lighting control system can be incorporated into the very same Graphical User Interface (GUI) the facility manager is already using. Many facility managers utilize monitoring alerts, data tracking, energy metrics, and other useful tools for HVAC and refrigeration systems. Lighting can be integrated into these same tools so the facility manager has complete energy monitoring on the overall level or system-by-system as needed.

Take into consideration a real-world installation at an office and research facility in Orange County, California. The facility manager had three specific objectives for his lighting system retrofit:
To add photocells for daylight harvesting in all the offices and areas around the perimeter of the building where windows were providing natural light;
To install occupancy sensors in all corridors, private offices, break rooms, and conference rooms; and

To set up an automated scheduler to reduce light levels at specific times of day.
Three distinct control system technologies could meet these objectives: 0-10 V dimming, DALI dimming, or a wireless energy management system. The first two solutions would require the installation of expensive control wiring throughout the building. They would also require a separate control system designed specifically for lighting. The wireless system, on the other hand, required no additional control wiring and was fully compatible with the facility's existing BAS.

As a result, the estimated cost of a wireless system was 40 percent lower than either of the other two options—and only 5 percent more than the cost of a traditional lighting system. It also required 60 percent less hardware and 70 percent less programming. In addition, the payback period was less than 2.5 years, compared to approximately seven years for either of the other systems (including utility incentives). Overall, the retrofit reduced energy use by the building's lighting by 57 percent.

Today's building owners and facility managers understand that energy-efficient products are only the first step in reducing power use and costs. They are looking for intelligent, automated systems that respond to changing conditions in order to take their savings to the next level. A wireless energy management system enables a wide range of energy-intelligent solutions including tuning, time-of-day scheduling, daylight harvesting, occupancy sensors, demand response programs, and more. Best of all, it provides all of these advantages without the costly and time-consuming installation of control wiring. The results are maximum flexibility, significant energy savings, and accelerated ROI.

---
About the Author

Randy Dollar is vice president of systems and marketing development at Universal Lighting Technologies, a member of the Panasonic Group.


---


[Click Banner To Learn More]
[Home Page] [The Automator] [About] [Subscribe ] [Contact Us]