securityXML Ltd
Builds on BuilConn™ 2003
Madeleine Bath
madeleine.bath@securityxml.com
---
Why I went all the way to BuilConn from Belgium
This diagram, versions of which bombarded us at the conference, epitomizes the entire flavor of the event.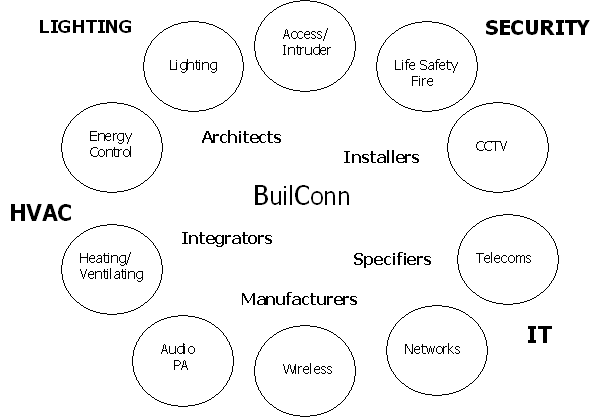 Anto Budiardjo, organizer of the event, and his BuilConn Team succeeded in what they had set out to do. They pulled together from diverse backgrounds and differing disciplines those people that will shape building controls of the future. Not only were the building specialists there but representatives from Security and IT too.












Discussions were deep and far reaching. Nobody claimed to have a crystal ball that offered the one correct answer and it was a relief not to be hearing the old arguments for and against different building protocols. Too many people had heard all the pros and cons in the past but what they wanted to hear was what to do practically to succeed commercially.
Who was there?
An interesting range of integrators and installers attended and I am pleased to say, manufacturers too.
It was however, concerning not to see more attendees from the security industry. This remains the hardest sector to recognize the reality (demonstrated by the changes that we have seen take place in the shake out in the IT world) that making your protocols available does lead to improved ease of operability and therefore increased, profitable business.
And Conference's attitude to the 'which protocol' question?
Use BACnet, LonWorks, Konnex, Tridium if that suits your building, your installation. If further or altered interconnectivity is desired XML will probably be the way to go - but from the top down. Web Services are moving into all levels of the organizations functions. Building systems will be part of this, offering the end user greater functionality, better data mining and thereby improvements to the 'bottom line'
What did they get out of it?
I attended commercial, technical and breakout sessions and found information of value in all but the best part of the conference was the networking. From the opening moments when we were asked by Anto to turn to a stranger near us and exchange reasons why we had chosen to be there, people communicated with ease. I witnessed hundreds of business card exchanges and listened in to many conversations where people swopped experiences and offered tips and suggestions.
It was refreshing not to be pressurized by the usual salesmanship. This conference was like a huge working party focused on what businesses should be looking out for as threats and opportunities.
Speakers described technologies that will bear directly on integration. For example, the OSGI developments in the Home Gateway area were a novelty to most delegates and something for the commercial building sector to keen a watchful eye on.
Conclusions
This was truly an educational event. If you wanted to learn what an IP address is, CCTV basics or details on any current building protocol it was there for you.
I will take a bet with you. When word gets around BuilConn will be much larger next year!
Copyright securityXML Ltd. ©April 2003 Author: Madeleine Bath Contact: madeleine.bath@securityxml.com
---


[Click Banner To Learn More]
[Home Page] [The Automator] [About] [Subscribe ] [Contact Us]