NEW PRODUCTS - Updated June 2nd
The "No Frills" CO2 Sensor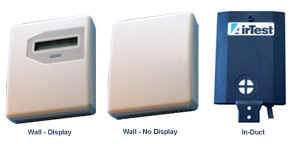 Do you ever have projects where you just need a good, inexpensive CO2 sensor… without the "frills"?
AirTest has just introduced the TR9290, a simple but reliable CO2 sensor that can be wall or in-duct mounted. Powered by 24 VAC/DC it provides a 0-10 volt output for 0-2000 ppm.
Like all AirTest CO2 sensors the "No Frills" CO2 sensor is self-calibrating for its 15-year life. Just plug it in, turn it on and walk away. No maintenance, no callbacks.
Click here to download the "No Frills" TR9290 datasheet: http://www.airtest.ca/docs/co2/tr9290.pdf To see the full range of AirTest product for CO2, Humidity, Gas Sensing and Air Velocity click here to download our seven-page Virtual Catalog (pdf-350 KB). http://www.airtest.ca/docs/vcatalog.pdf
For more information visit www.AirTestTechnologies.com
---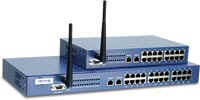 TRENDware Introduce the Wireless Switch Router
Torrance, CA - TRENDware International, Inc., a leading manufacturer of networking products worldwide, announced its new series of Wireless Switch Routers: TRENDnet's TEW-SR216 16-port Wireless Switch Router and TEW-SR224 24-port Wireless Switch Router. It's a Wireless Access Point, Switch, and Router all built in one for the convenience of the small office, small business environment. With wireless networking being ever so popular and affordable these days, it's more and more practical for businesses to add wireless segments to their network. This provides the advantage of a hard-wired network for greater bandwidth and the convenience of a wireless network for flexibility and mobility.
To find out more information about TRENDware, please visit www.trendware.com
---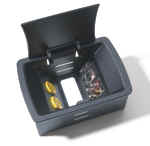 Worksurface Portal Makes "Dumb" Tables Smart
WEST HARTFORD, Conn. - The Wiremold Company has introduced a worksurface technology terminal that combines improved function and aesthetic appeal. The deQuorum™ Worksurface Portal is installed into existing conference tables, workstations, mobile teaming tables, or other worksurfaces. It makes "dumb" tables smart by providing ready access to power, voice, and data without the inconvenience of "pop-up" components or lids that must remain open during use.
The deQuorum Worksurface Portal offers ample space for electrical and communications connections and is designed so that wires and cables exit the device while the cover is closed and flush with the table. Sturdy, die cast cover and base provide extra durability and help ensure long service life. Covers are available in flat and contoured styles, including a recessed lid that accepts field-installed laminates or veneers. End-users may select from a variety of colors and finishes, including painting to match. For more information visit www.wiremold.com
---
ACI Introduces Washdown Combination Temperature / Humidity Sensor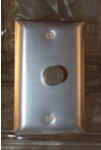 The ACI Washdown series is a combination humidity and temperature sensor designed for washdown or wipedown areas. The ACI Washdown series is ideal for the HVAC or monitoring applications involving Clean rooms, Laboratories, Vivariums, Operating rooms, and any other washdown or wipedown applications. Advanced Ceramic Technology design overcomes the limitations of other resistance based humidity sensors and enables these sensors to recover fully from condensation.
Features:
Field calibration of humidity or temperature for validation

Field selectable output to 4-20mA, 0-5 VDC, and 0-10 VDC

Replaceable stainless steel filter and cap

The accuracy ratings available: 1%, 2%, 3% or 5%

The supply voltage is (15 to 36 VDC) or 24 VAC - Optional Light Sensor available
For more information visit Automation Components Inc. at www.workaci.com
---












Onset Computer Corporation Introduces New Palm-Based Data Logger Software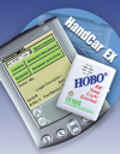 New HandCar™ EX enables uninterrupted data logging during offload, supports company's latest HOBO® data logger and weather station products
Bourne, MA - Onset Computer Corporation, the leader in reliable, battery-powered data loggers and weather stations, introduced HandCar EX, a new version of the company's popular HandCar data transport software for Palm® handheld computers. The new software provides a convenient way to offload HOBO data loggers at deployed locations without interrupting logging operation, and transport the data to a host PC for graphing and analysis. A range of Onset's latest products are supported, including HOBO LCD data loggers, the HOBO Water Temp Pro data logger, the 15-channel HOBO Weather Station, and the 4-channel HOBO Micro Station.
For more information visit the website at www.onsetcomp.com
---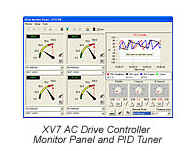 New AC Drive Communication, Diagnostic and Programming Software Tools are now available On-line from Baseblock Software
New Windows-based software communication tools enables AC variable frequency drive users to configure, start-up, tune and perform diagnostic services on their drive or drive system. Built-in features of the software tools include user-friendly graphics to make it easy to monitor and control drive performance from their desktop. These tools harness the power of the PC to assist and simplify in drive programming, start-up and field servicing. Beyond the usual up/download functions, they offer visual set-up with help menus, a real-time oscilloscope with trend recorder, a PID tuner and customizable monitor panels. The software runs under all versions of Windows from 98 to XP.
Free Demo downloads are available for testing from the Baseblock web site at www.baseblock.com
---
ASI Expands Automation Component Offering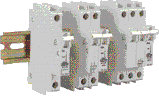 When you go to www.asi-ez.com you will be surprised to see the many new product additions that have been made recently. Automation Systems Interconnect, Inc. (ASI), is a manufacturer and supplier of high quality, innovative components for industrial and process control and automation projects. You will also find that we have an excellent offering of products for power distribution applications. The newly updated ASI website includes IEC terminal blocks, compact din-rail mounted power supplies, interface modules, sensors, and sensor accessories, circuit breakers, industrial control relays, signal conditioners, marking systems, wire markers, labels, tools, and ferrules.
---
ACI Develops a low cost Enthalpy Transmitter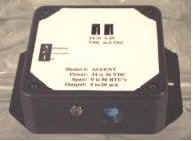 ACI has developed a low cost Enthalpy transmitter that converts a resistive type humidity sensor into a linear 2-wire, 4 to 40mA output signal. The current output will be proportional to a scale of 0 to 50 BTU's and can be operated over a range of -40 to 140°F (40 to 60°C). The Enthalpy sensor is calibrated to the elevation of your choice. The Enthalpy transmitter uses a supply voltage of 24 to 36 VDC and has an accuracy of ± 1 BTU @ 77°F (25°C).
ACI uses an Advanced Ceramic Technology that enables the humidity sensor to recover fully from condensation and maintain its accuracy over a longer period of time than water-soluble polymer coated humidity sensors. All ACI enthalpy transmitters have a 2 year limited warranty.
For more information visit Automation Components Inc. at www.workaci.com
---
---


[Click Banner To Learn More]
[Home Page] [The Automator] [About] [Subscribe ] [Contact Us]