---

EMAIL INTERVIEW - Anto Budiardjo & Ken Sinclair
Anto Budiardjo, President of Clasma, Inc.,
Clasma is the marketing and conference company that organized BuilConn 2004 in Dallas,
April 13-16, 2004 (www.builconn.com).
Please send comments and questions to antob@clasma.com.
---
BuilConn 2004 - What are the challenges now?
Sinclair: Congratulations on BuilConn. What was your take on the event?
Budiardjo: Thanks, Ken. The combination of BuilConn and M2M exceeded expectations in many ways. With two-and-a-half times the attendee count compared to 2003 and twice the exhibitors and sponsors, it clearly demonstrated that the convergence of building systems, device technology and IT is indeed happening.












Sinclair: What was the single most relevant topic?
Budiardjo: At BuilConn 2003 last year, people realized that open systems was a given, and people left with the task of figuring out how to make it happen. This year, people realized that the impact of IT/XML/Web Services and the role of the Enterprise on buildings are significant and real. The question now is how to make it all happen.
Sinclair: Let's break that down a little; was there much discussion on Open Systems?
Budiardjo: There were discussions, Ken, but not about if open systems is good or not; the benefits of open is well established now. Also, I don't think there was much discussion about LONWORKS and BACnet being alternatives; most have accepted that both are relevant and have their place. Many integrators I spoke with carry multiple product lines using both technologies.
Sinclair: And about the impact of IT?
Budiardjo: The level of discussion in recent months about convergence has been feverishly high. Many came to BuilConn trying to understand if this is real, and I saw many manufacturers at BuilConn trying to figure out what all this will mean. The buzz and debate about oBIX is a good example of this. The sense I got was that people left with a much better understanding that the interplay between buildings, IT and Enterprise systems is very real and will have a very significant effect on how building system products and solutions evolve over the next period.
Sinclair: Explain how the Enterprise and buildings will be linked?
Budiardjo: Enterprise systems are typically not real-time (this is grown out of the batch processing model of the data processing functions of past years). As we know, building systems, whether HVAC, security, lighting or other areas, are very much real-time systems. The same applies to many other areas that the Enterprise is starting to reach such as manufacturing, retail, supply chain and so on, areas where M2M (Machine-to-Machine) is bringing real-time connectivity. The end result of connecting all this is that the Enterprise is becoming real-time; the relevance of this cannot be underestimated. For the first time, corporations can have real-time access to information from all corners of their operations, real-time information that enables them to make timely decisions that impact the bottom line.
Sinclair: Give me an example of this.
Budiardjo: I was told a story of a control system vendor that sold an XML-based system to a chain of stores. The original sale was based on reduction in energy usage, which it did admirably. Once the systems were installed, the IT department figured out that they could very easily access all manner of information from all their stores using this system, including not only temperature of the stores but footfall (number of people in stores), real-time energy usage (instead of waiting 60-90 days for utility bills) and potentially many other snippets of information that would help the stores to be more effective at doing business.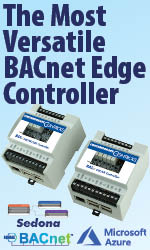 Sinclair: So, back at BuilConn, what are the challenges now?
Budiardjo: If you say that open systems is a given and the use of IT technologies is also a given, the thing for the building systems industry to figure out now are two things: Firstly, manufacturers need to create a new generation of products and services using this technology. This should not be as difficult as you may think as the development tools and components are readily available to them (we saw that at the M2M side of the event in Dallas). I heard a number of comments from manufacturers leaving BuilConn of their intent to do just that - I can't wait for BuilConn 2005!

Secondly, we as an industry need to try and figure out the new types of applications brought about by this new set of opportunities, new applications that would bring new value propositions to building owners and the Enterprise systems of which they are now becoming part. We need to understand that a sensor on a wall has significantly more value than simply to switch on/off temperature control equipment.
Sinclair: How about other significant technologies?
Budiardjo: Clearly the days of the wireless network is very nearly upon us. There was much talk about many different flavors of wireless devices, including mesh networks that enable each node to be a repeater for other nodes, thus making self-managing autonomic wireless system for sensors and other devices in building systems.
Sinclair: Will wireless replace field busses?
Budiardjo: That remains to be seen, but as one speaker said in a wireless session at BuilConn, if you can use copper, you should. There is nothing like the deterministic nature of wires. Just compare cell phones and land lines. While we all carry cell phones and they are wonderful things, there is nothing like having a conversation using land lines, right?
Sinclair: So, what next?
Budiardjo: For the next 12 months, it will be interesting to watch manufacturers develop new products to address this new space. It will also be important for integrators, contractors, consulting engineers and building owners to understand what this all means, so a great deal of education will be in order.
Sinclair: And BuilConn Europe is next?
Budiardjo: Yes, in the autumn we are doing our first BuilConn in Europe together with a European M2M Expo and Conference. It is being held in Brussels, October 26-28. It should be an interesting event to see where the European market is on these issues.
Sinclair: Well, I'm glad convergence is finally happening.
Budiardjo: Yes, Ken, all the stuff you've been writing about is actually happening. For many it may seem like the beginning of a roller coaster ride, you're not sure if you should feel excited or scared - but in any case we will all survive one way or another and it will be a thrilling ride!
---


[Click Banner To Learn More]
[Home Page] [The Automator] [About] [Subscribe ] [Contact Us]