---
EMAIL INTERVIEW - Peter Kelly-Detwiler, Leighton Wolffe & Ken Sinclair

Peter Kelly-Detwiler, Senior Director of Energy Technology Services, Constellation NewEnergy
Peter Kelly-Detwiler is Senior Director of Energy Technology Services for Constellation NewEnergy, Inc., a subsidiary of Constellation Energy Group (NYSE:CEG). Mr. Kelly-Detwiler and his company-wide team oversee the integration of energy efficiency and load management technologies which help customers better manage their total energy bills and create optimal energy solutions. Mr. Kelly-Detwiler has been a valuable asset to NewEnergy since 1997, with nearly twenty years of experience in the energy industry. His accomplishments include managing the development of energy efficiency projects and reviewing economic impact of energy products.

Leighton Wolffe, Principal, Wolffe Technology Consultants
Leighton Wolffe is active advancing initiatives and deployment of new technologies in the Energy, IT, and Building Integration industries with expertise in facilities and energy management systems, commodity strategies and enterprise level applications. Mr. Wolffe's recent activities include working with private equity firms evaluating and assessing investments opportunities in companies involved in leading edge grid integration and distributed energy technologies, and working with manufacturers and developers of intelligent building systems to create and implement national sales and marketing strategies. Currently, Mr. Wolffe is serving as Principal Consultant to Constellation NewEnergy Inc., a subsidiary of Constellation Energy (NYSE:CEG).
---
Smart Customers, Smart Buildings
A smart customer with a smart building will know what prices may be at certain hours and what technology exists in his building to take advantage of this knowledge.











Sinclair: I understand that Constellation Energy is going to be a Platinum Sponsor at BuilConn. What can you tell us about Constellation and your participation there?
Kelly-Detwiler: Constellation Energy is the largest competitive wholesale and retail electricity supplier in North America. We are active in every deregulated market across the continent, and a leading advocate for competitive market solutions to meet future energy infrastructure needs.
Sinclair: What does a competitive market really mean?
Kelly-Detwiler: Competitive markets are a departure from the traditional regulatory structure under which the electric utilities own the wires, the poles, and the power plants. In a competitive market, power plants are independently owned and compete with each other. They have an incentive to offer electricity to the wholesale markets as efficiently as possible.
Sinclair: What is the role of your company in this structure?
Kelly-Detwiler: We purchase electricity on the wholesale markets and we then sell it to customers under different contract structures, for different periods of time. It's important to recognize that electric energy is a highly volatile commodity – by far the most volatile, in fact. This means that we are ultimately in the business of managing customers' risk.
Sinclair: That sounds intriguing. Can you provide a little more insight into the issue of electricity prices and risk?
Kelly-Detwiler: First, it is important to think about the risk related to electricity prices. Over the past seven years, energy markets have been completely transformed. Fossil fuels trade at multiples of prices we saw in the year 2000. The price of gas at the pump has risen, and so has the price of electricity. Growth of the Chinese and Indian economies also puts tremendous pressure on other commodity prices such as copper and steel, which are critical inputs into the future electric grid. Another dynamic to consider is the emerging effort to mitigate the effects of climate change. The expected costs of de-carbonizing our electric future will result in further price pressures. All of these factors suggest continuous price pressures and volatility. As a consequence, it is important to think about how to protect oneself against these risks.
Sinclair: How do we do that?
Kelly-Detwiler: Well, one way is through competitive power contracts. Another is through technology that helps the user consume power more efficiently and at the right times. That's why we are a platinum sponsor at BuilConn – to talk about how businesses, industries, and institutions can manage risk through a combination of technology and contracts.
Sinclair: Can you elaborate?
Kelly-Detwiler: Competitive markets allow us to provide customers with the ability to lock in prices today for long-term contracts. They also allow us to offer pricing options that customers with technology can then take advantage of. For example, a smart customer with a smart building will know what prices may be at certain hours and what technology exists in his building to take advantage of this knowledge. Electric prices vary by the hour, owing to different levels of demand and the generation necessary to meet it. If a customer buys power on a time-differentiated basis, the hourly price is generally cheaper during the night, and during the cooler days. Conversely, prices are higher during peak consumption hours and during periods of heat. We can offer customers a structure that allows them to purchase power on an hourly basis, and work with them to install technologies in their facilities to cut consumption in response to price signals.

Since Constellation Energy has an unparalleled view into the market dynamics, we can help customers choose the combination of contracts and technologies that are best for them, resulting in a lower overall energy spend.

We recently engaged Leighton Wolffe to work with our Energy Technology Services business unit to help us develop the capabilities in this area.

Wolffe: Demand Response represents a significant step forward for building automation systems. As an industry, we are just starting to recognize the benefits that occur when the supply side is truly integrated with the demand side. When both sides of the energy chain are connected, it provides a facility owner with the ability to manage building operations based on real time pricing and grid conditions. In this way, a building can be optimized for both cost and comfort, resulting in the lowest possible energy consumption.

Since it is the building automation system that typically "controls" most large energy consuming devices, it would seem obvious this is where the integration should occur.

Unfortunately, the business model and product design strategies for most building automation systems are based on temperature and comfort controls – not energy. This represents a series of challenges we must address to create energy responsive buildings.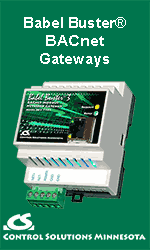 Sinclair: Are building automation systems capable of meeting this challenge?
Wolffe: We see that many existing building automation systems can be configured for simplistic demand response. Constellation is incentivizing Systems Integrators to upgrade and leverage these systems to meet the basic requirements of our Demand Response Programs to shed load during critical peak grid conditions.

Second generation load shaping and demand response applications in which a building automation system is capable of automatically adjusting and regulating its control strategies based on environmental conditions in complete synchronization with real time energy pricing and grid condition signals -- that is where customers will realize the full benefits and the true potential of finally having an "Energy Management System."

Many building automation companies are trying to stretch their existing products to provide some energy management functionality, but until they are redesigned and fully integrated with supply side wholesale and retail pricing signals and are capable of managing entire buildings with real time energy strategies, they will remain temperature control systems limited to dealing with only a small segment of the energy equation.

Buildings 2.0 describes the vision of the future of buildings and their infrastructure. When building automation systems become capable of operating at the same level and in real time with IP, Web Services, and Energy Commodity Trading Platforms, then we can all begin to realize the benefits of energy responsive buildings.

At BuilConn 2007 Constellation Energy will continue to present its vision and approach to providing products and services that meet customers' needs across the entire energy chain and the opportunities for System Integrators to participate in our demand response programs.
Sinclair: This sounds like a major step forward and advancement for the entire building automation industry and for Systems Integrators.
---


[Click Banner To Learn More]
[Home Page] [The Automator] [About] [Subscribe ] [Contact Us]