---
Every month there is a blizzard of information contained in the emails and newsletters that cross my desk on their way to AutomatedBuildings.com. Some of this information is not in the form of any type of content we can publish but I feel I should share with you these snippets, blog bits, and url links that are about to fall off my desktop.

"Smart Grid Impact on Intelligent Buildings 2011"
The broad purpose of this collaborative research study is to identify, define and size the principle business opportunities presented by the growth of smart grids, in relation to intelligent buildings. The research will provide a market size forecast and roadmap for smart grid and intelligent buildings, contributing to business process transformation deemed necessary to capitalize on investments in smart technology.

Smart buildings: The next frontier for energy management, conservation
Cisco is contributing to sustainability by bringing intelligence to buildings and communities and CABA is promoting education to operate them.

EnOcean now fully interoperable with TCP/IP
The EnOcean Alliance, a consortium of companies working to standardize and internationalize energy harvesting wireless technology for green intelligent buildings, announced that its wireless, battery-less energy harvesting sensors and associated control systems are now fully interoperable with TCP/IP.
April 2011 issue of the SkyFoundry Insider.
This issue highlights major new additions to the SkySpark analytics platform.

Building Automation: Making the Leap to Smart Buildings
Although building-level automation has been around for more than 40 years, there is renewed interest in automation for residential and commercial sites, especially around smart buildings and a smart grid. Ken Sinclair, owner of the AutomatedBuildings.com online magazine and web resource, spoke on "Critical Path Elements of Smart Grid Implementation" at the 2011 ASHRAE Winter Conference in Las Vegas
Aconex Blogs
We've just launched blog central which is a set of different industry-related thinking/blogs that we are creating/contributing to.

Campus Dynamic Signage Networks
This 34-page (5.8 Mb) whitepaper outlines the value of this campus communications medium and ways of assuring that benefits are fully realized. The paper also presents ways of generating revenues in order to offset operating and network costs, and generate new revenues for the campus or departments.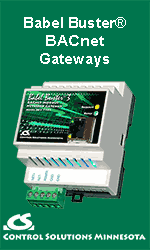 International Society of Automation Building Automation Systems Technical Interest Group
ISA BASTIG http://www.isabastig.org/
The focus of the BASTIG is based on how capitalize on ISA's 66 years of automation knowledge and apply that to the building automation vertical. ISA openly acknowledges others have made significant contributions to the vertical application of automation within buildings, and that building automation does have different requirements. But that is the case with many different verticals; packaging automation is not the same as oil & gas automation. Yet our methodology allows us to pull the best from the many different verticals represented in order to assist all of them. It allows us to build a common base to improve productivity, training, certifications, and to advance the profession.

First demonstation of ZigBee on Android (VIDEO)
Texas Instrumements announced that their new Blaze platform will support various ZigBee profiles, including RF4CE, Home Automation and Smart Energy. It looks like a company named MindTree has built one of the first demonstration platforms showcasing how well this technology can work together. In this video, they are using Android 2.2, and show off the various profiles.

The BACnet standard has been updated and refined recently, allowing for greater flexibility and interoperability.
By David Fisher, PolarSoft Inc., Pittsburgh
The year 2010 marked the 15th anniversary of BACnet as an American National Standards Institute (ANSI) standard. BACnet products are currently deployed worldwide in many kinds of automation applications. Some estimates indicate more than 10 million nodes of BACnet, and that number appears to be growing aggressively each year. What's more, based on the issuance of BACnet Vendor Identifiers, growth rate of manufacturers using BACnet is also increasing sharply, having passed the 500-vendor mark in February 2011.

Vending Goes Wireless
Connect allows machines to perform functions such as accepting credit, debit, new contactless cards, and other cashless forms of payment, as well as handling elements of transaction processing and allowing customers to monitor and manage their terminals online. The company says new functionality is also being added that will provide notification of machine malfunctions and product out-of-stocks. Alerts can be sent to key personnel and tracked historically.

---


[Click Banner To Learn More]
[Home Page] [The Automator] [About] [Subscribe ] [Contact Us]