---
| | |
| --- | --- |
| 1st Buildings under ControlTM Symposium | Mag. Josef Wojak, MBA, LOYTEC electronics GmbH |
LOYTEC as the host together with its cooperation partners Newron System (France) und Cimetrics (USA) took positive stock of the 1st Buildings under ControlTM Symposium.











Over 120 developers, engineers, sales / marketing representatives, and consultants found their way into the Palais Eschenbach at the heart of Vienna. Between September 18th and 20th the latest news about new developments in core technologies, user interfaces, network infrastructure products, and network analysis for building management systems were presented to the participants. Most European suppliers of building management systems, international system integrators, and system providers did attend.
System and product solutions exclusively supporting open standards such as CEA-709 (EN-14908 / LonMark System), BACnet, OPC, DALI etc. took center stage of the three days symposium. The combination and integration of these standards were another focal point. Gateways for connecting different protocol technologies were introduced as well as management solutions to build up distributed BMS for operating single buildings or distributed real estates. The focus was on IP-based communication technologies.
For the first time LOYTEC has introduced its new ASTTM Concept within the scope of the Buildings under ControlTM Symposium. The ASTTM Concept describes an open, distributed automation solution for a comprehensive alarm management, time scheduling, and trending in combination with the communication standards CEA-709 and BACnet. It was impressively demonstrated how automation functions on embedded platforms seamlessly integrate into management tools, embedded visualization, SCADA systems as well as into ERP (Enterprise Resource Planning) systems. For this purpose, LOYTEC has developed a mechanism, which allows the abstraction between application and communication. In practice this means that the configuration of alarming, scheduling and trending functions is identical and independent of the communication standard. No matter if a device is part of a LonMark System or a BACnet network, the user is presented the identical user interface. LOYTEC is implementing the ASTTM Concept on the Touch Display L-VIS, the CEA-709 / BACnet Gateway L-GATE, and the Embedded OPC XML/DA Server L-OPC.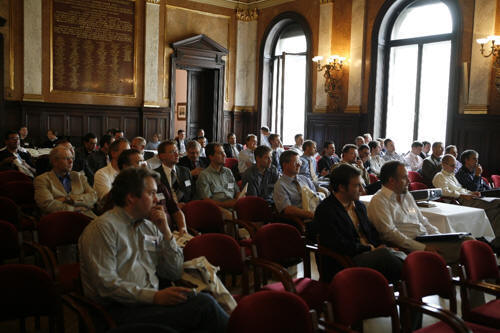 With the ASTTM concept, LOYTEC demonstrates for the first time that even complex functions like time scheduling can be realized in a user-friendly way using the CEA-709 standard. It furthermore underlines that the communication standards CEA-709 and BACnet in combination can be consistently operated and easily integrated. LOYTEC follows this approach supporting further communication standards such as KNX (EIB), Modbus, and M-Bus in the future.
Another primary subject matter was the reduction of engineering times and project risks. With NLPreCom, a unique software tool for CEA-709 networks was introduced, which allows to scan the network for devices and to test and record the network quality before commissioning. Thanks to NLPreCom it is now possible to provide evidence on the fault-free status of the network and the connected network devices before the first binding is done. The graphical network management tool NLFacilities and the network management tool NL200 show impressively, that engineering times can be reduced to a minimum. Even technicians with limited CEA-709 knowledge are able to commission a system efficiently. Conversely this means that a wider base of technicians can build efficient LonMark Systems.
New and efficient solutions based on standard communications have been introduced with the Buildings under ControlTM Symposium. "Open systems call for standards up to the level of automation functions such as alarm management, time scheduling, and trending. They do no longer rule out the combination of different standards." This was not only the statement of Hans-Jörg Schweinzer (managing director of LOYTEC electronics GmbH), Serge Le Men (managing director of Newron System) and Jim Lee ( President and CEO of Cimetrics). Also the participants unanimously shared this opinion. "By using the presented software solutions, engineering and service times as well as project risks can be minimized." was the tenor of many participants at the conclusion of the 1. Buildings under ControlTM Symposium.
The LOYTEC electronics GmbH presents the latest product solutions at the following exhibitions:
1) HI-TECH HOUSE & BUILDING 2007
08. – 10, November 2007, Moskau (Russia)
http://www.hitechhouse.ru/
2) LonWorld 2007
14. und 15. November, Amsterdam (Netherlands)
www.lonworldexpo.com
3) Light & Building 2008
06. – 11. April 2008, Frankfurt am Main (Germany)
http://light-building.messefrankfurt.com/frankfurt/en/home.html

Detailed information about the Buildings under ControlTM Symposium are published on LOYTEC's web site: www.loytec.com

We make pictorial material available on request. Presentations are published on LOYTEC's web site: http://www.loytec.com/deutsch/news/buc2007_schedule.htm

For detailed questions please contact Dirk Dronia:
Tel. +43-1-4020805-231 / email: ddronia@loytec.com)
About LOYTEC:
Founded in 1997, LOYTEC today is a leading European provider of network analysis tools, network infrastructure products, gateways, and management solutions for the building automation market including a system independent solution for distributed alarming, scheduling and trending (ASTTM concept) based on communication standards. With its core technologies LC3020, ORION protocol stack (CEA-709.1), L-CNIP (CEA-852), and BACstack (ISO 16484-5), LOYTEC offers an open platform for flexible, robust, high performance networking. From the headquarter in Vienna, Austria, LOYTEC offers products and design services to customers around the world. Strong partnerships with leading companies in the IT and automation market together with intensive research work with universities shape the portfolio to meet the requirements of a worldwide market. For more information visit www.loytec.com.

LOYTEC electronics GmbH
Blumengasse 35
1170 Vienna
Austria/Europe
Tel.: +43 (1) 4020805-0
FAX: +43 (1) 4020805-99
info@loytec.com

---


[Click Banner To Learn More]
[Home Page] [The Automator] [About] [Subscribe ] [Contact Us]