---

EMAIL INTERVIEW Alexey Rybakov & Ken Sinclair
Alexey Rybakov, Managing Director, MeshNetics' ZigBit Business Unit
Alexey manages the main business unit of the company that designs, manufacturers and markets the ZigBit RF modules. He is leading the team of the business development and engineering professionals all working together to bring best-of-breed hardware and software solutions to the rapidly growing market of the wireless sensing solutions. Alexey brings the wealth of experience in management field, as well as over 7 years in IT industry. Alexey's previous position was the Director of Marketing in Auriga, one of the top players in the IT outsourcing market. Alexey holds a Master's Degree in Applied Mathematics from Russian State University of Oil and Gas.
---
ZigBee's Energy Saving Potential Comes of Age
The ZigBee Alliance has developed a set of energy efficient specifications
known as the Smart Energy public profile.











Sinclair: There has been a lot of talk lately about using ZigBee technology to conserve energy. How much progress has been made here?
Rybakov: From its inception, ZigBee technology was intended for low-cost, low-power, wireless sensor networking applications. But besides being a low power-consuming technology, ZigBee enables the creation of wireless systems that can help bring about substantial energy savings. Self-organizing, self-healing mesh networks are ideally suited for this task. Additionally, the ZigBee Alliance has developed a set of energy efficient specifications – known as the Smart Energy public profile –that perfectly matches the needs of the growing energy management systems now being implemented around the globe.
Sinclair: What exactly is the Smart Energy Profile?
Rybakov: The ZigBee Smart Energy profile enables both utilities and technology providers to create standards-based, secure, interoperable and easy-to-use products and solutions for energy management and efficiency. In a nutshell, ZigBee Smart Energy is a set of specifications that enables two-way communication between utility companies and household devices. It empowers consumers to better manage their energy consumption, while allowing utility companies to implement sophisticated programs (such as demand-response programs) tailored for even greater energy efficiency.
Sinclair: Can you name any examples of actual energy savings made possible by the ZigBee technology?
Rybakov: One of our Swedish customers, BFM AB, an energy management expert, was tasked with reducing a large industrial facility's heating costs. The goal was pretty straightforward – room temperature required continuous adjustment to provide a comfortable environment, but to maximize energy savings, whatever was not needed had to be turned off. The implemented wireless management system, based on MeshNetics ZigBit modules, was capable of sensing temperature both indoors and outdoors, and adjusted the heating accordingly. This ZigBee solution ultimately slashed energy costs by 37%!
Sinclair: Who are the typical users of this type of energy management system?
Rybakov: Any building owner who feels the need to save the energy costs can take advantage of this type of ZigBee Smart Energy system. This particular system is ideally suited for large commercial properties, warehouses and industrial facilities. The cost of the complete system, including installation and commissioning is $45K, but the system pays for itself in less than two years. Now BFM offers it for a monthly fee with no down payment, making it even more affordable.
Sinclair: What advantages does wireless implementation offer?
Rybakov: Retrofitting existing buildings with wires can be extremely expensive, with combined costs of running cables far exceeding $100 per meter. In the case of BFM, their expert assessment of the industrial facility revealed the need for a solution based on modules interconnected in a wireless network. Such a solution allowed all the benefits of local control functions and remote operation without the associated infrastructure costs. In order to circumvent complications with the facility's concrete walls, BFM employed a self-healing multi-hop mesh network, capable of rerouting a signal if line-of-sight was blocked.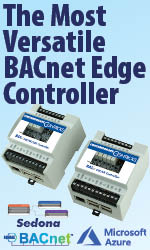 Sinclair: What difference does it make when modules are used?
Rybakov: Normally, system integrators hold expertise in their focus area. They don't have to be RF experts as well. When they need a ZigBee platform that enables a proposed wireless design, they want to implement it cost-efficiently and quickly. ZigBee modules that simply need to be mounted on a PCB offer far greater flexibility, time and cost savings during the design and prototyping phases than chipsets. You can think of them as "wireless networking cards for things."
Sinclair: How are MeshNetics modules different from the competition's modules?
Rybakov: The key selection criteria for the ZigBee modules are their RF performance, power consumption and form factor. Here, MeshNetics' ZigBit modules are true industry leaders. We offer a range of tiny 802.15.4/ZigBee 2.4 GHz RF modules, including regular and amplified versions. Both versions support multiple antenna options. MeshNetics' ZigBit modules lead the industry in such important characteristics as operating range, form factor and power consumption. Additionally, the ZigBit modules carry FCC, IC and CE certifications and are RoHS-compliant. Another advantage that our customers enjoy is dedicated design-in support and RF design assistance. In addition to 2.4 GHz modules, we offer a sub-1 GHz module, the ZigBit 900. This RF module works for 868/915 MHz frequency bands and features superior line of sight, along with the excellent wall penetration capability.
Sinclair: Where can our readers find more information on MeshNetics modules used in Energy Saving applications?
Rybakov: There is a case study of BFM's system's deployment available at http://www.meshnetics.com/zigbee-applications/energy-management/. You can also find more information online at: www.meshnetics.com & www.zigbee.org
---


[Click Banner To Learn More]
[Home Page] [The Automator] [About] [Subscribe ] [Contact Us]