---
Let There be Lighting Control

T

he new generation of lighting control technologies is freeing users from being locked in to one manufacturer.


Roger Woodward,
Managing Director,
Tridium Europe

Roger Woodward explains how the new generation of lighting control technologies is freeing users from being locked in to one manufacturer.
Lighting is often one of the first places building owners and managers look when seeking the low-hanging fruit of energy efficiency. Switch to energy efficient lighting, and save operational costs while reducing carbon footprint, is the thinking.

It is true that there are a lot of potential savings to be made in more efficient lighting for commercial buildings. The Carbon Trust says that lighting uses around 20% of the electricity generated in the UK, yet over 75% of lighting installations are thought to be out of date and unable to meet current design standards.

Unfortunately, the control of lighting is often overlooked or left at the most basic level when installing new lighting or upgrading and refurbishing. This is a missed opportunity, but current legislation is encouraging a re-think on this issue.

Part L of the Building Regulations, which came into force in April 2014, reflects the growing significance of lighting control. The new Lighting Energy Numeric Indicator (LENI) is a method to calculate the predicted energy-in-use of lighting systems. It is an important development for the lighting industry, and those who must consider lighting in the operation of their buildings.

Because of its emphasis on real energy use, it is no longer possible to simply install LED lighting and consider that 'energy efficient'. Control of the lighting is key to really understanding how a lighting system will operate – and with the latest lighting control technologies, control is just the start.

Many people will have heard of DALI – the Digital Addressable Lighting Interface. It is the only global communications standard for intelligent light fittings and is a widely-used platform for lighting control. Up to sixty-four individually addressed DALI light fixtures can be connected on a single network. They can be communicated with individually or in groups.

The DALI fixtures can then be instructed, by sending commands along the network wires, to turn on, off, dim up or dim down. In addition, DALI enables each DALI lighting fixture to confirm its ability to operate effectively, or to confirm a fault condition.

Although this approach offers a level of control and energy efficiency, it does not reflect the reality of what the latest approaches to lighting control can achieve. It's also very basic when we consider just what building owners and managers are expecting from the building energy management systems (BEMS).

For those at the cutting edge of energy efficiency in buildings, the BEMS is the heart of the efficiency strategy. It collects detailed information on energy use; supplies it to wherever it's needed via the internet; and allows for manipulation and interpretation in order to identify areas where more energy can be saved.

It makes sense therefore, for the lighting controls to be able to offer the same functionality – on or off simply isn't enough for today's energy conscious building managers.

Mike Welch, managing director of Control Network Solutions (CNS) has developed on one of the latest lighting control solutions, elitedali. He says: "Businesses want to be able to access and analyse information in real-time from their lighting systems, because they know it can help them to save energy and reduce the operating costs of their business."

Financial management of costs has become very granular, and an in-depth level of information enables users to attribute the costs of office space to productivity. It is also possible to compare the energy performance of different buildings to help identify areas for improvement.

The CNS elitedali solution combines the widely-used DALI standard with Tridium's Niagara software to offer much greater capabilities, and more value information whilst simplifying the installation. "By adding the Niagara element to DALI, the lighting system can easily link to a BEMS, whatever open protocol that uses. Also, it is much easier for the client to ask for data on lighting in the format they require. Traditional systems simply deliver limited data in a set format," adds Welch.

The other benefit for building managers is that they can consider their lighting as part of the BEMS, and put the installation, commissioning and maintenance with their building controls consultants – an option that saves time and costs. It is also more straightforward to build a lighting strategy that works in harmony with other elements of the building.

This approach to lighting is already being taken by clients keen to tap into the energy saving and information gathering benefits that it offers. The new Standard Bank office in the Rosebank area of Johannesburg, South Africa is the latest project. The Standard Bank office is a 65,000m2 office development that was designed to be highly efficient and low carbon. It was awarded a 5-star Greenstar Design Rating by the Green building council of South Africa, which puts it into the top ten of the country's most sustainable buildings.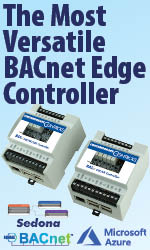 The client was focused on achieving sustainable operation of the building, and the elitedali solution has played an important part in this. It enables Triduim's Niagara platforms to be used to control, maintain, manage and visualise 4,500 DALI light fixtures and 1,600 DALI multisensors. All this delivered by a suitably qualified local Niagara Systems Integrator partner.

It has equipped the building with an intelligent lighting system that automates dimming and switching off of lights in response to daylight, occupancy sensors and wireless manual control. The system is fully integrated within the BEMS which manages the HVAC. Using the elitedali solution also automates maintenance of the lighting system as well as reducing the time required to replace luminaires, reconfigure lighting zones and control strategies. And it monitors lighting levels alongside energy and space usage.

With this level of more affordable technology now readily accessible for lighting and legislation pushing for better understanding of the real energy use of lighting in buildings, now is the time to bring lighting control to the forefront. For both new-build and existing buildings, a modern approach to lighting control can lead to lower operating expense, reduced maintenance issues and a firm grip on energy costs.

---
About the Author
Roger Woodward: Roger has worked in building controls and automation for most of his working life. He completed an apprenticeship in 1974, joining a team of engineers at Johnson Controls. He has worked on a number of prestigious BEMS projects during his career and has been involved both in the manufacture and installation of building controls. He was a founder member of the UK's Building Controls Group which developed into the BCIA. and he is now Managing Director of Tridium EMEA.

---


[Click Banner To Learn More]
[Home Page] [The Automator] [About] [Subscribe ] [Contact Us]