---
EMAIL INTERVIEW Trevor Palmer & Ken Sinclair
---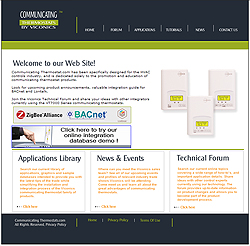 Communicating Thermostat Website
We have compiled a large shopping list of items on what a controls integrator would need to use our thermostats with system X or Y.











Sinclair: Why a website for your communicating thermostat product.
Palmer: Ken, over the past year or so, the Viconics Inc. sales team has been fielding calls regarding our communicating thermostat product line. The FAQs are typical application questions and general "how will this work with my system?" type inquiries. Over a period of about six months, the Viconics team took note of each one of these questions and thought how great it would be to have an online information portal on our very popular building systems product.
Sinclair: Aside from basic product information, what else do you provide website visitors with?
Palmer: We have compiled a large shopping list of items on what a controls integrator would need to use our thermostats with system X or Y. This includes sample databases for a variety of BACnet, LonTalk and Niagara systems, a complete graphical library, and even a growing list of integration tutorials teaching the contractors on how to efficiently integrate our controls to a variety of systems.
Sinclair: Tell me a little bit about the Technical Forum?
Palmer: Glad to. The Communicatingthermostat.com technical forum is a place we hope our customers and customers/customers will join and search for tips of the trade, suggest product ideas, or just exchange ideas with other members of the community. Our thermostat products are integrated to so many different types of systems, it would be nice to have some tangible feedback we could source product enhancements from in addition to providing some direct support to our customers.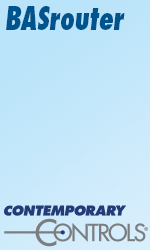 Sinclair: I see you also have an online system can you elaborate?
Palmer: The online demo is intended to demonstrate some of the functionality of our thermostats. We really want to illustrate the device level functions in such a manner that will lend itself well to our audience. Our line of thinking is that if the owner, consultant or contractor sees an upcoming application which could be met with our product, then the online demo has done it's job.
Sinclair: Any chance of expanding the online demo to include other systems?
Palmer: Absolutely! We would be happy to entertain any suggestions for the online demo are or any other section of the website for that matter.
Sinclair: When will the site be formally launched?
Palmer: The website ( www.communicatingthermostat.com ) is functional as of mid-September. We have already seen large amounts of traffic within the forum and postings suggesting new sections and graphics. Come and have a look!
---

[Click Banner To Learn More]
[Home Page] [The Automator] [About] [Subscribe ] [Contact Us]