---
| | |
| --- | --- |
| Building Automation and Sustainability Conference - Phoenix | Ken Sinclair Editor |
We just returned from a very successful Building Automation and Sustainability Conference in Phoenix. This was the first time ever that BACnet International and Engineered Systems magazine joined forces to put on a three day show. It is impossible to capture all the information exchanged and general feelings of the event but here are a few highlights complete with the presentation graphics to show you what you missed.











The first day was devoted to BACnet. Andy McMillan, President of BACnet International/Teletrol, Inc. shared his excitement about how BACnet had created a foundation for the incredible growth in integration and convergence that is now occurring. The first day also included Campus Application of BACnet, Municipal Facilities' Application of BACnet, A Simple Way to Specify BACnet, and information about the BTL: Testing and Lab Services.
A personal favorite for me was the presentation about details of the BACnet Web Services addendum including an explanation of the BACrest Building Automation Control Representational State Transfer. Great information provided by Bob Ofenstein of Cimetrics on how to get BACnet into a IT world.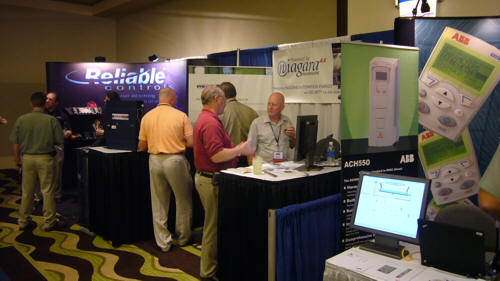 The first day ended with a General Session called the "State of the Industry" in which I moderated, my Panelists were:
Bill Swan, Alerton/Honeywell, BACnet Committee, ASHRAE/SSPC
Andy McMillan, President of BACnet Inc.
Jack McGowan, Energy Control, Inc.
Each of the speakers gave their take on the industry in a quick summary and we were able to open up the session to the floor and get feedback from several others as to their view of the "State of the Industry"
This session was followed by a networking reception put on by the sponsors http://bnpevents.com/ES/BAC/Sponsors.htm
Next day the Engineered Systems Magazine portion of the show started with the keynote provided by Paul Ehrlich. Paul requested the audience provide a school grade for our industry and the audience agreed on a "D". Industry we can certainly do better. Paul did a great job of outlining all the interactions environmentally and socially that are having a large impact on our industry.
I moderated a session called Managing Technology; the theme being as systems become more mainstream and follow standards it is important to properly manage the technology.
Bennet Levine the Research and Development Manager at Contemporary Controls provided an excellent presentation on managing networks and ended with a link to this valuable resource http://industrialethernetu.com/ and the below resources.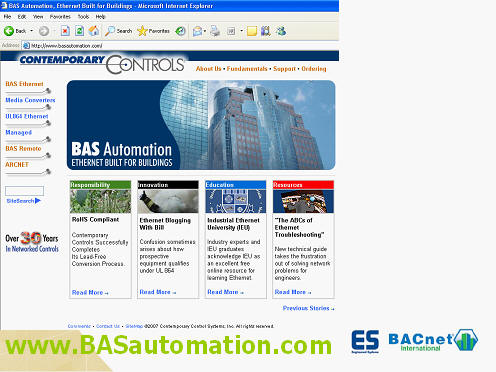 Tim Kensok the Director of Business Development for AirAdvice, Inc, a Portland, Oregon-based provider of building performance diagnostic equipment and services demonstrated that client comfort is extremely important with the following graph.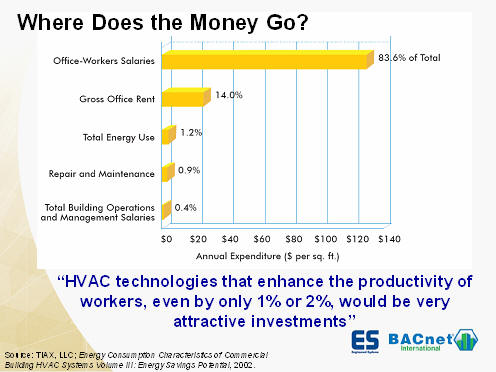 Ed Merwin of Tridium talked about IP interfaces to the enterprise and how several protocols are used and how they are presently using oBIX to provide a common presentation. See example below of how a simple thermostat would look in oBIX.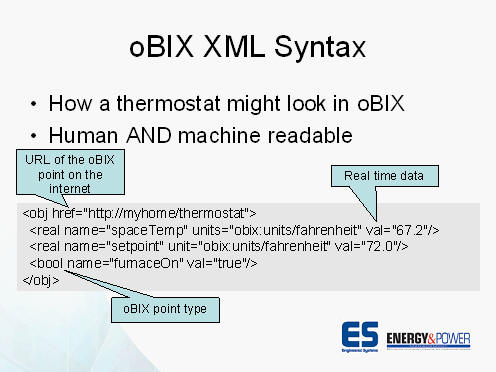 Steve Tom Director of Technical Information Automated Logic Corporation presentation highlighted the importance of the occupant and the real cost of not providing comfort. He showed examples of how client comfort is being tracked and trended in an environmental Index. See slide below for the importance of satisfied occupants.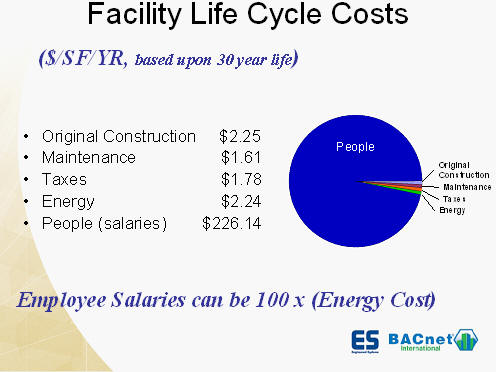 Jack Mc Gowan, one of our contributing editors, has a day job as President of Energy Control Inc. (ECI), which is a System Integrator and Energy Service Company. ECI has been recognized for three years running as one of the Top 100 System Integrators in North America by SDM Magazine. Jack provided a presentation call Smart Buildings meet Smart Grid and this slide showing what is part of the new Grid provided a great overview.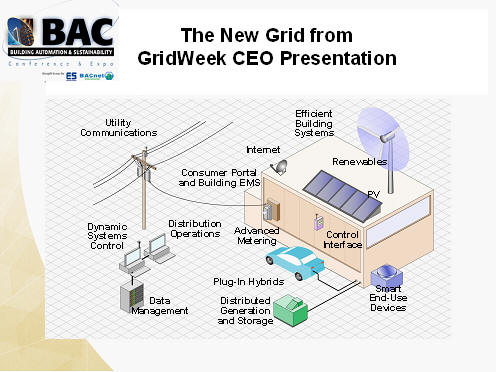 "Source: Electric Power Research Institute."
George Strickland Commercial Specifications Manager Somfy Canada, provided this great overview graphic that shows the new interaction we can expect to see in the greenest of buildings. Control of the light levels, interacting with sensors and blinds and HVAC and passive devices to both reduce energy and improve occupant comfort and productivity. Somfy is the world leader in electric drives and control systems for dynamic window treatments and building openings.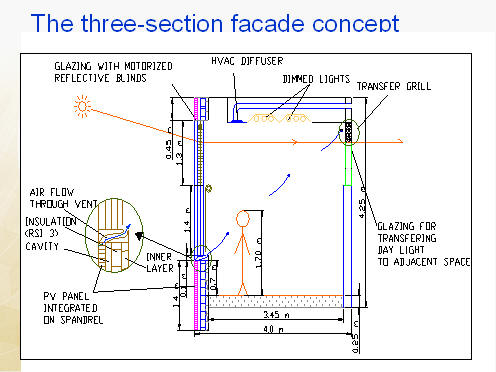 As you can see the information covered was very diverse and in great detail. It was a great conference helping us all move forward toward far integration with off the grid, Negawatt and Building as the Power Plant thinking which is all necessary for our sustainable future.
---


[Click Banner To Learn More]
[Home Page] [The Automator] [About] [Subscribe ] [Contact Us]