---

EMAIL INTERVIEW Thomas M. (Thom) Keel & Ken Sinclair
Thom Keel is a Ph.D. student in the Building Construction Program at the Georgia Institute of Technology (Georgia Tech), and a member of the Continental Automated Building Association (CABA), where he serves as chairman of Task Force 3 of the Intelligent & Integrated Building Council (IIBC). He is integrally involved with the development of a Life Cycle Costing tool, which will soon be made available by RSMeans/Reed Construction Data (RSMeans.com).
---
Life-Cycle Costing
Life-cycle costing has become de rigueur for anyone embracing sustainability.











Sinclair: Give us some background on this collaborative life-cycle costing project between CABA, Tech and RSMeans.
Keel: CABA has had a task force investigating the advantages of life cycle costing for several years and Ph.D. students within the Building Construction Program in the College of Architecture at Georgia Tech have been researching this topic for some time as well. I have been very fortunate to have been a part of both organizations and very excited about the progress being made with this life cycle costing project for integrated and intelligent buildings. Our association with RSMeans, which has an extensive amount of critical construction cost data, has allowed us to produce the technology to make this project a reality. Once itís completed and fully available, we expect this to make a significant contribution to the industry.
Sinclair: What is the result of these efforts?
Keel: I am pleased to report that this initiative has resulted in a very practical tool for the entire building industry. RSMeans has gathered all of the CABA research, combined it with their experience in the building industry and their vast database of square-foot costs, and have produced an online software tool to be made available to the industry, on both the CABA website and the RSMeans website.
Sinclair: What has been your individual contribution to this initiative?
Keel: CABA IIBC Task Force 3 is the life cycle costing initiative that was begun by Tom Lohner of TENG and Associates. Because Tom was the chairman of the CABA IIBC, I took over the Task Force 3 initiative early in 2003. Building on Tomís seminal work and after much research, I produced two white papers and an automated-building user survey, both of which are on the CABA website. Adding to that work, my Ph.D. qualifying paper was on the importance of life cycle costing for intelligent and integrated buildings. Since then, I have presented this work at a number of conferences both within and outside the construction industry.
Sinclair: How is this initiative being funded?
Keel: I want to applaud two organizations and one company in particular who stepped up and helped bring this life cycle costing tool to fruition. My initial research was funded in part by Industry Canada. The RSMeans-produced life cycle costing tool is being funded in part by the U.S. Department of Energy (DOE), and RSMeans is absorbing a part of the cost of producing and hosting the tool.
Sinclair: Talk about the connection between life-cycle costs and sustainability.
Keel: More and more developers, architects, engineers, building owners, and governments are being made aware of the need for automated buildings in order to meet the sustainability requirement of low-energy consumption. The recent rise in oil has really brought this to the forefront. Before this concentrated focus on saving energy, most in the industry were merely focusing upon first costs, but now life-cycle costing has become de rigueur for anyone embracing sustainability.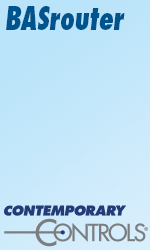 Sinclair: What are some of the benefits of using this kind of tool?
Keel: This tool will enable building owners, architects, designers, contractors, and others within the industry to obtain an unbiased, third-party confirmation of the life cycle costs of an integrated, intelligent, automated building, as compared to buildings that are either not automated or not integrated. Users of this tool will be able to look at the different degrees of intelligence and integration of a variety of automated building systems and not only see the first cost, which is being derived from the extensive database of RSMeans, but also the lifecycle cost of operating such a building.
Sinclair: What other applications will this tool have?
Keel: The tool will look at not only the first cost, but repair, replacement, and maintenance costs of not only the automation systems, but the reduced wear on the equipment that is being controlled by these systems. The energy bills of buildings using intelligent integrated systems, will be compared to the energy costs of buildings that do not use these automated systems.
Sinclair: When can we expect for this tool to be made publicly available?
Keel: The tool is in testing right now, however it should be ready for public rollout early in 2007. I would like to see it introduced at the ASHRAE meeting next year, but that is up to the developers.
---


[Click Banner To Learn More]
[Home Page] [The Automator] [About] [Subscribe ] [Contact Us]