---

At DR-Expo in Toronto, October 6-7. I will be leading a track called
"DR Technology Planning"


Anno Scholten, Novus Edge
Anno Scholten has more than 25 years experience in the controls, security and building automation industries.
If you look at demand side energy management (DSM) across the spectrum of facilities from Industrial to Commercial to Retail, you will see that each has quite a different focus. This, of course, is driven by the specific application or use of the energy in the facility and how the cost of that energy relates to the overall revenues that the specific facility creates.











Industrial Facilities
Energy use by industrial facilities is most typically a core resource for the production of the output of the facility. An automotive manufacturer requires a substantial use of energy to build cars but the value and rate of car production significantly out weighs this cost. A 2003 LBNL report, "Energy Efficiency Improvement and Cost Saving Opportunities for the Vehicle Assembly Industry - LBNL-50939" in 2000 shows that the average electricity used in vehicle assembly plants is 860kWh/car. This represents less than $100 of electricity to assemble each car. Interestingly, HVAC and lighting represents about 34% of this cost. However, at 13 million cars and trucks per year this is still a significant use of energy and represents a significant opportunity for demand side management. Most industrial facilities are very aware of their energy use and spend considerable amounts of resources to monitor and manage this use. The Process Management Systems of industrial facilities are large, extensive and very tightly integrated with their Energy Information Systems. Demand Response is also an integral part of their strategy and although tightly integrated it is usually a manual process as they require tight control of when and how electricity is affected at their facility during an event.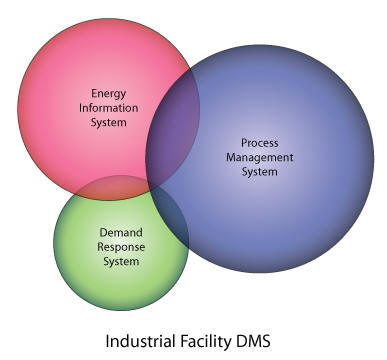 Retail Facilities
Energy use by retail facilities is a significant percentage of the cost of operations although a much smaller absolute amount than industrial facilities. As a result energy information is of great value, especially when used to benchmark identical retail outlets to determine the 'best of breed' operations. The Canadian coffee house 'Tim Hortons' is in the process of measuring and monitoring the exact cost of electricity per cup at each of it's more than 2700 stores in Canada. Retail facilities recognise the value of energy information systems to give them this level of detail. However, their ability to automatically manage their energy use is very limited as most retail facilities do not have the sophistication of systems found in either industrial or commercial facilities. When you aggregate hundreds of these small loads, demand response becomes a valuable proposition as part of their energy programs. With the lack of sophisticated energy management systems in these facilities, deployment of DR requires the installation of additional load control devices in each store adding to the cost of DR implementation.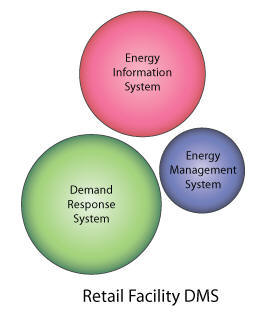 Commercial buildings represent anywhere up to 40% of all electricity consumption in North America. The primary use of this energy varies by the use of the building but most of it is targeted to provide a safe and comfortable environment for its occupants. This includes the HVAC, lighting, transport (elevators, escalators, etc), security and life safety systems. A safe, comfortable environment requires automatic management by sophisticated Building Automation Systems (BAS). Many of these BAS systems have the complexity to also provide tightly integrated energy information and energy management solutions. Many times, however, a safe and comfortable environment may be in conflict with an energy sensitive solution. This situation can be further compounded with a Demand Response implementation that is not integrated with the BAS as DR inherently reduces the required energy the BAS needs to provide safety and comfort. Yet, when DR is fully integrated into the BAS the solution has the potential to provide the greatest energy impact and still be sensitive to the comfort and safety needs of the occupants. Further, the DR incentives being offered by ISO's can be used to fund a comprehensive demand side energy management program for these commercial buildings. This represents the largest opportunity for our industry.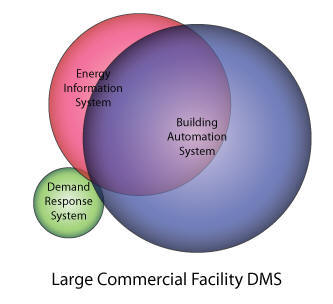 So where do you go to learn how to get involved in these new opportunities of BAS integrated Demand Response? One option is at DR-Expo in Toronto, October 6-7. I will be leading a track called "DR Technology Planning" that will have several excellent sessions that will cover "DR Technology 101", "Planning for Scaleable DR" and "Key DR Technologies". See www.DR-Expo.com.
---


[Click Banner To Learn More]
[Home Page] [The Automator] [About] [Subscribe ] [Contact Us]