---
Our interview section allows busy industry leaders to quickly provide insight into rapidly evolving industry issues. If you have subject matter or industry issues you would like insight into or would like to be interviewed yourself contact us. sinclair@automatedbuildings.com
September 2008











Dynamic Pricing
Ahmad Faruqui, Ph. D., Principal, The Brattle Group
Dynamic Pricing minimizes the use of expensive peaking capacity which sits idle most of the time but whose costs have to be recovered from customers year round.
Optimization Solutions
Jim Hanna, Vice President, Optimum Energy
Utilizing standard interfaces and protocols for ease of interoperability with standard HVAC controls, while creating a web-accessible performance assurance solution that monitors results over the Internet from an operations center supported by expert engineers.
Reduce Installation and Setup
Bob Hirsch, Senior Vice President, Lynxspring, Inc
The ease of use through our appliance allows a technician or building owner the opportunity to quickly, and without much experience, setup a fully functional, web-based, building monitoring and control system
BACnet and OPC
Bob Ofenstein, Cimetrics
I'll take an order of BACnet, with a side of OPC to go please
Facilities Management Solutions (FMS)
John Bishop, Manager, Facility Management Solutions, Wonderware
With our solution, the SCADA environment is decoupled from the control environment, unlocking the architecture for open, competitive and consistent supervisory solutions.
Smarter Motor Controls for Intelligent Buildings
Andre Perra, President Cerus Industrial
Our focus is on helping conserve energy in facilities; whether that is direct energy savings or by helping to monitor and control consumption.
Energy Management
Jonathan Cyr-Morin, Expert Energy Advisor, Cristal Controls
We customize our energy management systems from the hardware to the software and reach our energy saving goals with maximum efficiency.
Implementations of DR in Commercial Buildings
Bob Trask, President, EOS Building Solutions
Commercial buildings are well-suited to enroll in DR, but many customers don't know enough about the various programs or how they can participate.
August 2008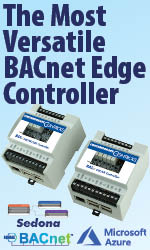 ASHRAE & BIM Update
Gordon Holness, President Elect, ASHRAE
As we struggle through these times of accelerating energy costs and concerns for climate change, it is important to remember that buildings consume 40% of all energy use in the United States and 76% of all electrical use. Information technology, whether illustrated by BIM, smart meters, smart grids or intelligent control systems, can help us monitor and control energy use and ultimately save both energy and cost. ASHRAE's end goal is to provide the technology for net zero energy buildings - "buildings which, on an annual basis, use no more energy than is provided by on-site renewable energy sources." Stay tuned for continuing developments.
Meet the "Father of BACnet®"
H. Michael Newman of Cornell University
In an interview with Contemporary Controls, H. Michael Newman tells his story of leading the charge for adopting the BACnet® protocol, and the battles and victories that ensued. He describes the development of BACnet, its greatest strengths and much more.
Open Source for Open Systems – Progress Report
Anno Scholten, Novus Edge
The success of any Open Source Software (OSS) initiative is building a community.
Daylighting in Demand Response Situations.
J. David Wilson. President. Lighting Control & Design
The ideal daylight harvesting systems reflects a balance between the energy manager's requirements for ROI, and the HR manager's concerns for occupant satisfaction.
Growing Interest and Participation in Demand Response
Gene Ameduri, President and co-founder of EnergyConnect
Increased involvement in voluntary, market driven demand response programs reflects the growing interest on the part of consumers in adopting new ways to regain control of their electricity budgets and more and more customers are seeing the value of participating.
On-demand Energy and Asset Management Solutions
Dan Sharplin, Chairman and CEO Site Controls
Specifically designed for chain retailers, financial institutions and drug stores, the company's solutions incorporate energy efficiency, corporate social responsibility, comfort and controls, operational intelligence, and demand response services.
---
---

[Click Banner To Learn More]
[Home Page] [The Automator] [About] [Subscribe ] [Contact Us]