---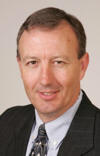 EMAIL INTERVIEW Bob Trask & Ken Sinclair
Bob Trask, President, EOS Building Solutions
Bob Trask is President of EOS Building Solutions, a leading systems integrator and energy solutions provider in the New England area. He has extensive executive management experience in the development and deployment of strategic facilities management programs; with specific focus on design, implementation, and operations of technology solutions that increase the productivity of operational staff, and optimize the performance of building infrastructure systems. He is a Certified Energy Manager and has over 26 years of leadership in the building automation, facilities, and energy management market; including significant roles with building management system providers, Johnson Controls and TAC.
---
Implementations of DR in Commercial Buildings
Commercial buildings are well-suited to enroll in DR, but many customers don't know enough about the various programs or how they can participate.











Sinclair: Bob, we understand that you have done quite a bit of engineering assessment and implementations of DR in commercial buildings - much of it leveraging building automation systems. Can you tell us more?
Trask: Well, Ken, I have been part of the building automation and energy management industry for many years and have always tried to help customers leverage the power of their building automation systems and further maximize their return on investment. As Demand Response has emerged as a mainstream solution for relieving stress on the electric grid - with its significant financial and societal benefits, more and more customers have become interested in participating in DR programs to receive the financial incentive payments and be more environmentally responsible.

Most commercial buildings are well-suited to enroll in DR, but many customers don't know enough about the various programs or how they can participate. So I have been helping customers assess their buildings and develop the DR strategies to enroll them successfully in these programs.

One of the most underutilized resources for DR is the existing BAS, which is either ignored or minimized in many DR implementations. But I have found the BAS to be a great resource to facilitate the DR program and we use it as much as possible.
Sinclair: Why is the BAS not being more fully utilized in other DR implementations?
Trask: As you know, building automation systems can be a real mystery to those outside the industry. And many curtailment service providers in the DR market do not have BAS expertise. So when you are outside of your comfort zone, there is a tendency to overlook things or develop a singularly focused approach. This is unfortunate because the customer can lose out on additional DR revenue.
Sinclair: So what is your recommended best practice to the assessment of a commercial building?
Trask: We believe in taking a top down approach. That is, consider the various component pieces of the overall electrical load and start at the highest level. Then we move down into the subsystems and try and find ways to include them in the DR strategy. With this approach we are maximizing the amount of DR enrollment potential - 'leaving no stone unturned', as they say!
Sinclair: We also understand that you have helped construct a training program for systems integrators and BAS manufacturers. Can you tell us more about that?
Trask: It has been estimated that the North American market for DR is in the billions of dollars. And although awareness of DR has increased in the building automation industry, there are many business and technical issues that systems integrators and building automation manufacturers should be considering before confidently moving forward with a business plan to earn its share of the market. So I have worked as a special consultant to help Constellation NewEnergy develop a training program intended for systems integrators and BAS manufacturers who offer BAS systems in combination with Constellation NewEnergy's DR programs. Several of those systems integrators and BAS manufacturers are members of the NewEnergy AllianceSM, an organization comprised of equipment manufacturers, building automation companies, systems integrators and software application businesses that are committed to integrating real-time energy market data and pricing signals with building automation systems.

The training program is quite comprehensive and teaches a process-driven approach based on proven best practices for getting into the market and successfully participating in DR programs.
Sinclair: What advice would you give to a systems integrator or building automation manufacturer about getting into the DR market?
Trask: First and foremost, I would say - get into the market as soon as possible. Your customers want their BAS manufacturer and system integrator to be knowledgeable and able to help them participate in Demand Response. And I don't think any company is better positioned for this than the BAS provider. Unfortunately, if you aren't proactive about your role, someone will step in and define a role for you (or not) and then it is too late.

Now, that doesn't mean you must become a curtailment service provider, in fact, my advice is to develop a partnership and leave that up to someone else. Constellation NewEnergy is an excellent choice for that.
Sinclair: Tell us more about your take on DR Expo in Toronto next month
Trask: This will be my third DR Expo and I have been quite impressed at the very high level of interest and excitement at the last two meetings in Chicago and Santa Clara. It is quite appropriate that the location for this event is Toronto with the recent release of the Ontario DR3 program, and I am sure that the participation will be heightened because of it.

Demand Response has become a very important and integral resource for managing the electrical grid in North America, and the agencies that manage these DR programs rely heavily on them. It is a dynamic and evolving business with significant diversity amongst the various ISO, RTO, and utility programs, so sessions like this are an excellent way to keep up with the latest happenings.
---

[Click Banner To Learn More]
[Home Page] [The Automator] [About] [Subscribe ] [Contact Us]